HEADS UP! typical ThreeA style the MOUNT NINJI AND DA NICE TIME KID figure By DIE ANTWOORD DA X 3ART ThreeA  ZEF1/6TH SET is already up for pre-order! yes a whole day early. Plus we finally get to see Mount NINJI in full. Raiden eat your heart out.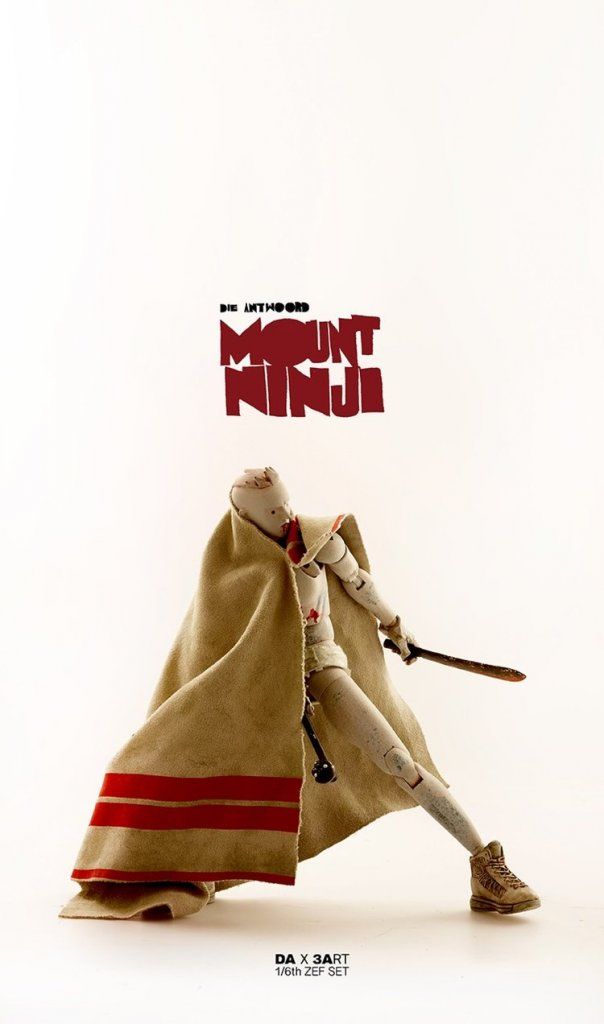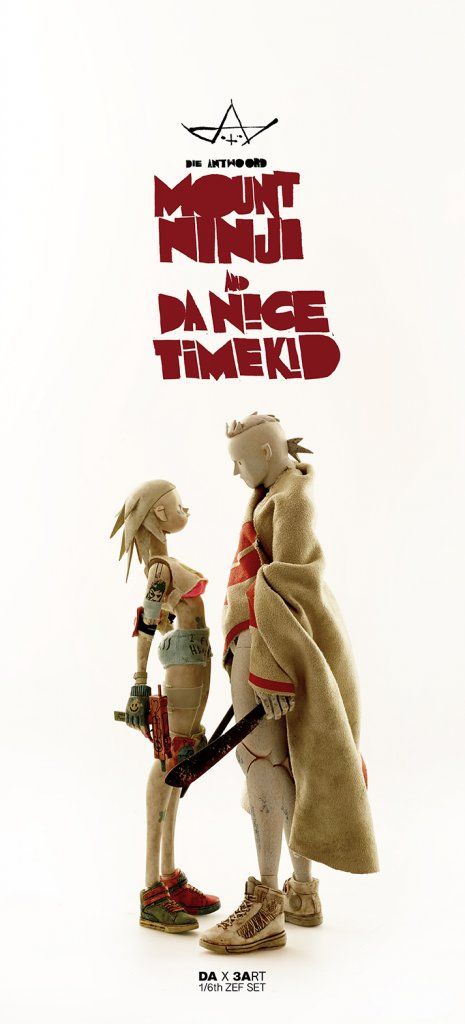 DA x 3ART 1/6 ZEF SET MOUNT NINJI & DA NICE TIME KID pre-order right now at http://www.bambalandstore.com/ one day early!
We also think as tradition of ThreeA there might be secret drops for limited special versions like NINJA hinted on his Instagram page. We suggest you check http://www.shopbenchmark.com/dieantwoord on the 16th as Ninja has confirmed limited edition vinyl will be separate release.
DA x 3ART ZEF SET 1/6th
MOUNT NINJI and DA NICE TIME KID
1/6th Scale Collectible Figure
Set includes MOUNT NINJI x 1pc and DA NICE TIME KID x 1pc
MOUNT NINJI stands 12inches (30cm) tall
features
Xhosa Ninja Hat x 1pc
Printed blanket x 1pc
Y-Front Undies x 1pc
Ninja style sneakers x 1pairs
Standard sneaker x 1pc (R)
Machete x 1pc
Knob-kerrie 1pc
Fully Tattooed Body
Weapon holding hands x 1pair
Ninji style hands x 3pairs
DA NICA TIME KID stands 10inches (25.5cm) tall
features
Decal-ed Shotgun x 2pc
Emoji cropped top x 1pc
KISS MY ASS shorts x 1pc
¥ style sneakers x 1pair
¥ style gloved hands x 1pair
¥ Style Hands x 4pairs
BMX Knee and Elbow Pads x 2pairs
Watches x 5pc
Fully Tattooed Body with Band aids and Bandages
$300 worldwide shipping included.
For now you can pre-order  DIE ANTWOORD new album 'MOUNT NINJI AND DA NICE TIME KID'
COMING SEP. 16 HERE.
(all info and photos lifted from Die Antwoord)