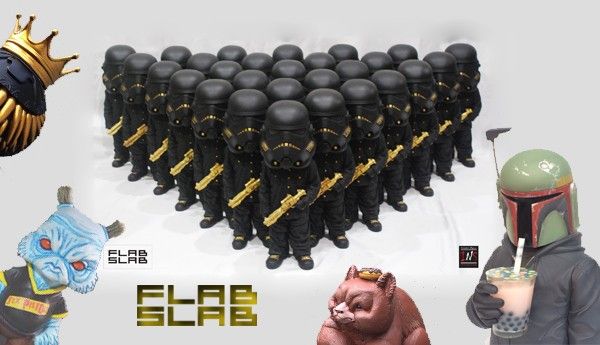 The guys over at FLABSLAB have some great works on sale right now, some with collaboration with the artist from the west like Angry Woebots, Luke Chueh and Scott Tolleson. It wouldn't be FLABSLAB if they didn't have their own Eastern designers and friends like ImagineNation DesignStudios ,Daniel Yu and Darbotz to do a few collaboration pieces.
" Float Like A Butterfly, Sting Like A Bee. 
Inspired by Ali, FLABSLAB pays homage to the latest international trends with a passion for creativity that celebrates all things well designed.
Founded by Nerf Creative, FLABSLAB is an independent multi-disciplinary platform bringing together international and notable contemporary artists and designers, trendsetters and design lovers. Big or small, general or intricate, the visual filtration and collaboration of ideas, aesthetics and life's gratification with esteemed visionaries ignites FLABSLAB. In everything creative, iconic and innovative, FLABSLAB is the explicit manifestation of anything that inspires, intrigues and impresses us."
Here are a few examples of whats on offer at FLABSLAB right now and some are ready for pre-order.
Mini Trooper Boy – Black and Gold by FLABSLAB and ImagineNation DesignStudios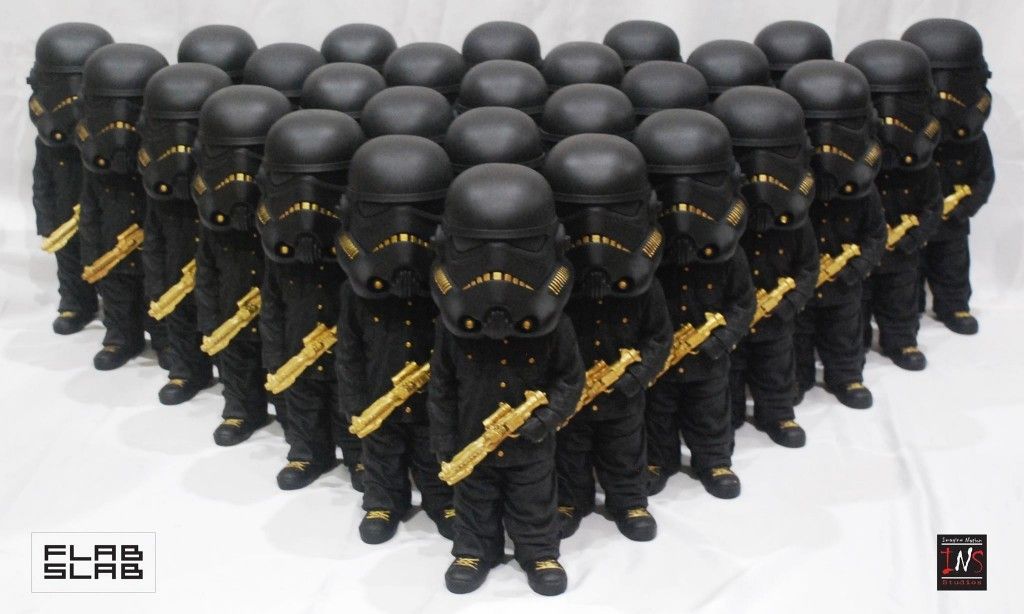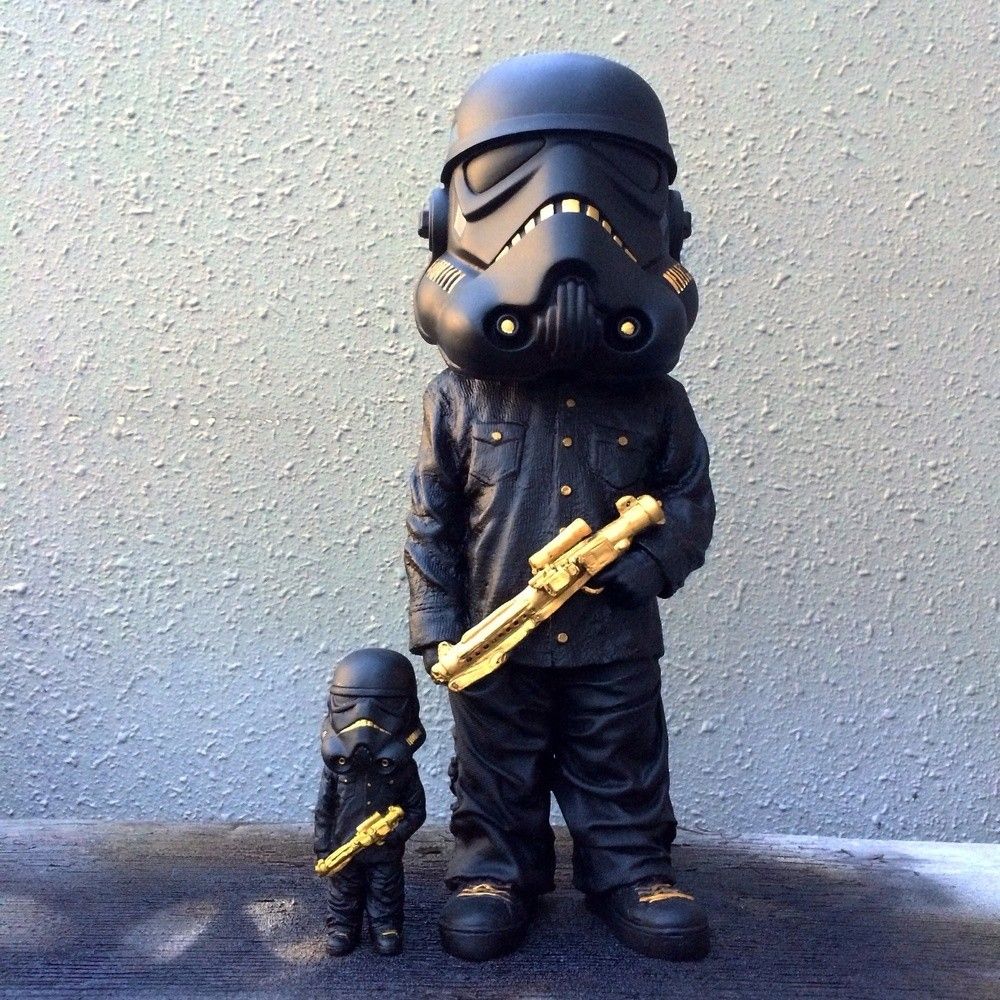 Produced by ImagineNation DesignStudios. Standing at a majestic 4.5in and made of resin, the exclusive black and gold mini trooper boy is seen here with his already sold out big brother. $45.00 (around £29)
To coincide with the 50th birthday of Singapore this year Mini Trooper Boy in Red but this will be limited to 50pcs will be up for order at the end of the week. (please note the ones with the stars is just for size comparison) priced at $45.00 (around £29)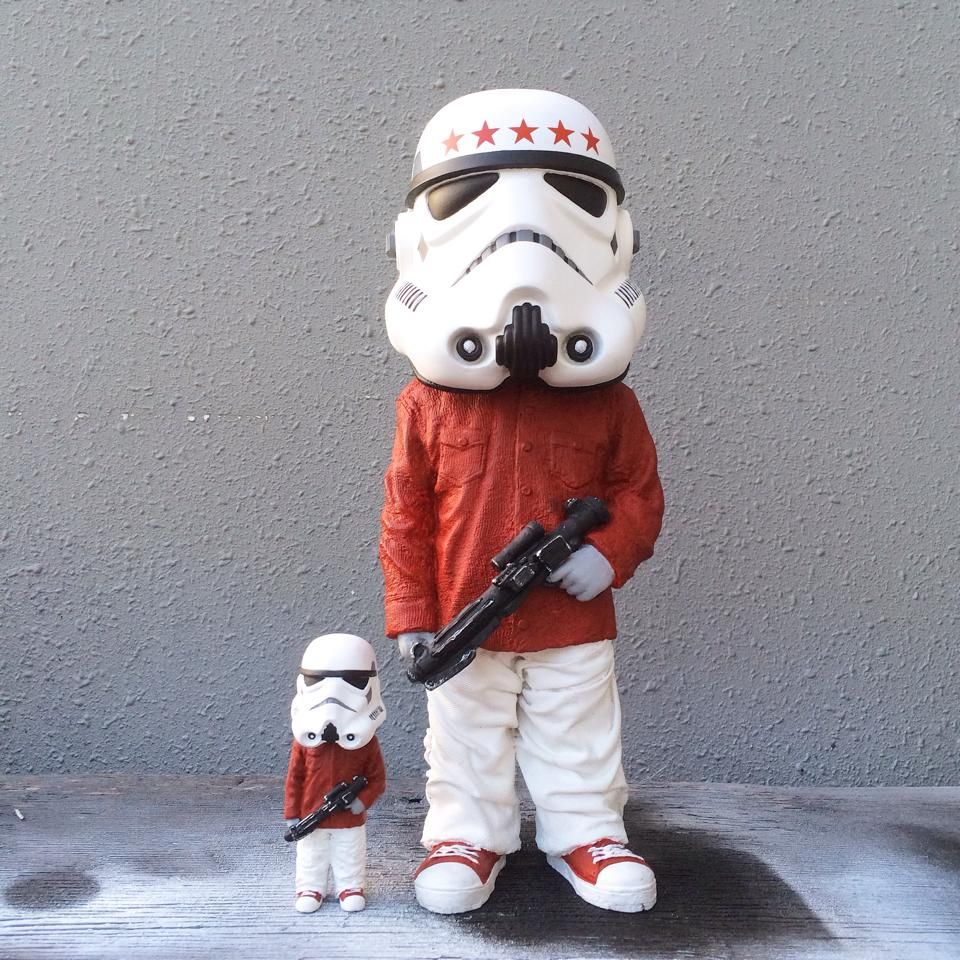 Now this one is a crazy one custom painted by Daniel Yu over Scott Tolleson Trayjus. They only have 4 out of the 7 left for sale Motörhead, Misfits and Sex Pistols and Katy Perry…. YES you are reading right Katy Perry! WTF sorry all the others work but Katy Perry… little speechless, yes she's hot but I really don't see a collector having Katy Perry on a art toy. I might be wrong its just not my fancy, I wouldn't mind having the real Katy Perry.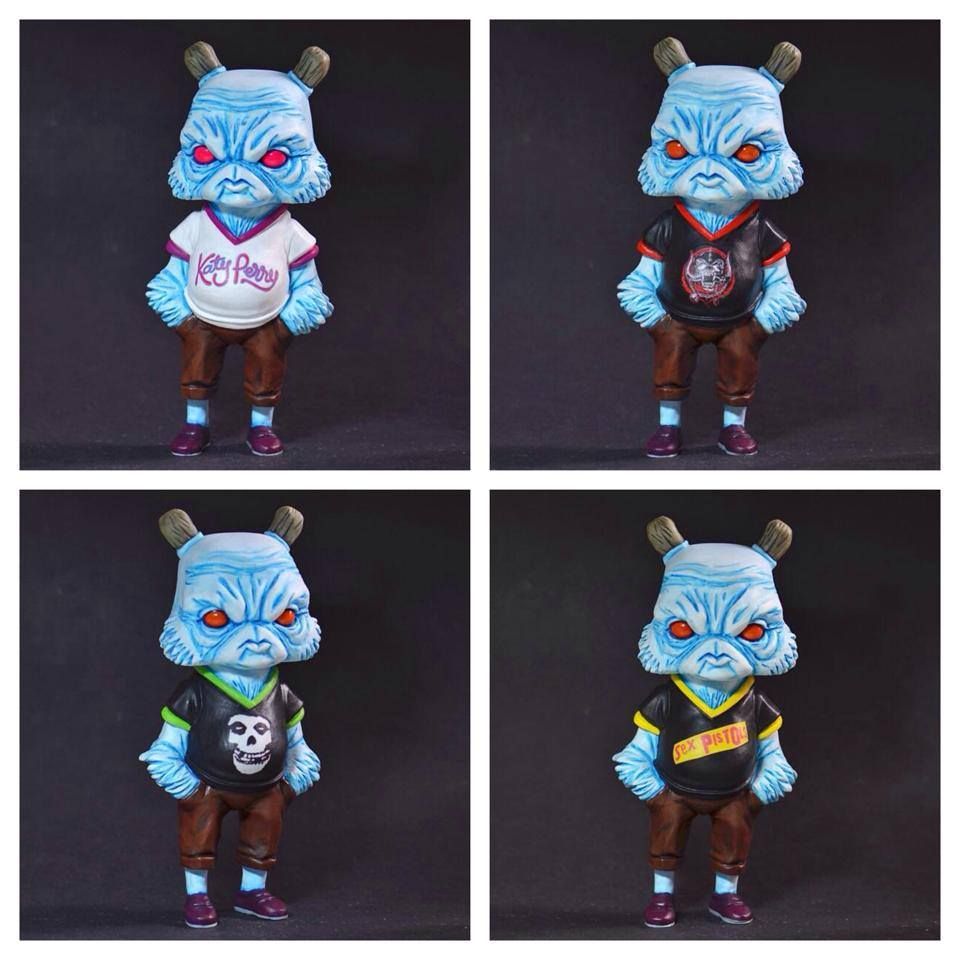 $200 (around £132) each plus shipping. Email [email protected] if any catches your fancy and If you do like the Katy Perry version I won't judge you.
BOBA by Luke Chueh and FLABSLAB
First seen on a painting and then prints, the infamous bounty hunter is now available as a 9.5″ resin sculpture.
Nothing much needs to be said about BOBA other than the fact that it'll be available as a limited edition.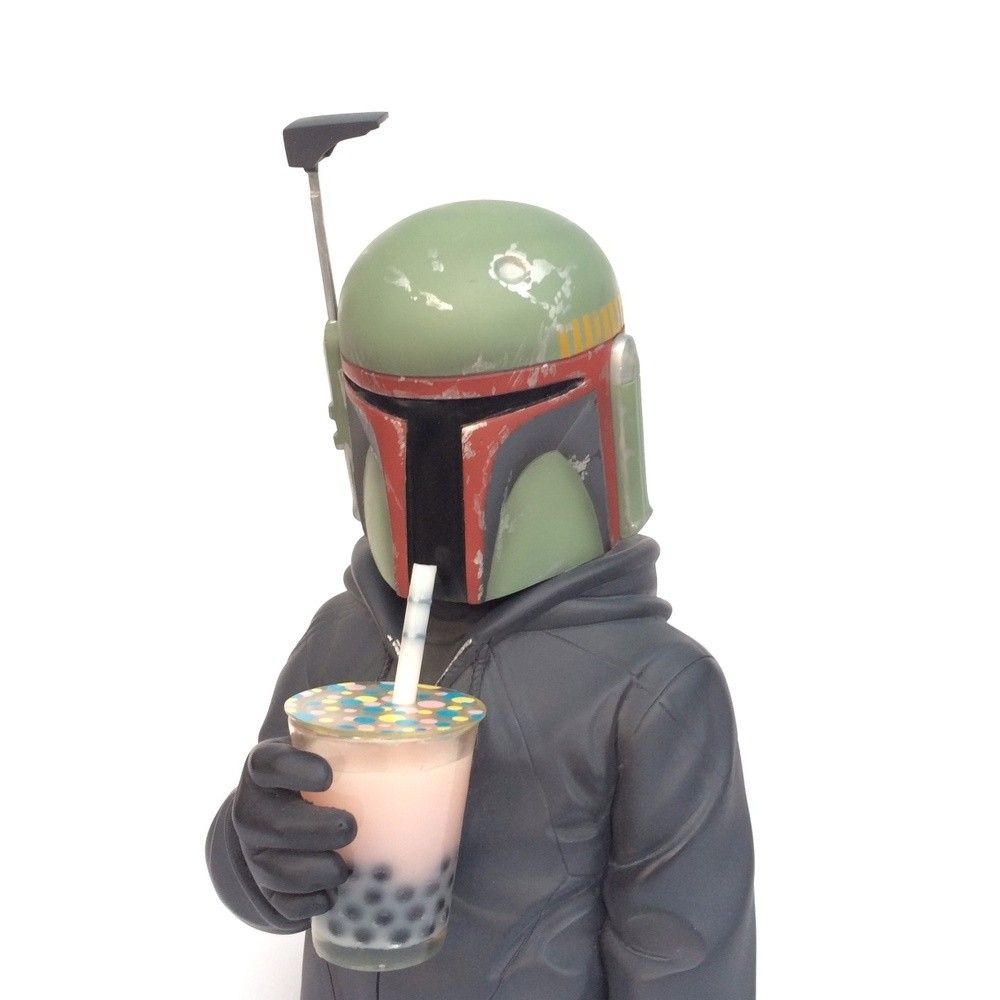 $300 around £198 for all Starwars bubble tea fans is a must. I am glad Luke Chueh and FLABSLAB made this come to life, very clever idea!
Killer Donut 'Choco Bear' by Angry Woebots
Flabslab found 20 of these Choco Bears in the studio recently. Each was lovingly handpainted by Angry Woebots when he was in Singapore back in September. No 2 pieces are alike and each will come with his own choco donut with pink sprinkles. Priced at $300 around £198.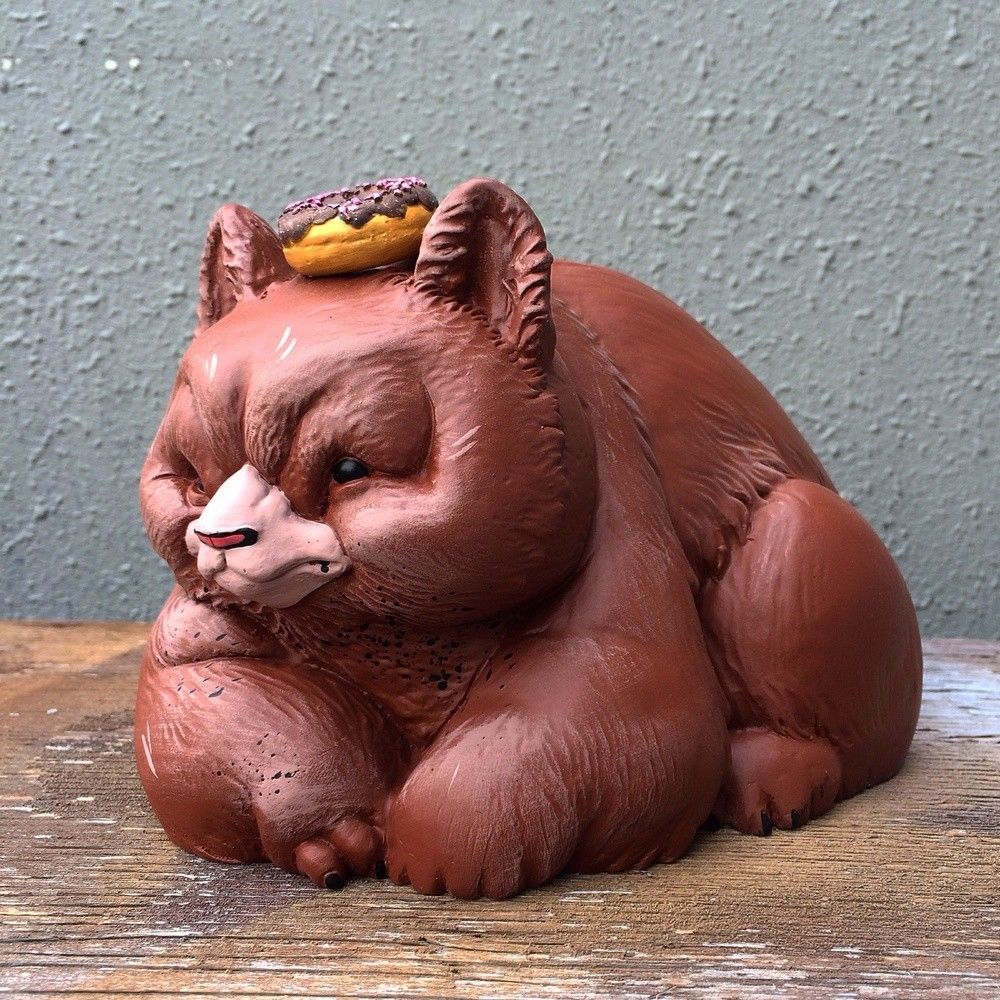 Golddigga Monsterball by Darbotz
Third in the series, the black and gold Golddigga is Flabslab exclusive Monsterball by the internationally renowned street artist from Indonesia, Darbotz. Measuring 7.5in tall from base to tip of the crown, the resin cast Goldigga is limited to 35 pieces. If you are not familiar with Darbotz work please find the time to check out his crazy art murals http://thedarbotz.com/
[slider source="media: 17946,17945,17944″ limit="100″ width="800″ height="800″ title="no" speed="800″]
Right their are plenty more from FLABSLAB store if these tickle your fancy head over to http://www.flabslab.bigcartel.com/
You can also find them via http://www.flabslab.com/ Facebook, Instagram  and Twitter.