Last month, Momoco Studio x Robin Tang Antics x Shon Side powered by ToyZero Plus sent shockwaves though the scene with one big gangbang of tease! HA just joking. The 4way collaboration of "Mega Shmoro" last seen at their group show "Young Guns" saw each artist put their spin on one huge MECH! Look out Iron Man there's a new MECH in town. NOW for collectors who couldn't make it to the show, Paradise has opened up pre-orders as well as some pieces from the show.
Message Paradise via Facebook message or mail to "[email protected]". 
The Price shown excludes the shipping cost. Paradise can offer AirMail or EMS as a shipping option. PayPal could be acceptable as a payment option. 
All exhibition items exclude "機神大統領-毛翔羅號" ordered will be shipped or being available for pick up after 7/8(Mon.). Online order will be closed on 7/7(Sun.) 
"Young Guns"
Momoco x Robin Tang x Shon Exhibition
Date:2019/6/28-7/7
Hour:2019/6/28 19:00 – 22:00 | 6/29-7/7 13:30 -22:00
Place:Paradise Toyland 台北市敦化南路161巷75號
Contact : 02-27766224 | [email protected]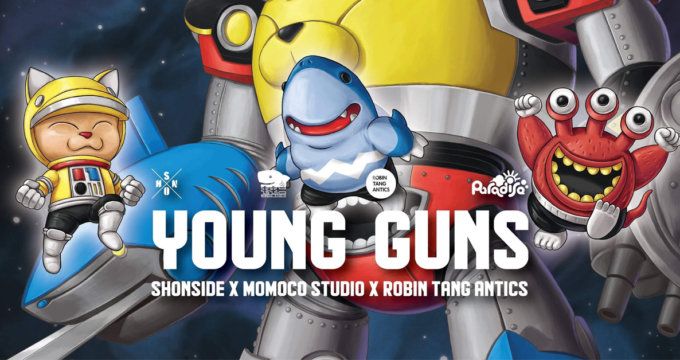 BY ANDY • JUN 28, 2019 • NO COMMENTS
This weekend sees Paradise opens its doors for Momoco Studio x Robin Tang x Shon "Young Guns" exhibition. The trio…

Find Robin via Instagram and Facebook. Momoco on Facebook. Shon Side via his Website, Blog ,Facebook ,Instagram and Twitter.
You can get your daily Designer Toy fix from our TTC Mobile App. It's free too! FREE! Download on the iPhone or Android smartphones. Search for "The Toy Chronicle" and all your Designer Toy wishes will come true! Pretty much.
Did we fail to mention IT's FREE.