A new week means new episode of Marsham Toy Hour Podcast! We tuned into Season 3 Episode 5 where Gary, George and Theresa has Kyle Kirwan takes the hot seat for this episode and a little appearance from Sarah.
This week, Kyle "Mister Charming" Kirwan (sculptor/producer/RV enthusiast) joins the gang. Kyle brought an unexpected leak, shared life as an artist on the road, and played the role of therapist. The gang round table discussion on the early reveals of future product, quality control, growth and support through constructive criticism, and much more. Also, find out if Gary tosses his cookies or not while recording.
Points that stood out to us in this episode that might make you want to hit that play button.
Values
Critics
Camper lifestyle
Kitbash individual Styles
Designer a design
Appreciate with not having endless colourways
Fivepoints VIP
Tea time
Drama
Emotions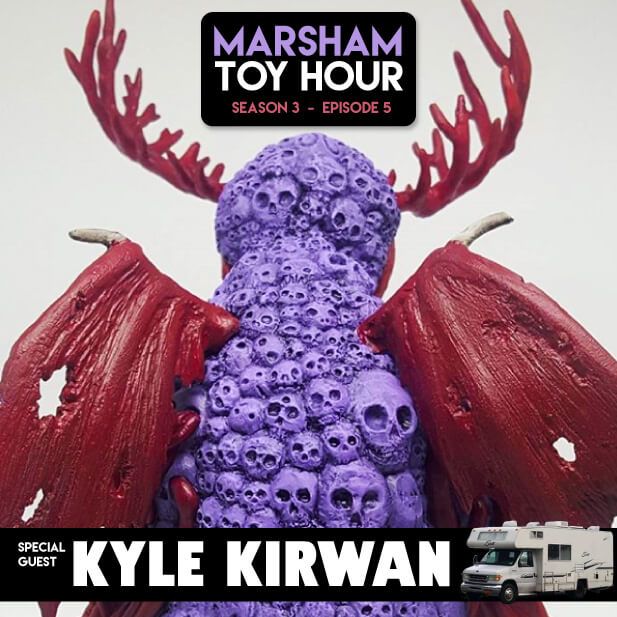 Please note: Reviews are a review news are news ( personally if someone sends something in I am personally critical, FREE or not)  If I buy something obviously I liked the design enough to spend money on it. TTC if you need to review go to our REVIEW section for an unbiased review. Everyone has a personalised taste so TTC news caters to everyone. George nails it with "artists objective".
Check out Marsham Toy Hour Facebook group Marsham Stomping Ground HERE.
Marsham Toy Hour is weekly, audio, roundtable discussion of the designer toy scene with your hosts Gary Ham, George Gaspar, Theresa Hawkins and Carlos East.
https://marshamtoyhour.podbean.com/
Go check out Kyle on Facebook, Twitter & Instagram too.
If you want to get your Designer Toy news first, you should look to download our new TTC Mobile App. Designer Toy news direct to your smartphone. No dealing with social media algorithms. Its FREE.