Last month Frank Kozik himself on his Facebook page announched that Kidrobot will be partnering up with 80's classics and everyone beloved Madballs are making a comeback with Kidrobot! not much info more till today when our friends at Strangecat Toys launched a Pre-order for them already. Are you guys ready for this? Kidrobot's Iconic BOT HEAD gets the Madballs makeover.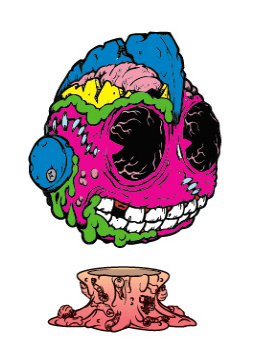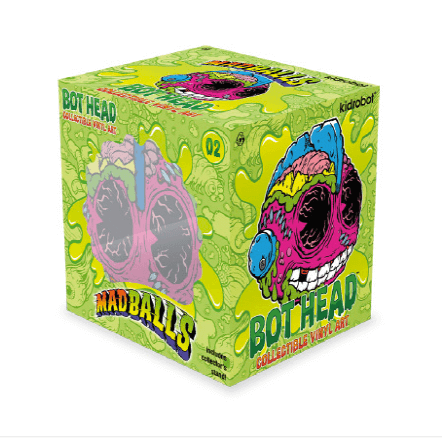 Looking at the box art, it would suggest the BOT HEAD won't be the only thing Kidrobot will be releasing in the style of MADBALLS. Note the top right hand corner, a number 2! Anyway time will tell. The Madballs will come with a display stand too, sweet.
Kidrobot and Madballs meet to create a one of a kind mash-up! The Madballs 'Bot Head Medium
Figure combines Kidrobot's iconic 'Bot Head logo with the gross out art of Madballs. The first
and only of its kind.

'The tennis ball-sized rubber or foam collectible bouncing balls with horrendous faces and designs', the 80's classics and everyone beloved Madballs are making a comeback"

As we can tell from American Greetings press release they already secured a number of licensees to support its consumer product program. And guess what? "Madballs' new partners include Kidrobot for vinyl figures, collectibles, soft foam balls and limited editions items for this holiday season'. Confirmed by Frank Kozik himself on his Facebook page:

"FINALLY I can talk about this. One of the first things I wanted to do over at Kidrobot was get this license..we got it, we hire James Groman to do new illustrations and approve the new sculpts etc. Going to be releasing 3? vinyl versions, big squishy foam ones and keychains to start. ALL NEW SCULPTS based on Gromans work."

We guess it couldn't get better than this, James Groman, the original Madballs illustrator in on board to do new illustrations and approve sculpts. That means new figures with the same original feel and look.
You didn't think it would just end like that right?
"Gross for one! Gross for all! We play with our…Madballs! Madballs and Kidrobot have teamed
up to present the Madballs Vinyl Mini Series. This series features 16 classic Madballs characters
from the popular 80s toy series. Collect them all and have freaky fun for everyone!"
Madballs Horn Head
The 5" Horn Head Medium Figure depicts one of the original Madballs complete with the horn on his head and
ring in his nose. Pure CLASSIC, this ones a must for us.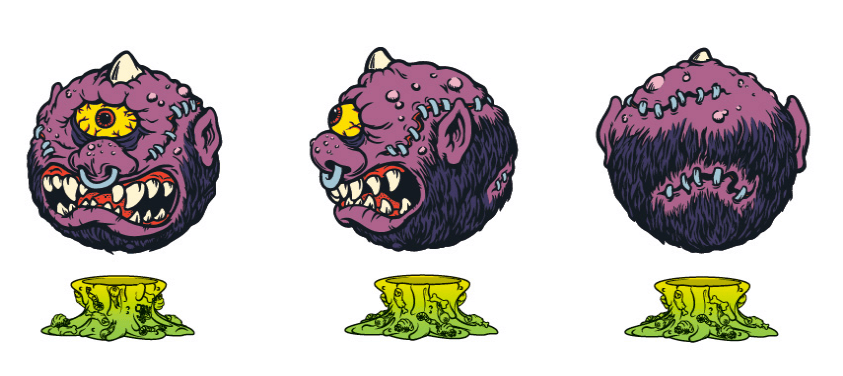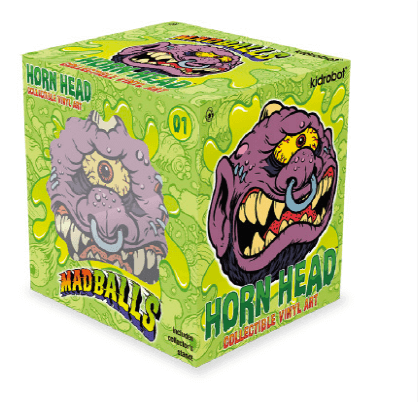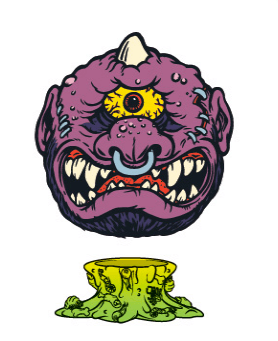 Madballs Vinyl Mini Series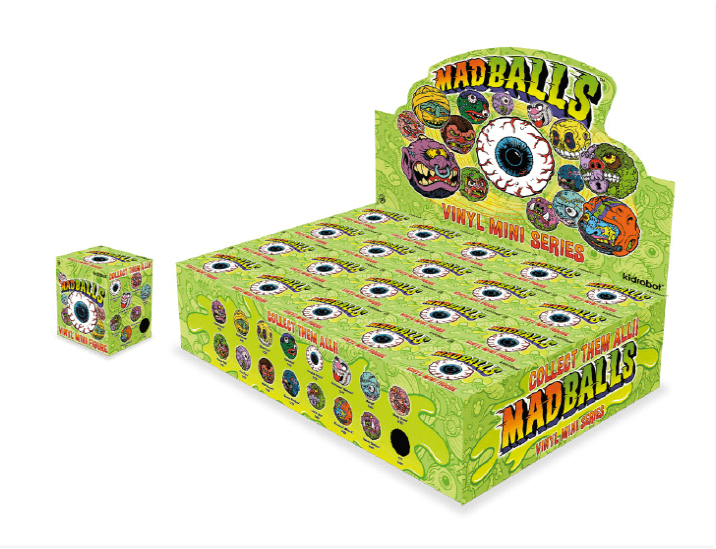 Strangecat Toys have estimated release date of Winter 2016, with a pre-order price of $49.99 for the Bot Head and the blindbox $189.99 for a case at https://strangecattoys.com. We are sure more info will come out before then. Stay tuned for more updates.
[youtube_advanced url="https://youtu.be/-11icVvTdbQ"]