If you don't know comic book creator and artist Jim Mahfood by now, you should. He has worked for every major comic book company and for clients like Playboy, Disney, Armani, Nissan, NBC, Sony, Comedy Central, TIGI, MTV, Pabst Blue Ribbon, Tuff Gong, Titmouse, Cartoon Network, Spin Magazine, View Askew, Spectrum Illustration Annual, Star Wars Gamer, URB, The Hollywood Reporter, BPM, The Phoenix New Times, Rhymesayers Entertainment, Ubiquity Records, Hollywood Records, Indyground Entertainment, Mad Magazine, Heavy Metal. Impressive right?
Did you know he even creates bootleg toys? And some pretty dope ones. Welcome to the Wookie Hash Pipe universe. May Jim's force be with you.
WOOKIE HASH PIPE: DOSE VAPORS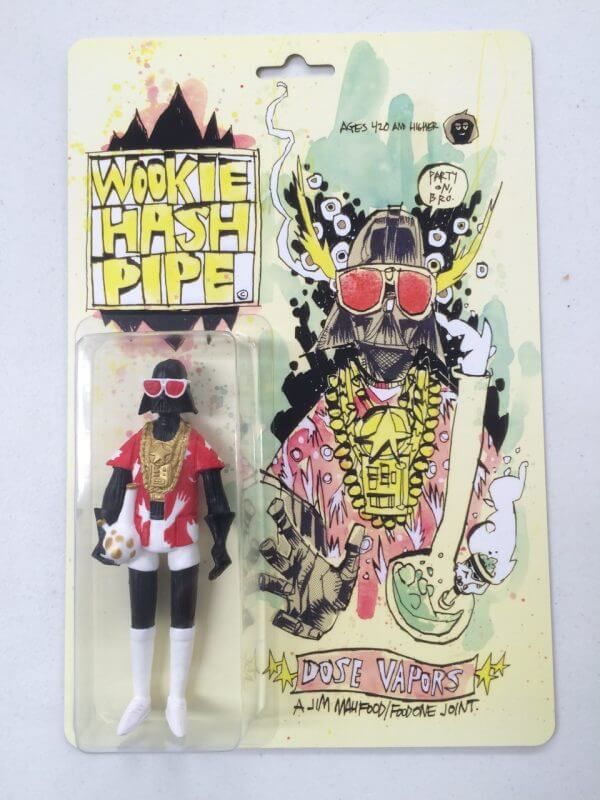 A 3.75″ tall bootleg mash-up of Darth Vader, Hunter S. Thompson, and Bill Murray's character Tripper from the movie Meatballs.
Only 50 made. Each figure is individually hand-painted featuring the first part of the Wookie Hash Pipe comic strip on the back.
Available HERE for $120 each. Each one signed and numbered.
[box title="Important Details"]
Price: $120 each.
Release date/time: NOW!
Link to Site: https://www.jimmahfood.com/product/wookie-hash-pipe-dose-vapors/.
[/box]
WOOKIE HASH PIPE: LUCE SKYTOKER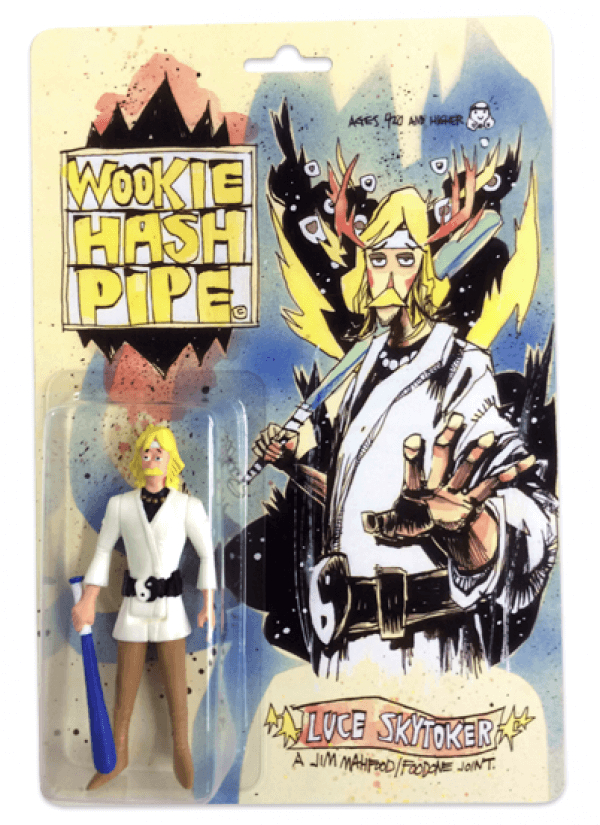 A 3.75″ tall bootleg, Only 50 made. Each figure is individually hand-painted featuring the second part of the Wookie Hash Pipe comic strip on the back.
Unfortunately Luce Skytoker is already sold old. Maybe Jim will do a re run in the future.

Jim Mahfood aka Food One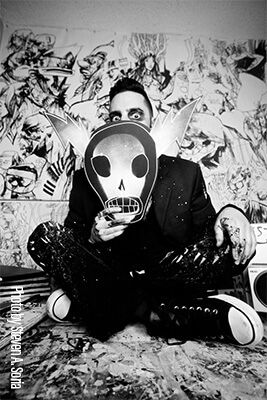 "Highlights of his career include: illustrating director Kevin Smith's Clerks comics, handling the art chores on the entire ad campaign for Colt 45 malt liquor in 2007-08, painting the murals on Comedy Central's Sarah Silverman Show, illustrating the Kickpuncher comic book that was included in the Season 1 DVD of NBC's hit show Community, illustrating and art-directing reggae legend Ziggy Marley's MarijuanaMan project, providing custom car art for Nissan's new "Juke" Artist Series, illustrating custom bottles for Bed Head hair products, developing the animated show Disco Destroyer (with Scott Mosier and Joe Casey) for Titmouse and MTV's Liquid Television, and providing all the art on the new Tank Girl series: Everybody Loves Tank Girl.
Recent projects include art chores on 21st Century Tank Girl (Titan Books), illustrating the brand-new Miami Vice: Remix comic book series (IDW/Lion Forge), developing the GRRL SCOUTS TV pilot for New Form Digital (check out Grrl Scouts Pilot on YouTube), and handling art chores on the Howard The Human comic book for Marvel.
Future releases include Jim's brand new Visual Funk: the Psychedelic Adult Coloring Book (IDW), and the long-awaited Sadistic Magician: Jim Mahfood Sketchbook Vol. 1, which collects Food's very best sketchbook work from the last couple of years."
Instagram | Facebook | Twitter | YouTube