As part of the Glow Show 2 at Clutter Gallery tonight (read HERE), there will be a special sofubi release of Hierophany. The rather suggestive GID sofubi release by Carlos Enriquez-Gonzalez has definitely sparked interest throughout the sofubi community and beyond. Hierophany is a sought after piece.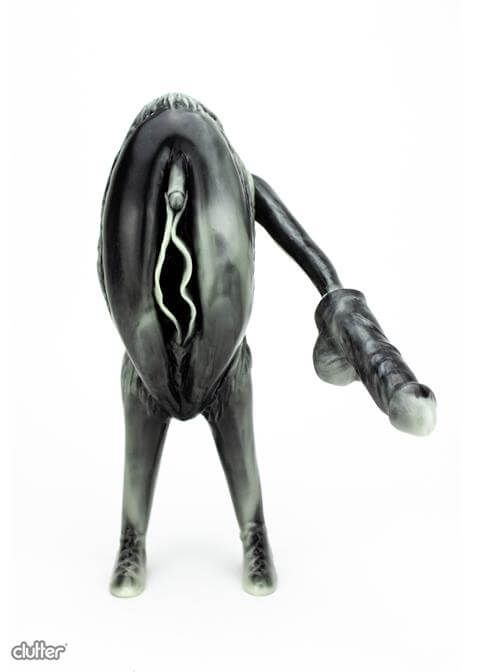 Standing at 11inches, the Hierophany is black marble GID sofubi. Limited to only 15 pieces, this GID release is priced at $250 (about £191).
To be in with a chance to own this damn fine piece of GID sofubi, you will need to email i[email protected] to be entered in the lottery drawing. You need to include some specific pieces of information in your email….
Your email must have the subject line HIEROPHANY LOTTERY and include the following:
Your Name
Your Mailing Address (for shipping purposes)
Your PayPal Address
The lottery stays open till 9pm GMT (4pm EST) tonight! Got about twoooo hours from posting.
After 4pm EST, a random lottery drawing will take place and winners — and only winners — will be replied to. Winners will have one (1) hour to submit payment for their figure; failure to make payment will result in default on your winning position and a new winner will be selected at random.
Several copies of the Hierophany figure are being reserved for a live lottery during the opening of the Glow Show 2 exhibition tonight, for those in-person only. If these copies are not sold during the live lottery, remaining pieces will be offered to online lottery entrants with a 24 hour payment period given before default.
---
Clutter Gallery Social Media
Facebook: https://www.facebook.com/clutterstudiosny/
Instagram: https://www.instagram.com/cluttermagazine/
Twitter: https://twitter.com/Cluttermagazine
---
If you want to support The Toy Chronicle, we have a number of options available to you. We have started to stock a wide range of releases that we think you will enjoy. Ranging from production pieces from Superplastic, to original pieces from our favourite artists. Purchasing one of our pins also really help. A quick, cheap way to also support the TTC is by making a small donation. These can all be completed below through our online shop. We appreciate all the support! Thanks!