As promised TREATS and no TRICKs from Korean artist 오수빈 Ari Abiru aka Subin Oh. Earlier on in the week, Abiru showed her cute Pajamas Series. Keeping to our promises Ari is ready for the Halloween sprit! Subin's aple, sasha and last but not least abiru all set for a pyjama party in Tawain. Each one will come with a little companion so aple, sasha and abiru can snuggle up together. Each one hand cast and painted by Subin.
abiru – In a world with full of color, abiru(mean get covered in japanese), a monotone girl is get covered under a hoodie to be loved by people.


A+(aple) – A girl in the first grade of the whole class, A+. she is a perfectionist. Some accidents result in the first B of life. Into her desperation, contracting with her upcoming demons,
Getting the Devil's Hood makes perfect for everything. But in fact, the hood was not a makes perfect. It is allowed her to love herself rather than a perfect hood. So she don't care too much about perfection.


Sasha – Sasha who always feeling cold is Snow rabbit. She always crave warm warmth of people, but she can't get along with her timid personality. So whe get covered under a warm hood and trying to approach people."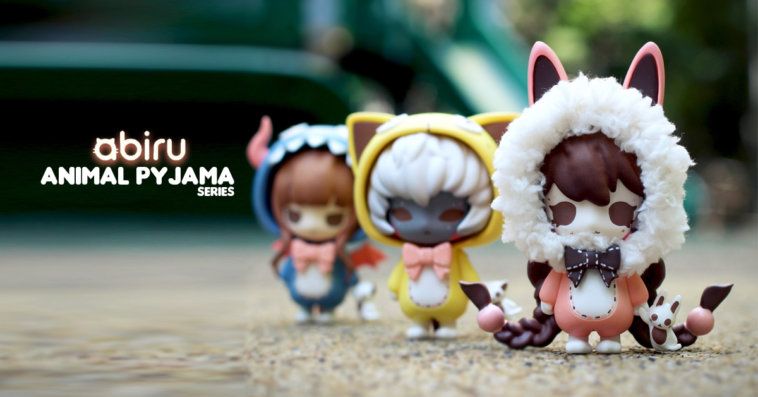 Animal pyjamas series will be released first at TTF 2019. Booth B19 with bakkuns
DATE: 2019.10.10 (Thu.) ~ 2019.10.13 (Sun.)
LOCATION: Huashan Creative Park / Building East 2 & Building Center 4B (1F & 2F)
No.1,Bade Road Sec.1,Zhong Zhen District,Taipei 100
MAIN VISUAL DESIGN: MOE NAKAMURA
ORGANIZER: MONSTER TAIPEI INTERNATIONAL INC.

Speaking to Subin earlier there might a reserved allocation for the TTF release for international collectors. Stay tuned for further updates.
Can't wait or go to TTF? MORE at https://www.etsy.com/uk/shop/AbiruStore.
Find abiru on Instagram.
---
---