Back from vacation is Hombrebala's "Evil Mind"! Spain based Sr Bala of Hombrebala Toys Evil Mind has enjoyed his vacation the sunburn and summers sun its time to get back on the grind. Now equipt with clothes (if you are reading this and thinking WTF you should check out the vacation edition HERE) Like we said previously HERE, Spain stand up! Hombrebala bootleg style making a name for himself and catching our attention once again. The toy is the second in the line Evil Mind on Vacation. In it, you have a new version of SKLTR with a skater look that has the oldskool purple Vans as the centre of it. The other main element is the longboard, the LongShark. This vehicle is an interpretation of the iconic Land Shark from MOTU classic 80´s line. Check out the freaking awesome card art too!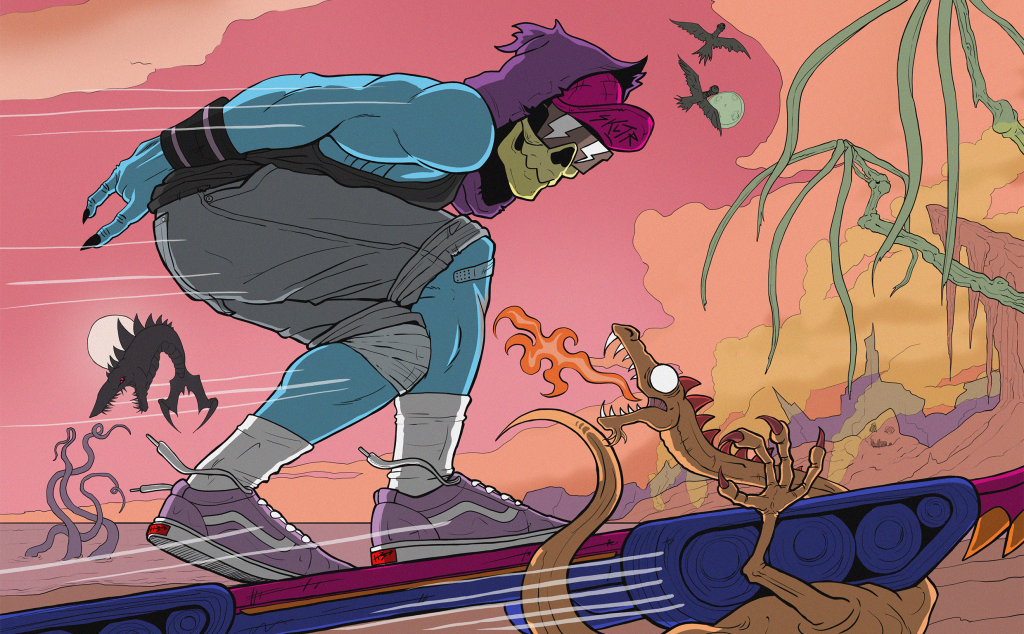 Eternia Beaches are located
on the southern coast of
Eternia and is a place full of
contaminated waters and
dangerous jungles.
This unfamily-friendly resort
faces the Deadly Cliffs and
is surrounded by a
inhospitable beach owned
by the king of evil SKLTR.
SKLTR loves to ride his LongShark
by the shores of Eternia Beaches
running over creatures.
Only 20 minutes from
Grayskull Castle, Sunscape
Eternia Beaches is the ideal
setting to rest for an evil
mind on vacation!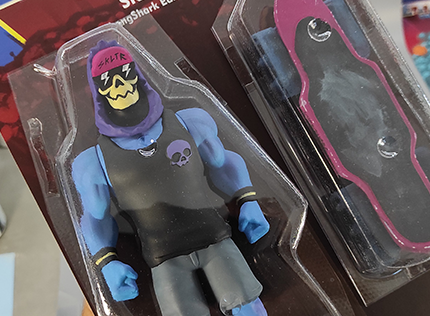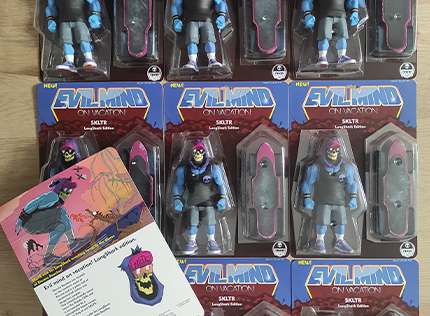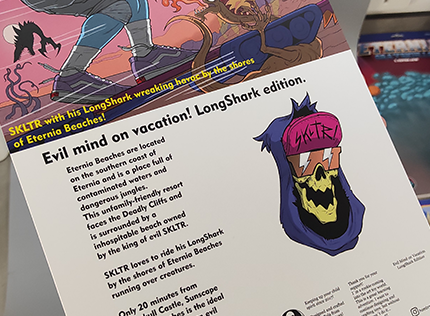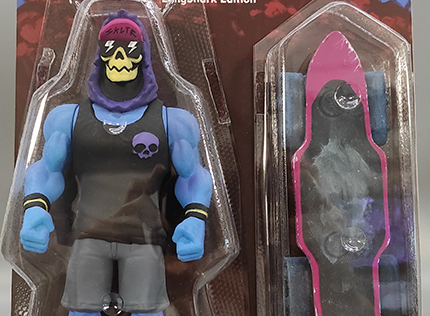 As always this is a resin toy, designed, 3d printed, cast, painted and packaged at Hombrebala studio workshop. It comes carded with a transparent bubble in a Motu style with a special illustration on the back where you can see SKLTR riding his LongShark by Eternia shores.
There will be 7 only copies available.
WHEN: NOW! Tuesday 10th August 2021
WHERE: ( https://hombrebalatoys.bigcartel.com/ )
The price is 110€ + shipping.
EVIL MIND on VACATION joins the rest of the Hombrebala Toys family.
Find Hombrebala Toys at https://hombrebalatoys.bigcartel.com/ and Instagram.
You can get your daily Designer Toy fix from our TTC Mobile App. It's free too! FREE! Download on the iPhone or Android smartphones. Search for "The Toy Chronicle" and all your Designer Toy wishes will come true! Pretty much.
Did we fail to mention IT's FREE.