If George Lucas had the power to make Terracotta Army this would be it! The myths have been unfolded and FLABSLAB has unearthed DarthTerra once more but with a twist. Could it be true that the first Emperor of China Qin Shi Huang was the man behind Star Wars? And George Lucas was a mere charade. Who knows, all we know you could have a DarthTerra yourself. Some say this latest version is a mystery metal from the darkest hour or this could be just us rambling on, whatever the case all we know is FLABSLAB has just released DarthTerra Cold Cast Bronze Edition.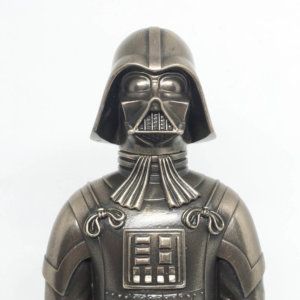 First discovered in Xi'an, China in 1974, it's believed that DarthTerra first travelled to ancient China from a galaxy far far away in 200 BC.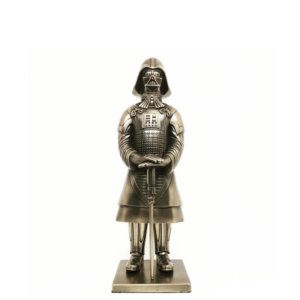 9 3/4″ tall with the base
Second colorway – Cold Cast Bronze (which is essentially mixing bronze powder with resin to create castings that look like they are made of bronze)
Comes in 3 different parts (figure, saber and case) and packaged with die cut foam in a wooden box.
Released TODAY at http://flabslab.bigcartel.com/