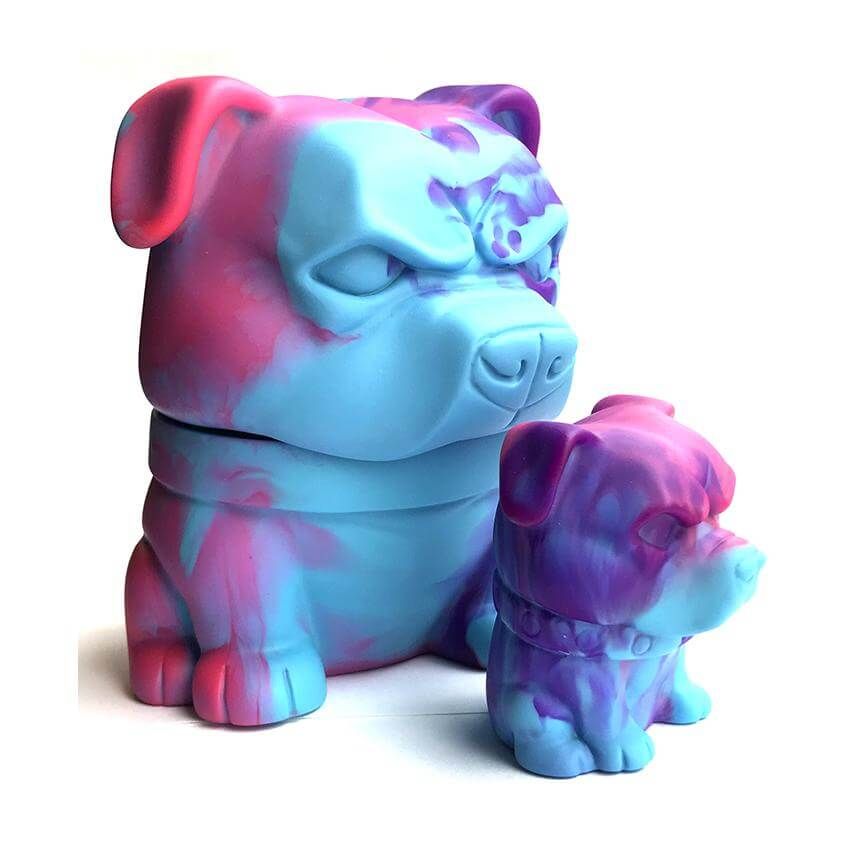 Oh so sweeeeeeeeet! Tastes like candy! But don't eat it, cos that would cause all kindsa issues for your intestines, instead marvel at the new release by Tenacious Toys – the Danger Dog Cotton Candy set!
Your eyes do not deceive you, yup, there are two sizes to the Tenacious Toys' Danger Dog! We have previously seen the 2.25inch Danger Dog, but Tenacious have worked with Mile High Sofubi in the US to create the 5inch Danger Dog and are now offering both as a set in this Cotton Candy colourway. Like we said, DO NOT EAT! Collect!
Available on the Tenacious Toys store as a pre-order (expected to ship in March). Both figures are pulled in soft vinyl in the sofubi production style right here in the USA! Mile High Sofubi used their special marbled vinyl process which used blue, pink and purple vinyl in the mold. This results in 100% uniquely colored figures – there is no way to predict how the 3 colors will swirl throughout the piece, so every single Cotton Candy Danger Dog is unique and one of a kind!
They are priced at $55 + shipping for the set, limited to 30 sets, and can be purchased on the Tenacious Toys store using the button below….
---
Tenacious Toys Social Media
Facebook: https://www.facebook.com/TenaciousToysNYC/
Instagram: https://www.instagram.com/tenacioustoys/
Twitter: https://twitter.com/tenacioustoys
---
If you want to support The Toy Chronicle, we have a number of options available to you. We have started to stock a wide range of releases that we think you will enjoy. Ranging from production pieces from Superplastic, Unbox Industries & POP MART, to original pieces from our favourite artists like Sank Toys, Quiccs & Czee13. Purchasing one of our pins also really help. A quick, cheap way to also support the TTC is by making a small donation. These can all be completed below through our online shop. We appreciate all the support! Thanks!