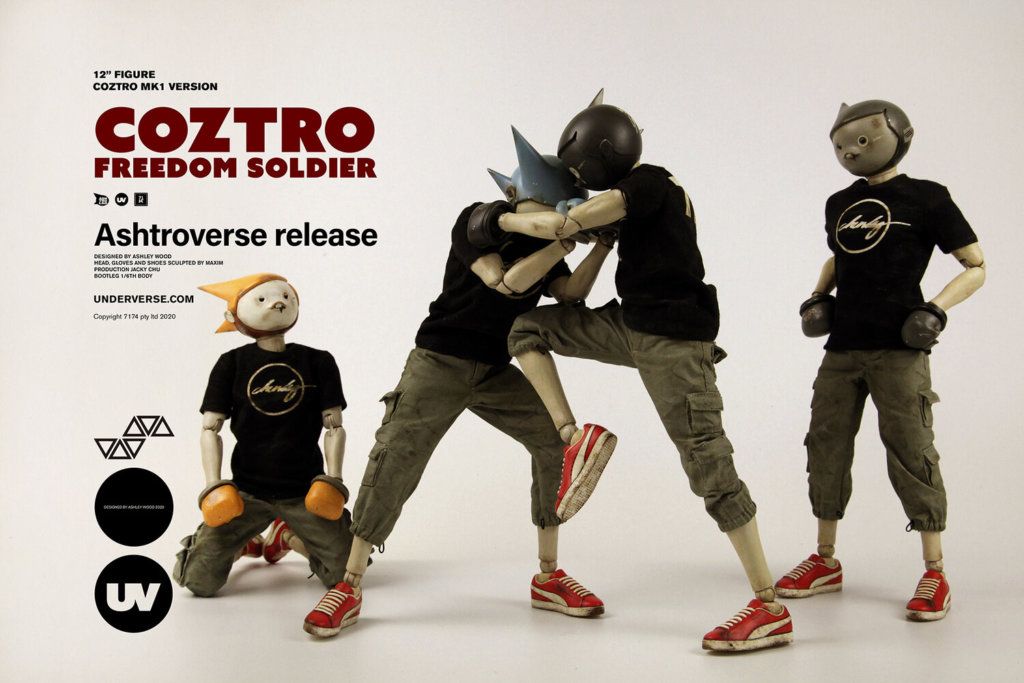 I'll be honest, I'm pretty bummed out about missing this new COZTRO 1/6 Scale Ashtrovers release earlier today. I'm no way a 1/6th scale collector, actually I can't think of any that spring to mind in my collection, but these new figures caught my eye today. A bit too late those, as they had already released & sold out this morning.
The new figures from Ashley Wood's Underverse world dropped earlier today. A blind box 1/6th scale (12inch) figure available in four colourways. Each with TWENTY FIVE points of articulation. They were priced at $140 + shipping from China. They each came with a pair of COZTRO boxing gloves, weathered sneakers, weathered t-shirt & shorts as well as a pair of black underwear too.
We will be keeping a closer eye on future Underverse releases moving forward.
---
Underverse Social Media
Facebook: https://www.facebook.com/underversehq/
Instagram: https://www.instagram.com/underversehq/
Twitter: https://twitter.com/underversehq
---
If you want to support The Toy Chronicle, we have a number of options available to you. We have started to stock a wide range of releases that we think you will enjoy. Ranging from production pieces from Superplastic, Unbox Industries & POP MART, to original pieces from our favourite artists. Purchasing one of our pins also really help. A quick, cheap way to also support the TTC is by making a small donation. These can all be completed below through our online shop. We appreciate all the support! Thanks!