Just moments ago, Kenny Wong x INSTINCTOY gave Molly collectors a heart attack, when they showed Baby Erosion Molly Pink Star & Blue Star! YES, baby editions. Now you can carry them around with you. Defently more affordable release, hopefully we can get our hands on at least one of them. Heres what they had to say about the reveal.
Following the new release of "mini ICE EROSION MOLLY", we would like to introduce our latest work for KENNYSWORK x INSTINCTOY.
For our event-exclusive product "Artist Mini Soft Series", the EROSION MOLLY & ICE EROSION MOLLY editions will soon join the lineup.
Every figure from this series only has 2 parts combined. One part is for standing, and the other is for hanging. However, we have articulated as many parts as possible, and also made some parts movable in the new editions. It was further enhanced with the concept of "BABY". This resulted in a high-grade model for our mini-series.
The highlight of these mini-figures is that the crown and head can be turned. For EROSION MOLLY, both arms are moveable and for ICE EROSION MOLLY, both legs are movable. Customers can use them as a strap with the included chain and they can also change the pose into 2 types. We also changed the chain to a high-grade one with 2 colours, gold and silver. Of course, it also has a metal charm with our logo name. We used the same design as the original size and made a package using a blister case.
These items will be available at the INSTINCTOY TTF2018 booth in early sales.
(※ These items will not be sold at the KENNYSWORK TTF 2018 booth.)
【 Notice regarding sponsoring TTF2018 and a giveaway on the 2nd day 】

As we have done in previous years, we will be cooperating with Taipei Toy Festival to provide a special INSTINCTOY special item that will not be for sale as a free giveaway to the first 500 guests.

This is our 4th year participating in this giveaway project, and this year we will be sponsoring a crown for BABY EROSION MOLLY and BABY ICE EROSION MOLLY that is the latest release from KENNYSWORK and INSTINCTOY.

Our product will be given away on the 2nd day of the show (19th Oct) and guests receive a random piece from 2 possible designs, either the pink crown of BABY EROSION MOLLY(250pcs) or the blue crown of BABY ICE EROSION MOLLY(250pcs).

These 2 crowns are TTF 2018 exclusives and not for sale. The customer who purchases the BABY EROSION MOLLY 1st edition "Pink Star" and BABY ICE EROSION MOLLY 1st edition "Blue Star" can enjoy exchanging the crown parts as the giveaway crowns fit them very well. Thank you- 大久保博人
 Releases via lottery expected at the show.
INSTINCTOY will update their blog by the evening on 15th Oct (Mon) with details about the sales schedule and available items. Please stay tuned.
DATE: 2018.10.18 (Thu.) ~ 2018.10.21 (Sun.)
HOURS: 10:00-19:00 (10/21 10:00-18:30)
LOCATION: Huashan Creative Park / Building East 2 & Building Center 4B (1F & 2F)
No.1,Bade Road Sec.1,Zhong Zhen District,Taipei 100
MAIN VISUAL DESIGN: T9G x Shoko Nakazawa, INSTINCTOY x James Groman
ORGANIZER: MONSTER TAIPEI INTERNATIONAL INC.
ADMISSION FEE: Early Bird Ticket $220 (8.25-9.30 ON SALE NOW), Full-Priced Ticket $250 (10.1-10.21), Coin Ticket Set $450 (8.24 on sale, SOLD OUT) Prices are in Taiwan Dollars.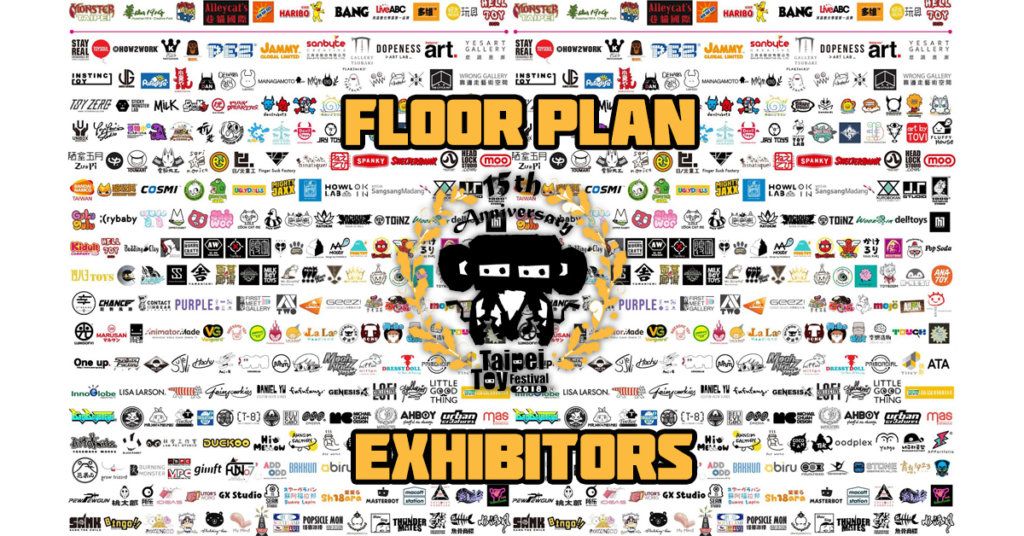 Check out our unboxing of the big version.
Stay tuned for all the releases and exclusives. For those who can't make it, look out for our LIVE stream! Check out 2017 streams HERE on our Facebook page. 
You can get your daily Designer Toy fix from our TTC Mobile App. It's free too! FREE! Download on the iPhone or Android smartphones. Search for "The Toy Chronicle" and all your Designer Toy wishes will come true! Pretty much.
Did we fail to mention IT's FREE.
Find INSTINCTOY Via Twitter , Facebook and Website 
(all info lifted from INSTINCTOY )