Streetwear brand FXXKING RABBITS and Mighty Jaxx? You betcha, kinda fitting as Juce Gace "A Wood Awakening" gets the FR2 treatment! The 3rd time we see #FR2 hitting the designer toy scene and this tide is strong with some designer toy action in both Juce Gace vs FR2.
A Wood Awakening has made a new friend! It's #FR2, a rabbit photographer with an eye for all things salacious, it's no surprise this cheeky bunny would become friends with our favourite puppet. 
#FR2 (Fxxking Rabbits) is a provocative Japanese label, headed by Ryo Ishikawa, an iconic figure in Tokyo's streetwear scene. #FR2 blends together the worlds of fashion, design, and photography with its range of bold and unorthodox graphic t-shirts, hoodies, belts, and bags.
It's the first collaboration between #FR2, Juce Gace, and Mighty Jaxx, and they have given birth to A Wood Awakening: #FR2 Edition! Decked out in a yellow hoodie and having grown bunny ears, it's the coolest A Wood Awakening has ever looked. Together with the #FR2 rabbit, the new friends take on the streetwear game hard. It's a copious package you don't want to miss.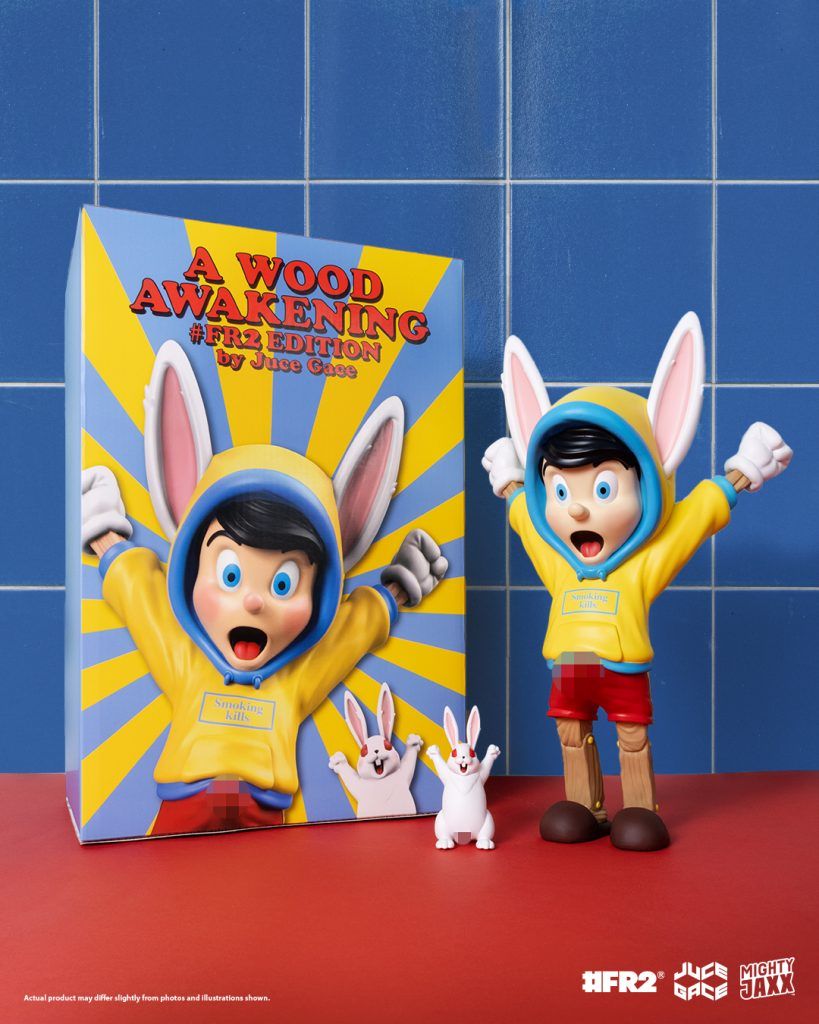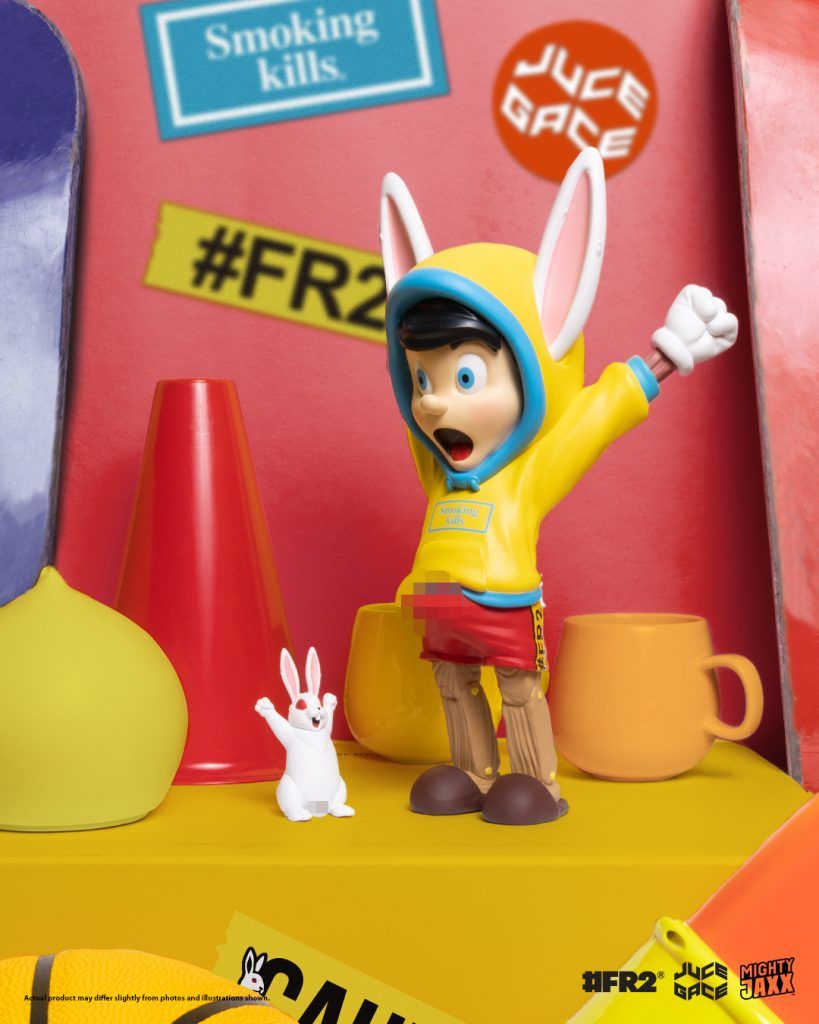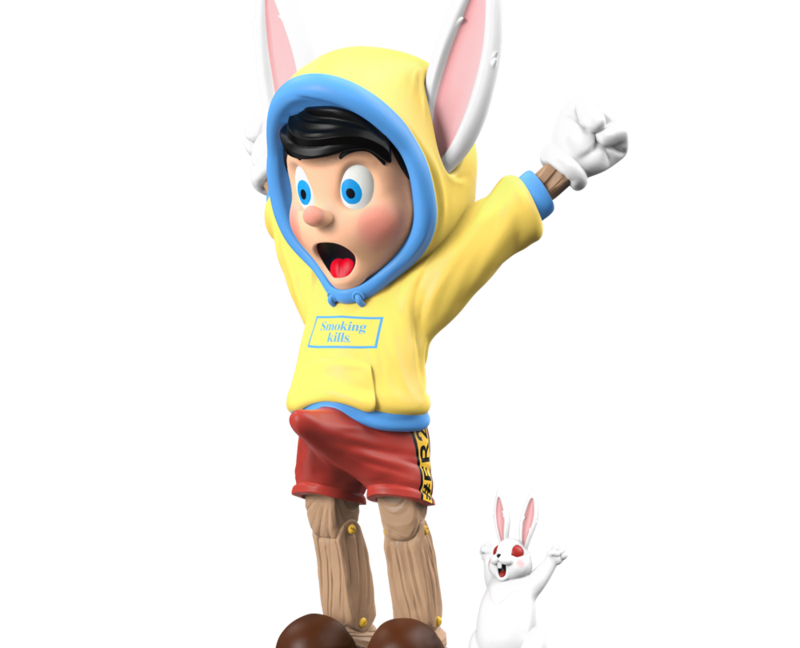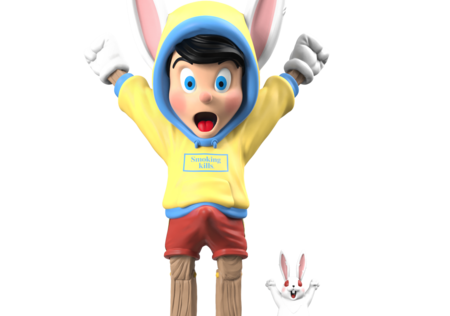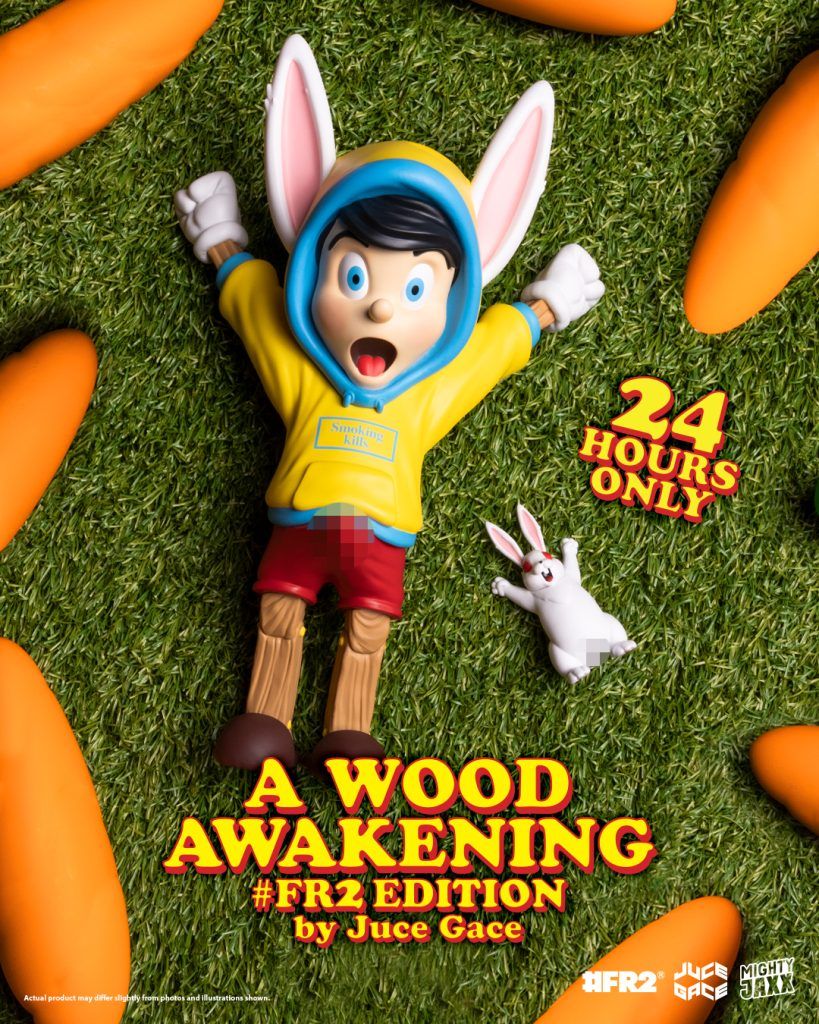 ​
11.6″ + 3″ Vinyl Art Toy
24-Hour Time Limited Edition

Powered by Forreal
Free Shipping Worldwide

WHEN: Pre-order Saturday, 13 November
10pm (SGP) 9am (NYC) 2pm (LDN) 24-Hour Time Limited Edition
WHERE: mightyjaxx.rocks
(Please note, do not contact us for updates on past pre-orders you can find Mighty Jaxx pre-order schedule HERE)
Click HERE To Order The Matching A Wood Awakening: #FR2 Hoodie

Juce Gace
Screenwriter by day and toy designer by night, Paris-based creative Julien G. aka Juce Gace is spreading smiles all around with his childhood-inspired toys and other pop culture collectibles. In his own words : "To entertain you is a pleasure and a real privilege."
Find #FR2 via https://corp.ceno.jp/ Instagram and Twitter. Find Juce via Instagram.
If you want to get your Designer Toy news first, you should look to download our new TTC Mobile App. Designer Toy news direct to your smartphone. No dealing with social media algorithms.
The APP is FREE.