Today we have the pleasure having a quick chat with French artist Stan Manoukian, who's a part of the 
Circus Posterus
collective. Stan draws comic books, illustrations and various designs for movies and commercials how cool is that right? Stan flying off to Japan for the 
Monsters & Misfits IV
show in Tokyo and joining the rest of the CP collective. We're grateful for Stan taking time out from his busy schedule. Here's the chat for you guys.
You're heading to Japan and having your work showcased at Monsters & Misfits IV the Japanese collectors love Monsters, did you do anything extra special to capture new fans of your work in Japan?
I didn't fit the theme of my creatures with the Japanese's universe. Although I know a bit about their culture that I love, it seemed interesting they find my work before I change my world. By cons I have raised my level of requirement and finishing from my previous exhibitions … Because I'm evolving and learn from project to project, which allows me to be more ambitious. Some sculptures are larger than before and I try more and more to have a connection between my drawings and sculptures more obvious … I work a lot the style and details in this direction. I would like to feel that my sculptures come directly from my drawings, like by magic!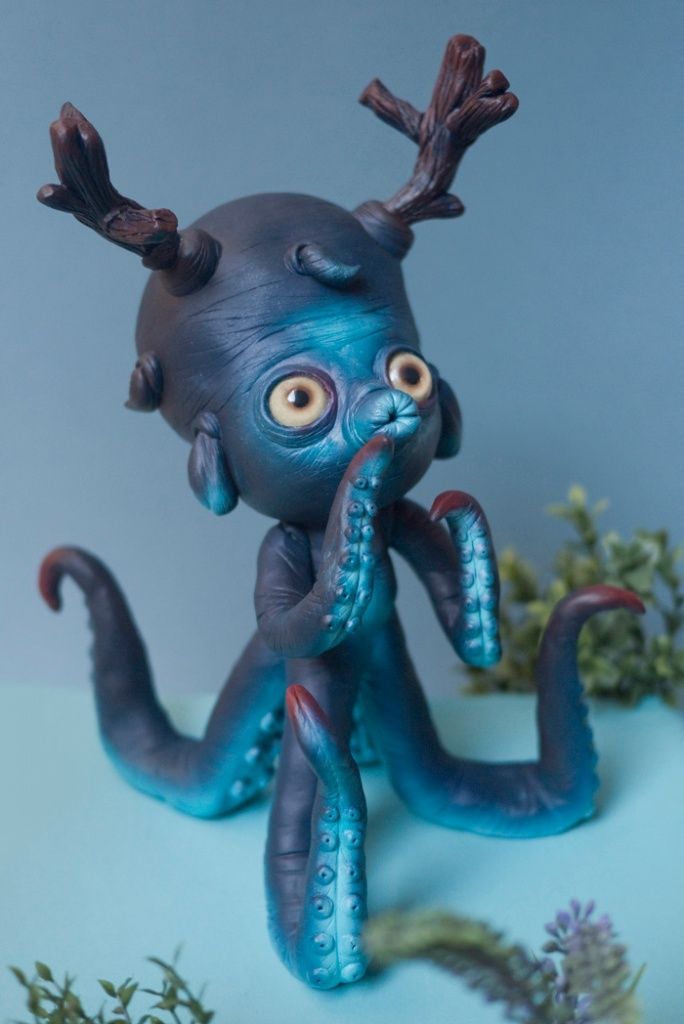 Being a fan of your drawings as well as your OOAK sculptures how does it feel to be apart of CP which you line up with among class CP collective?
Two years ago Brandt Peters and Kathie Olivas asked me to join the group … I have obviously not hesitate a moment! Kathie & Brandt are very generous, they share their knowledge and experience. I think they need that! They are in the mutual share … They gave me a huge chance making me confidence. I learn a lot with them and every time I see they don't hesitate to give me their secrets or tips. Unfortunately I do not see them enough with the distance that separates us. I feel good inside Circus Posterus and artists who composed it, I seem to have found an artistic family where my works have their place.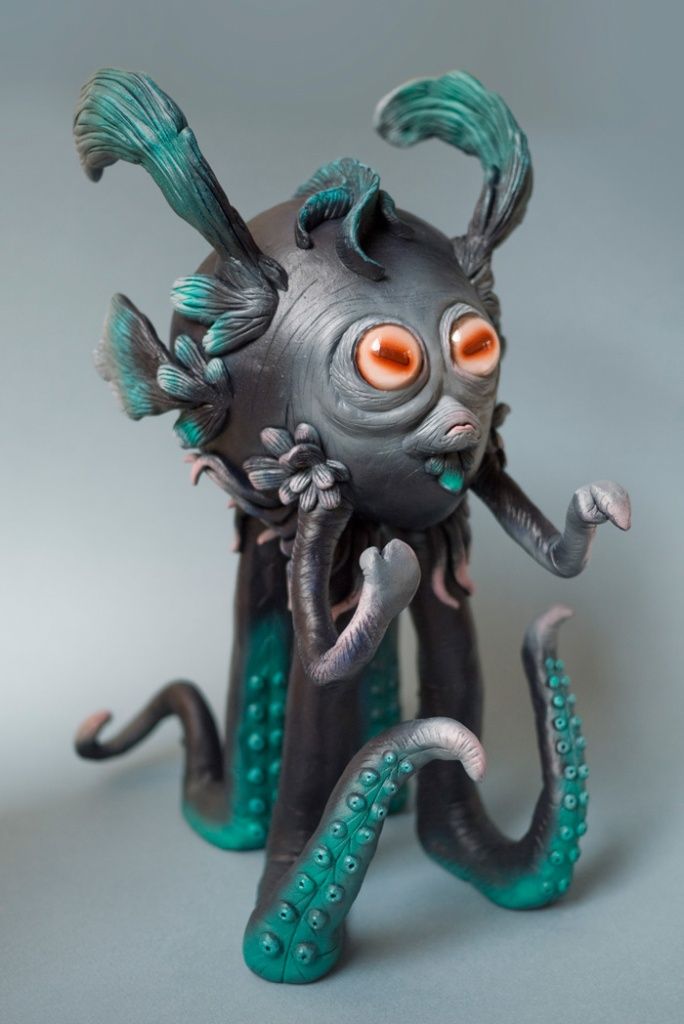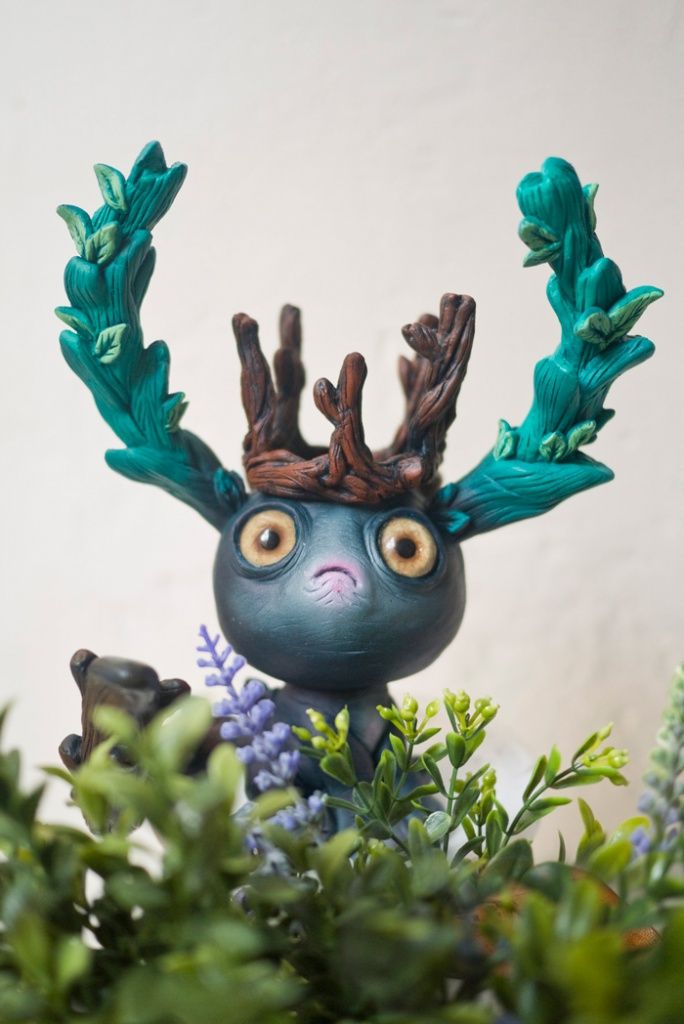 Based in Paris France cuisine is a at a high standard and world renowned. Anything you want to try in Japan?
We've got Japanese restaurants in Paris, but I'm sure they're better in Japan! I want to try everything I can, hahaha… It will be
incredible, I'm sure, because you're in the original country.
How hard has it been establishing yourself as a toy customiser/artist?
I don't consider myself as a toy customizer artist. After all I've done very few customs … I'm not very comfortable for me the appropriate form of other artist. I make originals sculptures and it's true that I would like to develop more and more the production of vinyl toys or resin , less expensive than original. I have already published "Kondo" with Obitsu, the toy was pulled few copies (about 150) and almost everything was sold. I would like to continue in this way, but it is a job and a very long and expensive process, unfortunately I can not self-produce me every time. We have projects with Stranger Factory, I'm working on now.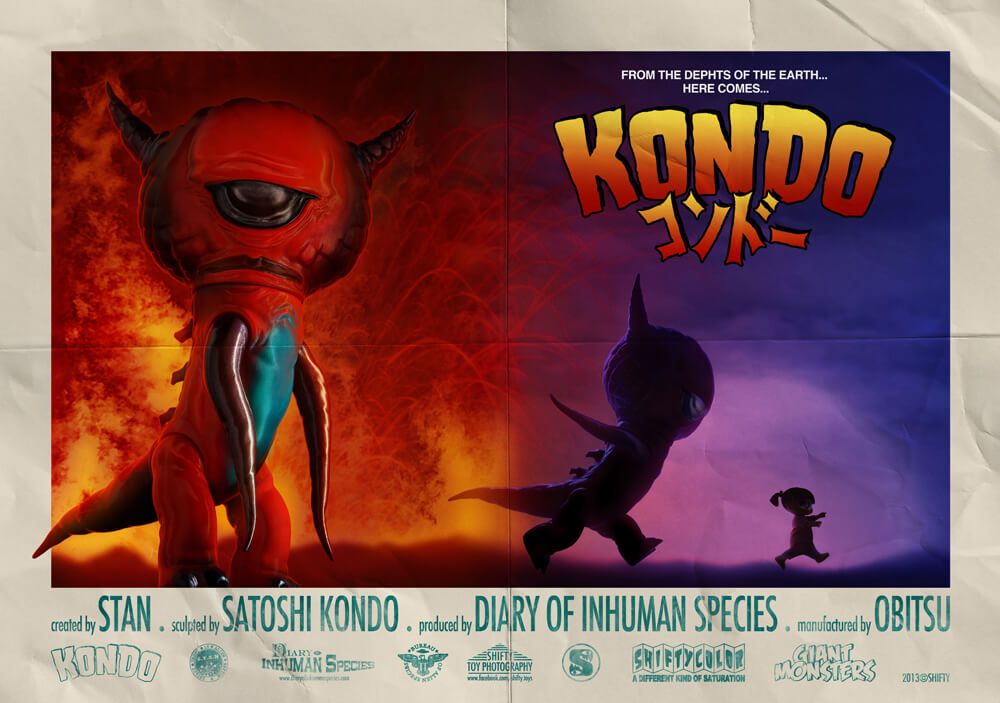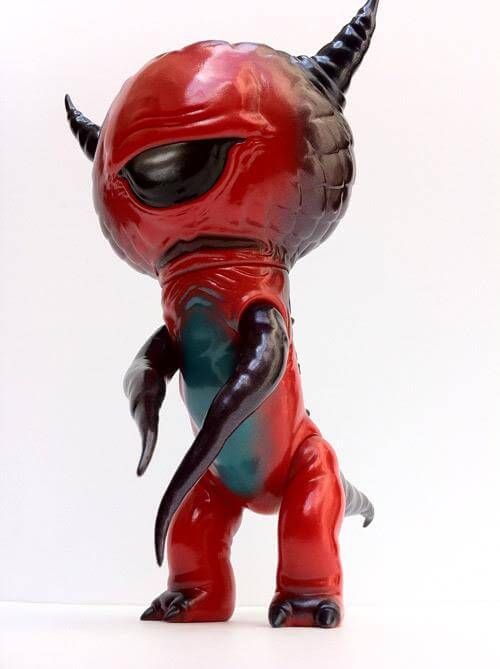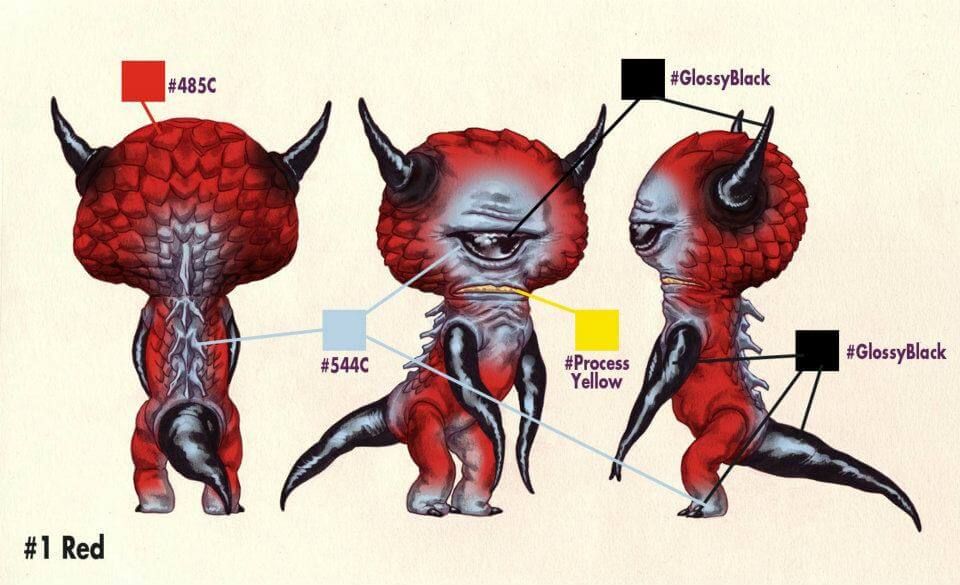 When you had your Solo show "Species" can we expect any production vinyl toys based around the show coming from you in the near future?
I hope, we work together with Stranger Factory on different projects. Things will move better soon after my come back from Japan because I was pretty busy these months on MMIV !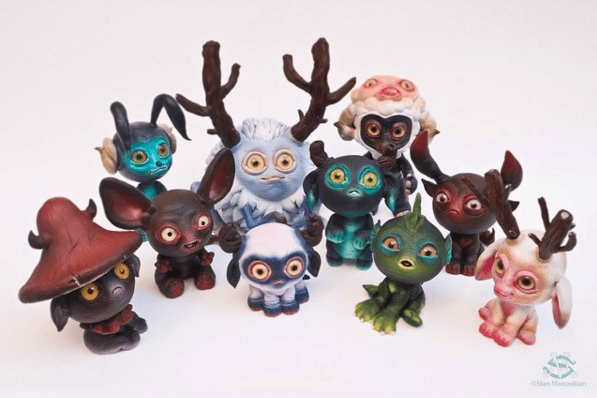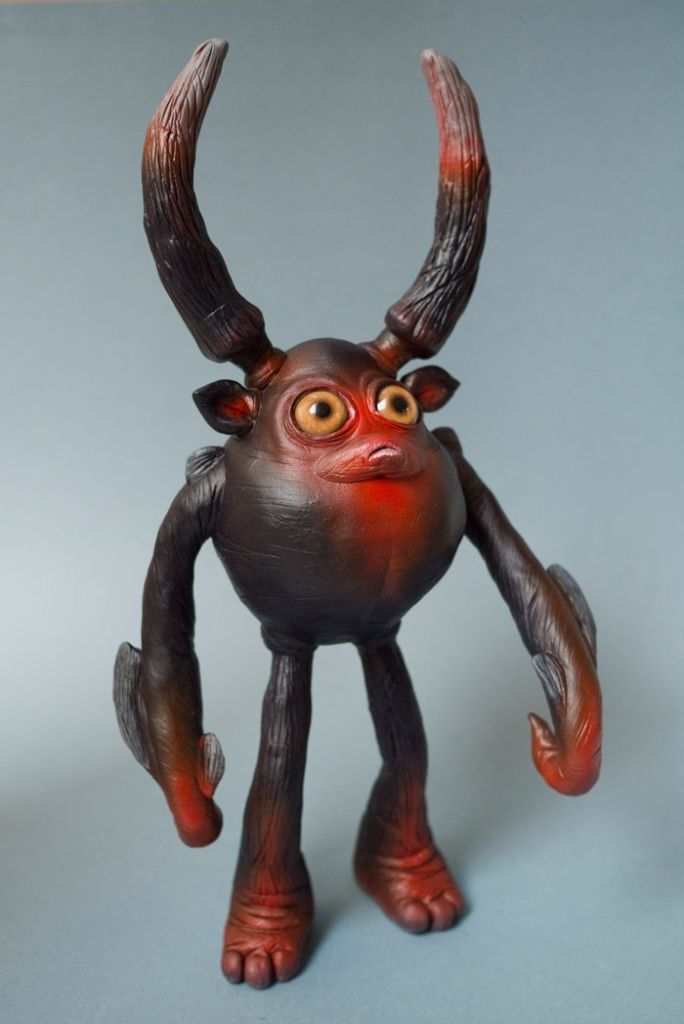 Unbox Industries produced one of your first vinyl toys "GORK" can we see any more variants in the near future?
This was not the first. Kondo was me first real vinyl toy. Unbox didn't really officially released "Gork", he was featured on several shows and we got very good feedback but we will make design changes to improve before the official launch and for the rest. I do not know if Unbox still want to work with me, I hope, because I have so many things in mind.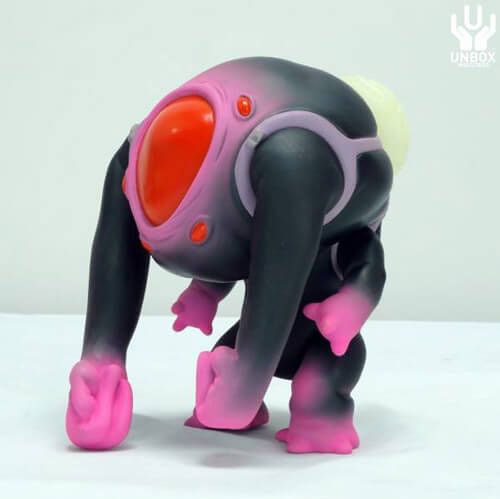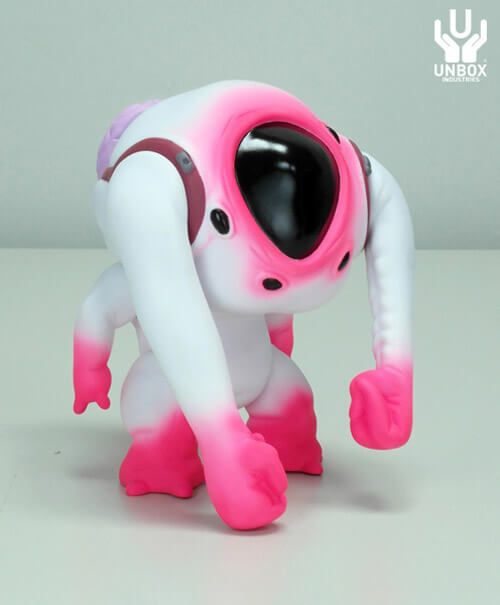 We would love to see Wild Cat to come to life in vinyl or even a resin toy. Which character would you personally like to see go into production?
Ho Yes, Wild Cat ! it's a great idea, but there's too much creature that I'd like to see on vinyl !! It's almost impossible to make a choice .. In fact I'm working more on a toys series, so that each complements the other and structuring my universe, and really look like a creature's collection.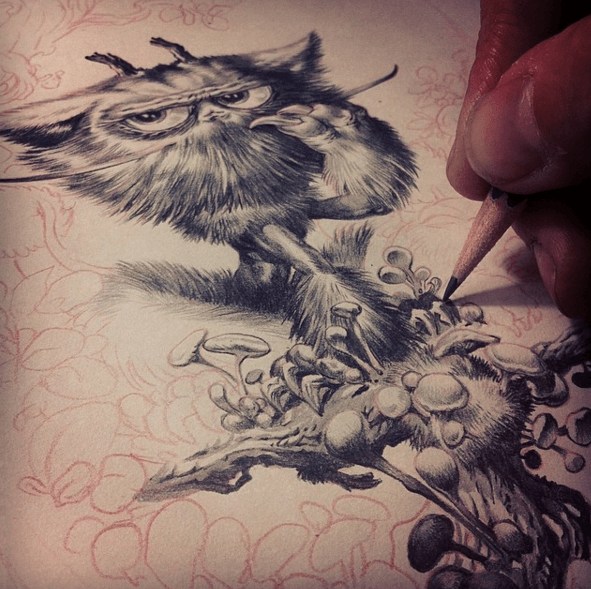 We actually found your Paintings and drawings before seeing your sculptures. How did you get into designer toys?
I have always worked in parallel on toy projects for 10 years, and the toy's world evolved much since! I did a lot of design and few were produced. I hope that my work on my original sculptures will want to vinyl toys manufacturers to produce more toys and make them more accessible. Brandt & Kathie pushed me to work on this direction !
Do you listen to music when you're sketching/customising?
Always! I struggle to work in silence, there's always music in the studio, it's a computer with Itunes passing random all kinds of music that I love … And then sometimes I select my playlist. My tastes are pretty broad, recent movies or music from the 50, 60, 70, 80 etc … Hard rock, psychedelic rock, big beat, jungle, electronic etc …  a little of everything!
Can you walk us through your work space, and what are some of your favorite things about your space
I work in a studio with 6 other dudes. There are graphic designers and a musician … I like the atmosphere, there is a competition and then also thousands of toys and books! it's very inspiring !! Studio is large enough but since I do drawings and sculptures increasingly large, space begins to reduce! I'll have to rearrange my space to make it more convenient! Finally there are almost too many toys hahahah !!
Do you have any toys in your collection that you would never part ways with?
Yes! Probably my Soul of Chogokin's robots, or some Ashley Wood's. I almost stopped buying toys, I have no more space. And now I've began to buy Double Parlour's small resin prints and there are a lot of Kathie & Brandt's sculptures or small prints  I would like to have.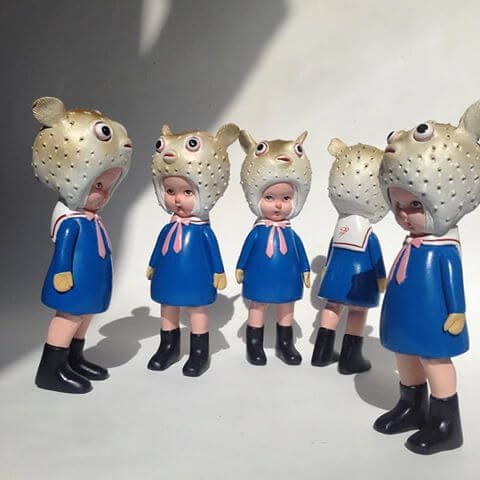 We're foodies what's your one food you cannot like without?
The fruits! The fruit salad is so delicious that I can feed myself exclusively to, hahaha.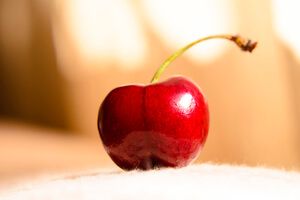 If theirs an artist who you guys would love to work with, who would it be?
We spoke with Brandt about a project together. It's exciting, because apart from working with someone I admire the work,  what is important for me is to appreciate the person with which I share this experience.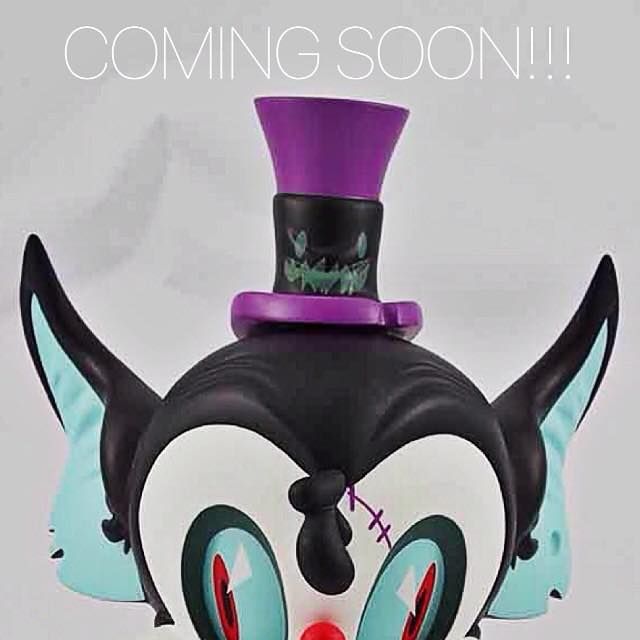 Do you have any tips for customisers/ artist getting into the game?
Hoooo, it's so hard to answer! If I knew how it worked and if it was that easy it will not be interesting! it's so random! I will say that one of the only advice is to never give up. Pursue his idea to the end, make plans and move forward and improve from project to project. See the long term and never stop even if it is often difficult to have his work recognized
Quick-fire questions
Favorite color?
All but I have difficulties with green,  it's a color which I have difficulty to work with.
If you could meet any person (dead or alive) who would it be ?
The 1st man, with the risk of making me a heavy blow on my head!
You could give your younger self one piece of advice, what would it be ?
Work less and enjoy more of life around you! hahahah … but unfortunately when you're young you don't listen too much the older people.
If you you cannot make it to MMIV show like us you can purchase original artwork and, or view the Monsters and Misfits IV exhibition online, please visit www.tomenosuke.com on April 2nd (11 AM local Tokyo time) when the web preview is launched. Please contact Tomenosuke.com directly for any Monsters and Misfits IV purchase related questions.The exhibit will run April 1st to 7th at Shibuya Hikarie in Tokyo, Japan, with an opening reception on April 1st.
Shibuya Hikarie (Creative Space "8/")
2-21-1 Shibuya
Shibuya-ku
Tokyo, Japan
150-8510
03-5468-5892
Thank you again for talking to us. We hope you enjoy your time in Japan and representing 
Circus Posterus
 and Europe.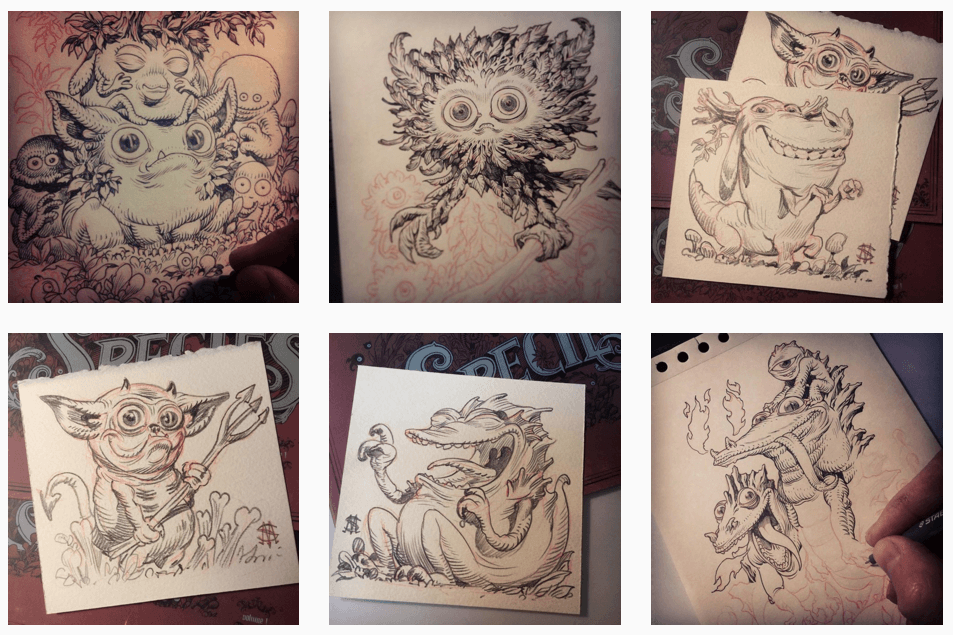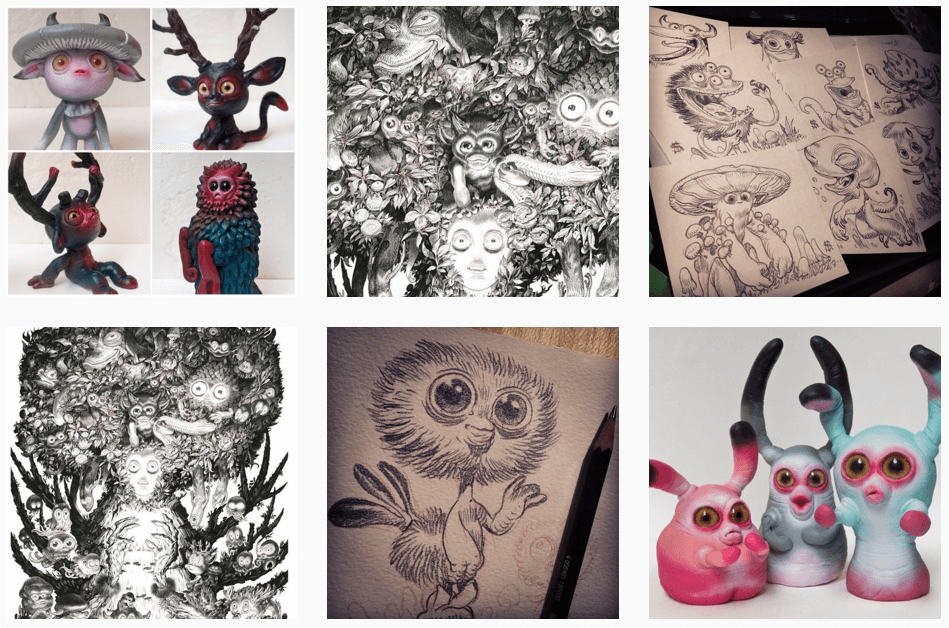 Special thank you to Brad Smith for setting up this chat with Stan.