Did you notice the seismic shift in the Designer Toy Community recently? You was probably thinking to yourself 'I wonder where that seismic activity came from'. Fear not! As we, The Toy Chronicle, are beautiful, decent people we can reveal that you didn't imagine it, it really did happen. The reason for this tectonic wave of change are the Arsenal of Artists (AoA for short). Who are the Arsenal of Artists, we hear you cry. Well, we can tell you. Sit back & take a read of the interview we conducted with one of the founders of AoA, Alex Rivera AKA PlayfulGorilla. Following the interview, we have some further information on the upcoming AoA show – No Toon Left Behind, so stick around to read that too.
Who are the Arsenal of Artists?

Arsenal of Artists (AoA) is a collective that
Cash Cannon
and I (
Alex Rivera
) put together to bring together new and raw talent with some of the monsters of the lowbrow art game.[frame align="center"]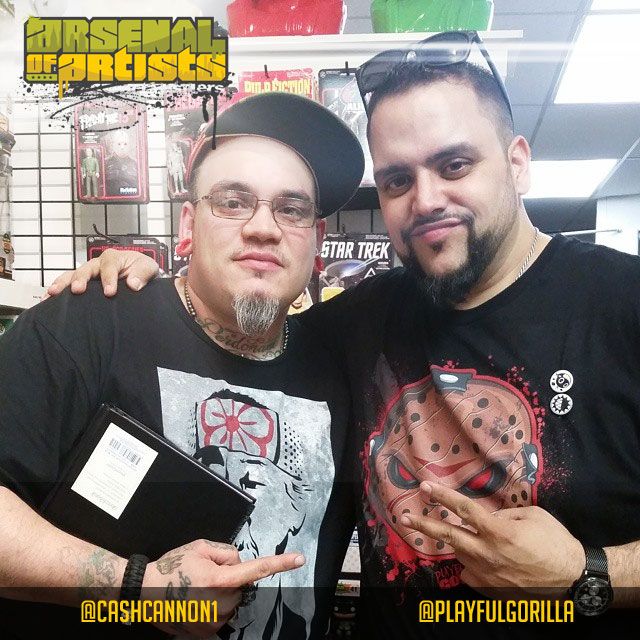 [/frame]
How long have you guys been running?
AoA's first official show was in April 2015 (The Recruits) but the concept has been thrown around for year. We (Cash and Alex) have been doing NYCC together for several years now and discussed it at length, and the idea officially gelled at NYCC 2014 when we decided to move forward and dive in.
[frame align="center"]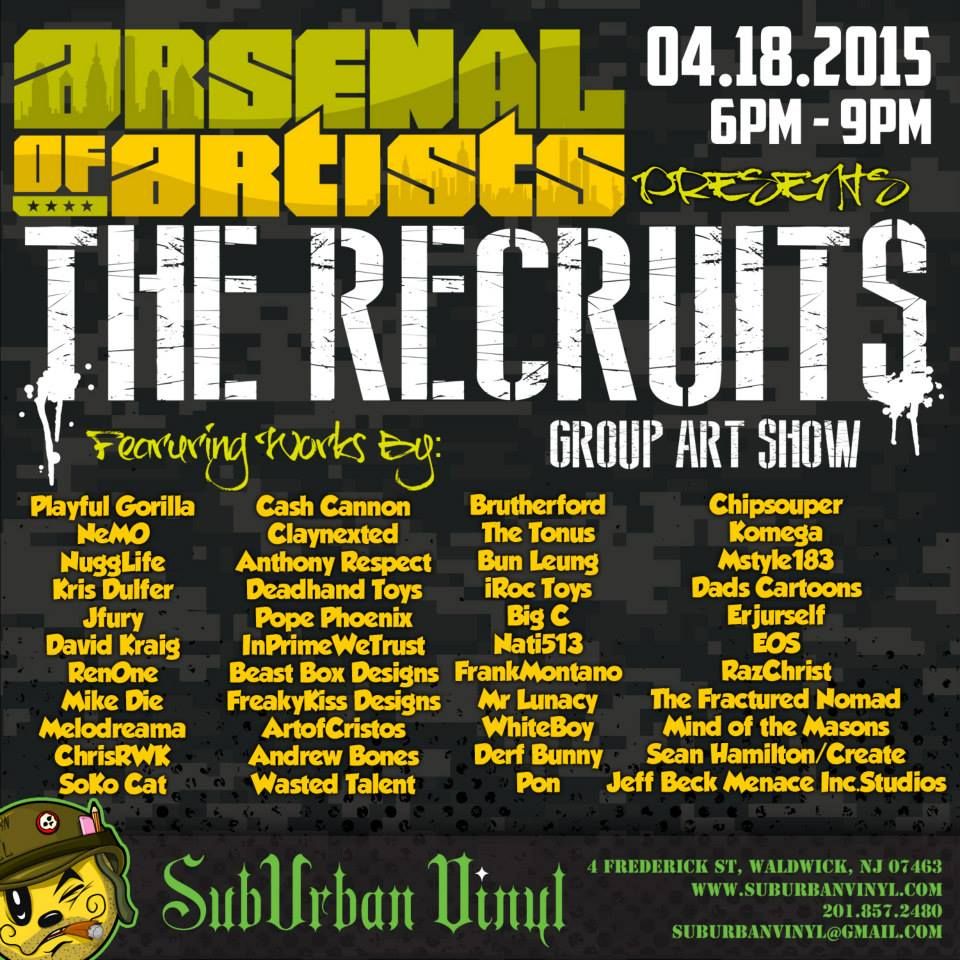 [/frame]
What are your aims of the group?
The ultimate goal is to have an avenue to showcase new talent in a more strategic way. AoA tries to bring new, hungry, artists together, artists who may have been left behind in the gallery scene. We are providing a platform for them to shine. There's a large amount of untapped talent out there that we hope to push into the limelight. We want to showcase new toy platforms and help each other by leveraging our strengths as individual artists to put more quality work out there.
Why did you set up the contigent?
It started out with our friends and acquaintances, we approached them first. People loved the idea and the concept of doing group themed shows… when we asked them, they were all about it. We are trying paying homage to the people that paved the way to make this all happen. And do it in a way that is slightly different and more approachable than the established format currently in place. We are hoping to bring in some of the artists that we wouldn't previously have had a chance to collaborate with . It's been a dream of ours for a while now.
What have you got planned over the next few months?
We have 3 new shows in the works after The No Toons Left Behind Show (which you can read about more after the interview) at Suburban Vinyl. The next one will be a show in Philly at a comic book store – a Batman-themed show for Batman Day. There are two other shows at 2 other venues also in the works after that. As long as we have an arsenal willing to put in the work, we will continue to put on the shows!
[frame align="center"]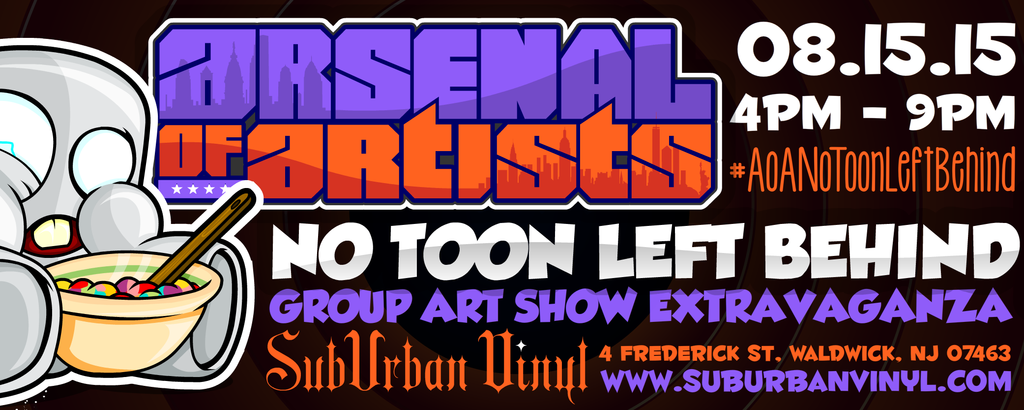 [/frame]
What have been the highlights of the group so far?
Our biggest highlight must be the massive amount of support from people involved in the scene – shops, galleries, sponsors and companies like NerdBlock, people who contributed in their own way. The people that we have looked up to in the past, are now supporting us and showing shoulder to shoulder with us. It's like we are building this community within a community. For me, it's been a blast to work with the big names in the toy art and illustration world.
Where can our readers find more information on the Arsenal of Artists?
Check our website at www.arsenalofartists.com, we also have a Facebook page: https://www.facebook.com/ArsenalOfArtists2015 – and also check out the sites and social media of the founders and Generals of the Arsenal Alex Rivera (@PlayfulGorilla) and Cash Cannon (@cashcannon1) for more info and sneak peeks at whats in the works.
————
Now that you know more about Arsenal of Artist, let us give you some further information on their upcoming No Toons Left Behind show.
[pullquote]The landscape of childhood has changed. Those of us fortunate enough to grow up raised by the glow of the TV set on Saturday Mornings as we watched our favorite cartoon characters – must never forget those wonderful times. Saturday morning was our time. Our time to grab our favorite bowl of cereal and sit quietly as we watched – suspending our disbelief even if it were for just a few hours. We must remember those days of old. We must reach down and recount the many stories that made us laugh and cry. We owe it to this new generation. The Arsenal of Artists has gathered once again. We will raise our voices and recall our memories leaving no Toon behind![/pullquote]
We think Arsenal of Artists have captured the essence of their show quite well in the above quote.
No Toon Left Behind opens on 15th August at the Suburban Vinyl Art Gallery in Waldwick NJ, No Toon Left Behind will feature the BIGGEST line-up of awesome artists from around the globe (you can see a list of artist, with links to their page below). An unbelievably roster of talented artists ranging from toy artists to customizers, from digital illustrators to 3d artists. Each participating artist will bring original artwork with a cartoony twist throwing back to their favorite childhood memories.
We have already seen some of the pieces that will be available to purchase on the day, and we'll cover more as they get announced. The Pink Panther by Malo One, that we featured last week, will be part of the No Toon Left Behind show.
[frame align="center"]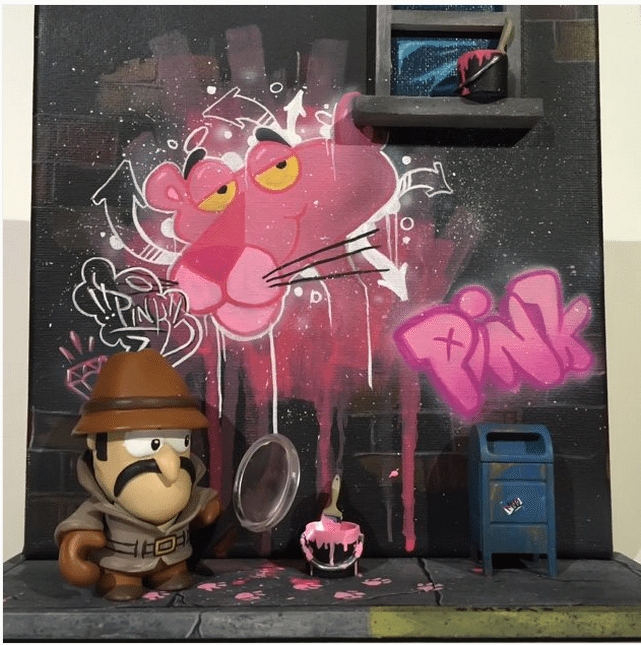 [/frame]
We only wish we were in New Jersey to visit this show. It looks like it will be a blast.
Line-up of Artists taking part in No Toon Left Behind….