When 2become1! Molly Yllom takes over the Awesome Toy "Twins" sofubi figure and infused them with Molly's signature style. Bound by blood, sweat and tears, we can see all the hallmarks of Molly's Characteristics rolled into this custom. "We are crying together & forever" will be joining the custom show which includes other artists from around the world at STS 2020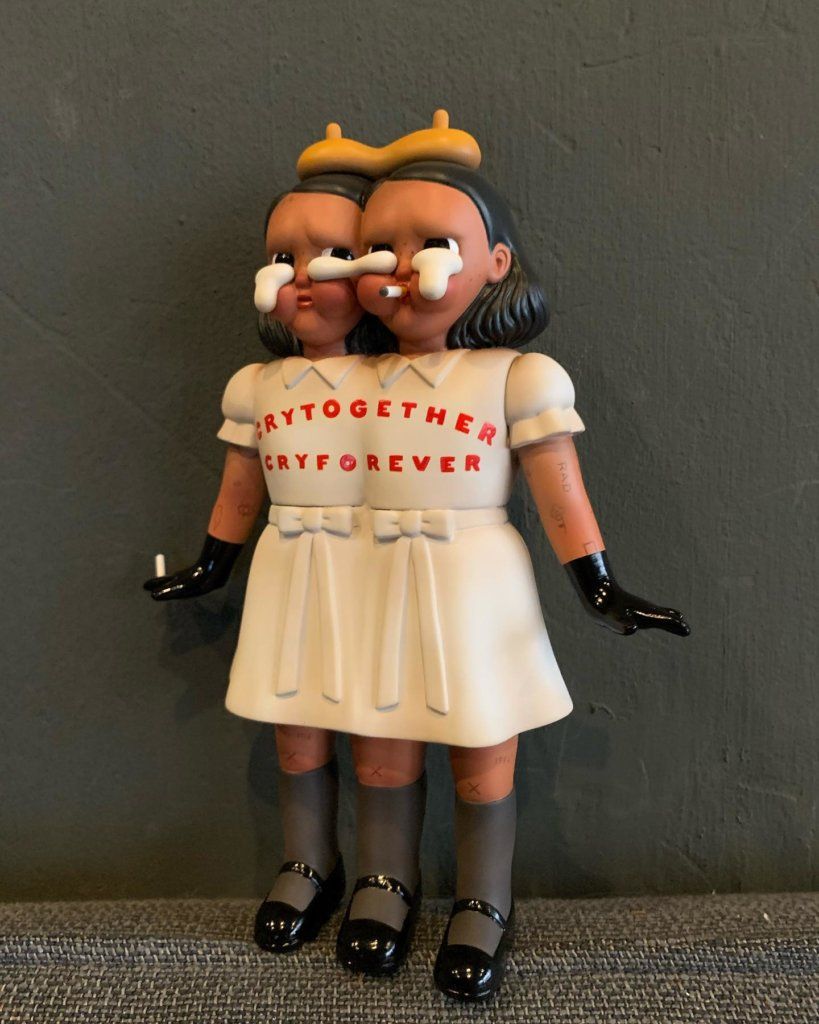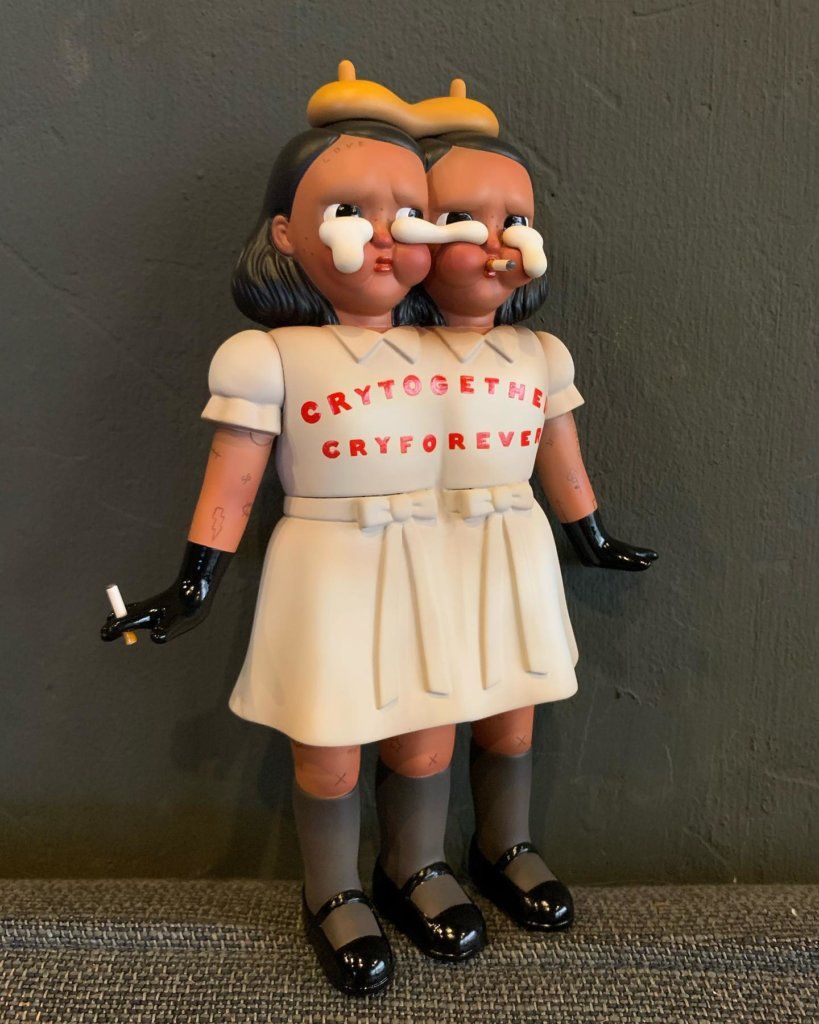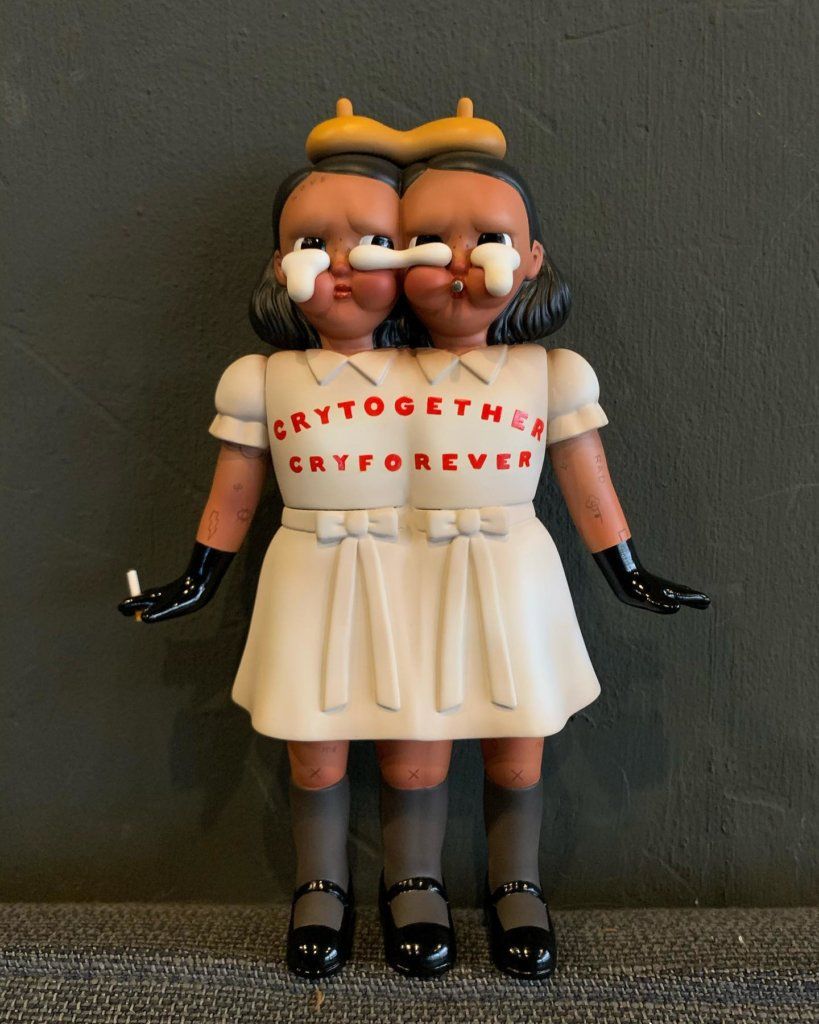 How good is this custom right? Hopefully Awesome Toy will take this on board and make a production version!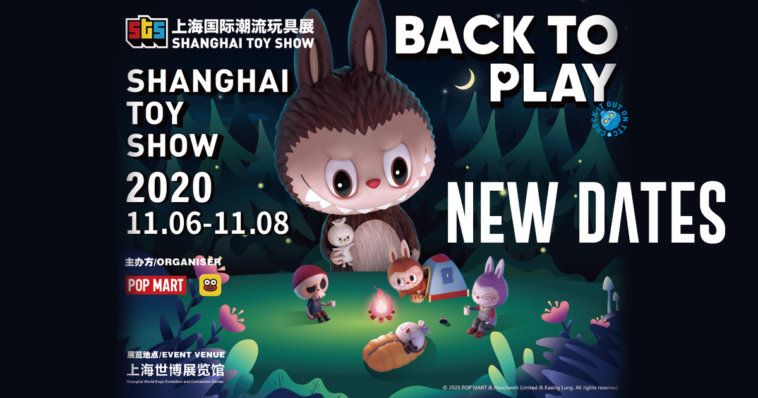 WHEN: November 6th 2020 – November 8th 2020 am
WHERE: POP MART Shanghai Toy Show 2020
Venue: Shanghai | Shanghai World Expo Exhibition Hall-3
Awesome Toy Presents
The TWINS Sofubi Custom Show
Awesome Toy are happy to announce our 3rd annual Sofubi Custom Show! This year's theme is our TWINS Sofubi Toy and Awesome Toy invited a group of talented artists from all around the world to customize them. 
Each artist will be painting at least one set (2) of our TWINS figure. All custom art pieces will be showing during a 3 day event in Shanghai. This year we are expecting over 100k visitors. All customs will be available for purchase during the show and each figure will be sold individually. Although they are twins, each artist has given a special hand painted touch to their toys making every piece a unique piece of art. Any unsold pieces will be available to purchase online after the event.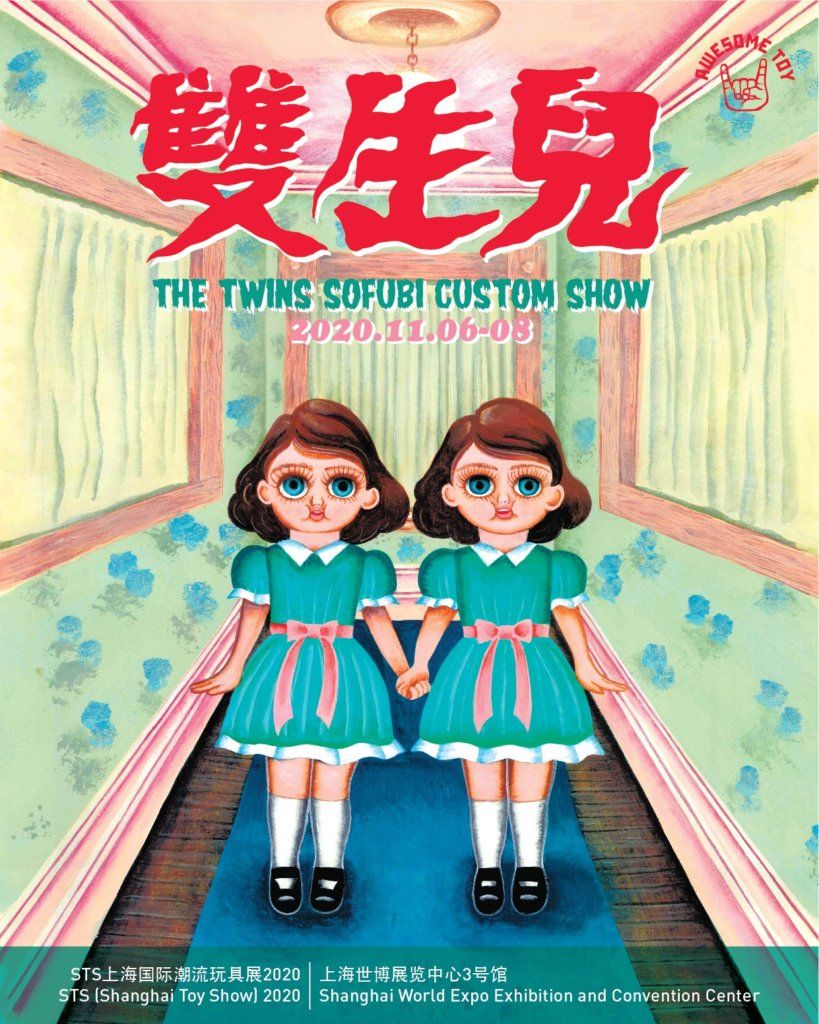 Poster Art by Japanese Artist Itoyo.
Awesome Toy 雙生兒Sofubi客制展
很高興宣布我們的第三屆的Sofubi客制展!今年的主題是我們的雙生兒Sofubi玩具,我們邀請了來自世界各地才華橫溢的藝術家進行客制。
每位藝術家將至少客制一組2個的雙生兒人偶, 所有作品將於上海為期3天的玩具展中展出,今年大會預計展會期間將有10萬名訪客。所有展品將於展會期間以抽選發售。每位藝術家的作品在客制的方向上每一個人偶都是獨一無二,作品將以雙胞胎的形式展出,而每個客制的人偶將會以單獨形式出售,活動中所有未售出的作品將於展會後開放線上發售。
2020年11月6日-8日
STS上海國際潮流玩具展2020
上海世博展覽中心3 號館-展位C12
海報插畫由日本藝術家Itoyo繪畫
List of participating artists:
參展藝術家名單:
Aaron Moreno (USA) @retroband
Candie Bolton (USA) @candiebolton
Guumon (USA) @guumon
Horrible Adorables (USA) @horrible_adorables
Miscreation Toy (USA) @miscreationtoys
Seriously Silly K (USA) @seriouslysillyk
Wonder Goblin (USA) @wondergoblin
Blobpus (Japan) @blobpus
Dehara (Japan) @deharayukinori
izumonster (Japan) @izumonster
illsynapse (Japan) @illsynapse
Kenth Toy Works (Japan) @kenthtoyworks
Leo Sofvi Bouya (Japan) @leo_sofvi_bouya
Mai Nagamoto (Japan) @mainagamoto
Reina Shinya (Japan) @ro328se
Terriblewhore (Japan) @terriblewhore
Seymour (Australia) @seymourart
ShinGangu (UK) @shingangu
CryBaby Molly (Thailand) @crybaby_molly_
Recycle C (Thailand) @recyclec
2oz (Korea) @__2oz__
Duckhead (Korea) @duckhead
RATO KIM (Korea) @ratokim
Lion Chen (China) @Lionc_toy
三山SAN3 (China) @san33_1993
Akowes (Taiwan) @akowes
Funk Toy (Taiwan) @strike126
Momoco Studio (Taiwan) @momocostudio
Midnite Hotel (Taiwan) @midnitehotel
Robin Tang (Taiwan) @robintangantics
VivianWang Studio (Taiwan) @vivianwangstudio
Aliens Park (HK) @jeffery_ap
Don't Cry in The Morning (HK) @dontcryinthemorning
Hexactuss (HK) @hexactuss
LeeeeeeToy (HK) @leeeeeetoy
LordMasterPrince 太子 (HK) @lordmasterprince
Milozama (HK) @milozama
Find Molly's Factory on Instagram and Facebook.
You can get your daily Designer Toy fix from our TTC Mobile App. It's free too! FREE! Download on the iPhone or Android smartphones. Search for "The Toy Chronicle" and all your Designer Toy wishes will come true! Pretty much.
Did we fail to mention IT's FREE.