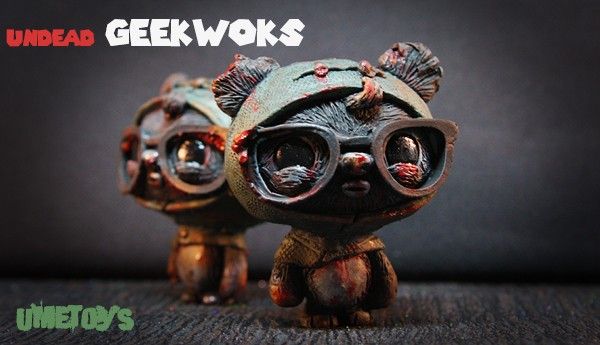 In between casting and sanding the new resin moulds for Geekwok for the new series of up and coming award winning Geekwok, UMEToys (Richard Page) has blessed his online Store with couple of little undead GeekWok customs! poor little Geekwok looks like they have been on the set of the Walking dead.
The cutest undead nerd has risen and is heading his way to a toy shelf near you. Standing a hairy 3 inches high this little chap is cast resin, hand painted, signed and on the base.
If you fancy a GeekWok custom don't be shy and message Richard, he won't bite. If you miss out on this undead Geekwok or any of the toys in the UME line up (do a TTC search for UMETOYS) making up as a custom or in a colorway you'd like drop Rich an email.
Heres an old short video of Rich getting to work on the OG GeekWok.
[youtube url="http://youtu.be/vL6o5FZHZ7E"]
Head over to UMEToys social sites to stay in contact with him.