Jim Phillips Santa Cruz Screaming Hand gets the Kidrobot treatment with some vinyl goodness and keychains galore. The skateboarding community will definitely go ape shit over this, we are not but the Screaming hand would look sick on display. Now the hardest part is waiting till June when this is released.
*Updated*
So here it is, Kidrobot San Francisco has just released a shot of the actual figure and the keychain on their Instagram. looks really good and the weathering looks spot on from the quick snapshot. Now we know that the figure size is 10″ too. If they have one in the store right now that must mean release dates will be release info will be out really soon.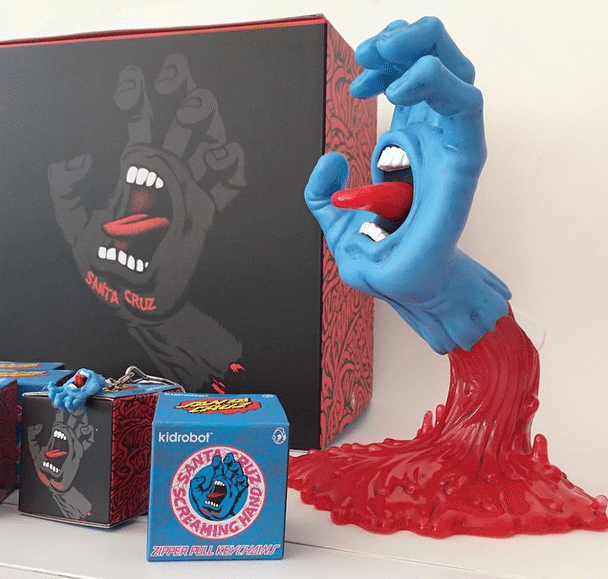 Kidrobot and Santa Cruz have teamed up to pay homage to Jim Philip's iconic Screaming Hand on its 30th Anniversary! Standing 10″ tall, this limited edition piece is a must for anyone who has ever dropped in, kick-flipped or indy grabbed a deck.

Priced at $ 74.99.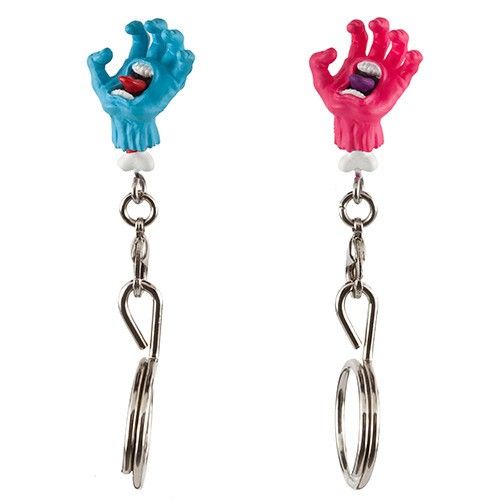 "Taking our Santa Cruz Medium figure to the skate park isn't the most practical thing, so we've made these 30th Anniversary Screaming Hand Zipper Pulls to accompany you on your next session. Also work well as a keychain! Come in a blind box in either red or blue! "
Priced at $ 4.99 each.
Both available at http://www.kidrobot.com/ and your local vinyl toy dealer.
Check Jim out at http://www.jimphillips.com/ and http://www.santacruzskateboards.com/.
www.Kidrobot.com for all the vinyl addiction.