We are all recovering from this years Toycon uk but David Stevenson is getting right back into the game. One of his Mega customs is on the way to Blackheath gallery in London as part of their 40th Anniversary Exhibition which starts 2nd May – 14th June. His "Nature bites back mega munny " will be one of three customs will be going to the show. I have to admit seeing the work in progress shots and the photos I did not think much off it but, a strong but, seeing it in person at Toycon changed my option of it. It was one wonderful custom and the more you look at it the mores you see.
Lord knows how long this took David, the creatures along with the leaves are one of Davids trademarks and boy he has a steady hand.
He and three of Davids
faux taxidermy stag heads
are part of this great pop art exhibition which includes a rich collection of work by renowned 20th century artist Peter Blake.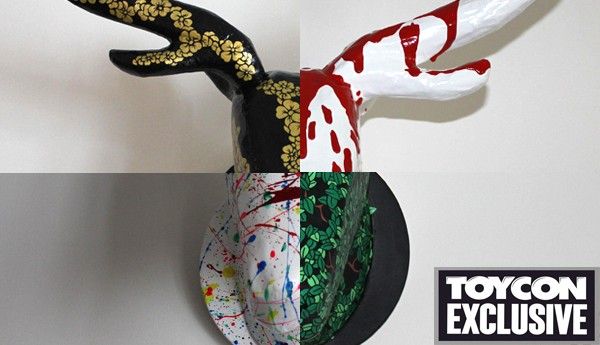 The gallery website for all exhibition info is here: www.blackheath-gallery.co.uk
34a Tranquil Vale,
London,
SE3 0AX
Telephone: 0208 852 1802 or 07714 104 204