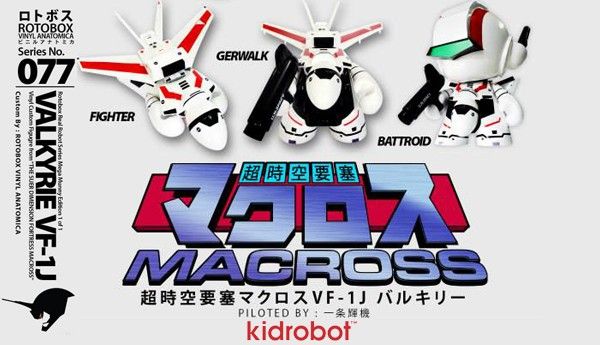 Back in 2013 I saw one of the most technical customs to date by the guys over at Rotobox Vinyl Anatomica and the custom Kidrobot Munny has ever since stayed in my memories I think it was time that I actually paid a small shout out to the guys Rotobox Vinyl Anatomica and shout bout this throwback custom now that I have The Toy Chronicle blog. So here it is guys meet Valkyrie VF-1J Mega Munny!  
I don't think I need to write so much and ramble on how badass this custom is right? being a big fan of the Anime Macross when I was a wee kid and seeing the Anime translated into a Munny platform just wet my pants.
Yes this freaking thing transforms into flight mode too! that what makes for me, but the biggest problem deciding to have it in normal mode or flight mode when you want it on display?
[slider source="media: 18014,18015,18017,18016″ limit="100″ width="900″ height="1400″ title="no" speed="800″]
Even in mid transform mode it looks so freaking good.
If this doesn't do it for you then check out their online portfolio —>HERE<—  Robots, mecha's ,Evangelion galore!
You can find Rotobox Vinyl Anatomica via http://www.rotoboxvinylanatomica.com/ , Blog , Facebook and Twitter.
Just like this custom Qee bear! pew pew pew