A long-awaited release from SQUINK is here! Its been a frosty English afternoon and Squink is ready to warm our hearts with his custom "Frosted" custom Dunny. His take on the classic Christmas pudding with Squinks signature eyes will be one to battle for this evening when Frosted is waiting for a new warm home. Let the F5 battle commence.  Here's what Squink had to say via Squinks mailing list.
First of all, I wanted to apologise for the lack of recent updates, the house move and relocation of the studio has been a daunting process that is still ongoing, but I really wanted to bring you a release in time for Christmas. I was planning on a larger release but in the end, all efforts were concentrated on this little guy – Squink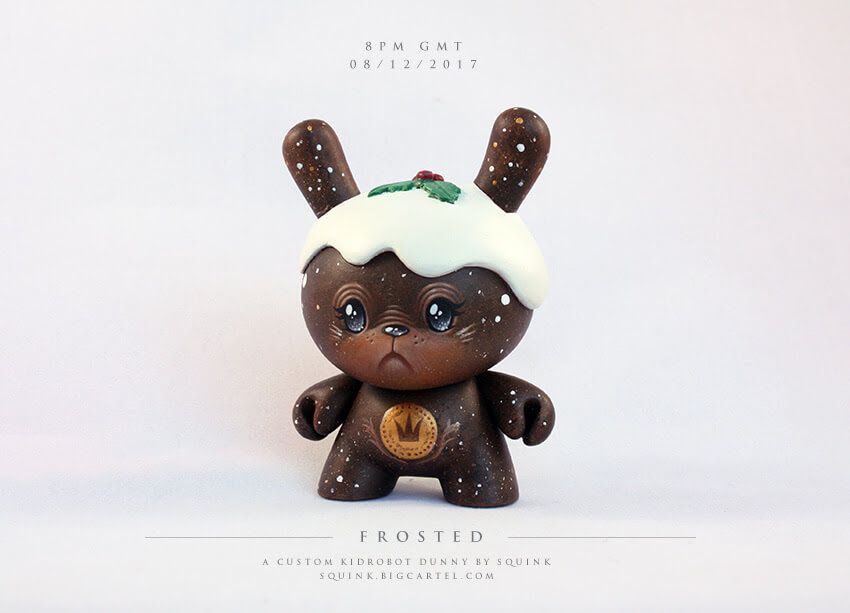 Frosted, is a 3″ Dunny, which Squink has got packed up in a logo stamped and titled/signed gift box.
This one is available later today (8pm GMT) at squink.bigcartel.com 

In other news, I'm sure many of you will have seen the announcement of the Wild Ones Dunny series which features 3 of my designs, these will be hitting stores early next year, and then you will be seeing something a little larger from me..I'll update you as soon as I'm allowed to say more, but I am VERY excited for 2018! Check it out HERE.
If you want to get your Designer Toy news first, you should look to download our new TTC Mobile App. Designer Toy news direct to your smartphone. No dealing with social media algorithms.
(all info and media lifted from http://www.squinky.co.uk/ )