WOW! sorry for starting off the post by saying WOW I get overly excited when I see Dolly Oblong's work. I have always admired Dolly's work especially her take on Breaking Bad and when I first seen her collection at ToyConUK last year.
Dolly creates Dairobo Z Ultra! a much bigger version to the original Dairobo design which she used a Kidrobot Dunny. With the Dairobo Z Ultra she uses the huge Muttpop Tequila platform which even on the original version is great in itself.
Dolly uses her signature pastel bright colours with the famous X eyes.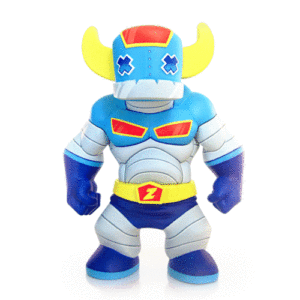 The Dairobo Z ULTRA  is not for sale its actually a commissioned piece to some lucky collector. Lets hope Dolly will be at ToyConUK 2014 and see what she has for sale I definitely wont be missing out this year.
Here's a few WIP shots creating the Dairobo-Z ULTRA.
As you can see its not just a paint job. We will keep you updated on Dolly's next releases till then follow Dolly Oblong's work Via all the social media.
(all photos are taken from Dolly Oblong media sites)