We've been teasing & talking about our Custom Series, that will be released at ToyConUK 2014, but now we have the full details!
Back when we were offered to run a booth at ToyConUK, we decided that we'd like to do something special for the day. A Custom Munny Series was decided upon, but we needed a theme. Something to grab the imagination of artists. Something that would spark interest.
After much thought & discussion, we came up with the theme – Great British Myths & Legends! A theme that'd allow the artists plenty of scope to weave their artistic magic. We also wanted to allow newer artists to get involved, so opened up the application process to everyone & anyone within the UK and Europe. This decision allowed us to hand pick a select few 'known' artists for the series, but the remaining spots were all open to artists who hadn't previously had the chance to show their work at a convention/show. Hopefully this will allow them to gain a wider exposure in the UK Designer Toy scene – which when we started The Toy Chronicle last year was our goal. Give the smaller artists the exposure that they deserve. A pedestal to show their work and get it out to more than just their friends on Facebook.
In total we have 11 amazing artists involved! Some you'll know, some you should know and some you'll get to know! Below the image, we'll introduce the 11….
[frame align="center"]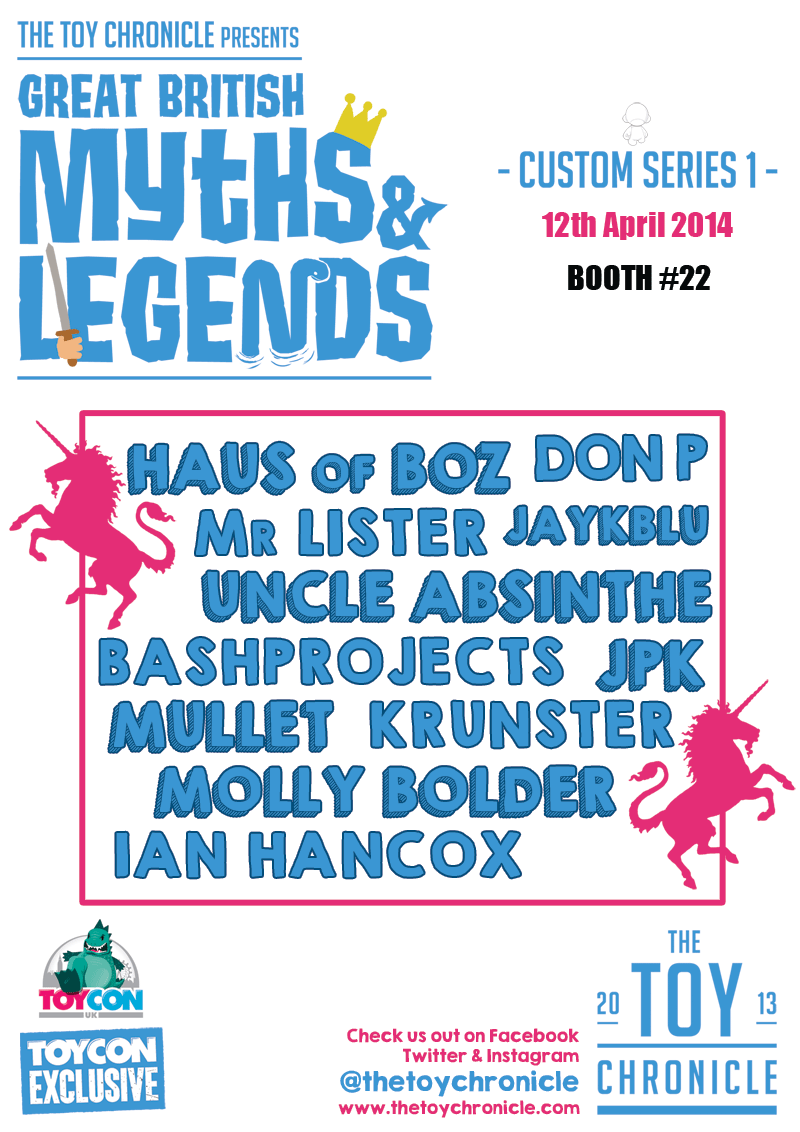 [/frame]
So let us introduce you to the guys that have been working their asses off over the last few months preparing their Great British Myths & Legends Custom Munny!
Molly Bolder
My name's Molly and love toys! I love children's toys, designer toys and making toys. My roots are based in computer modelling, but since discovering the amazing work coming from the designer toy scene I grabbed myself some Super Sculpey and have been practicing ever since. I mostly make cute things (because anything adorable is just amazing) but, from custom painted toys to super-soft plushies, if it's gonna be cute and fun I'll try it out! You can see what I have been up to on my Facebook Page Molly Moo Makes, along with my art blog. It's been great talking to you and I hope you enjoy my Makes! :
JPK
Ever since I was four, I knew what I wanted to do in life was to draw and make toys. So far I've managed it pretty well. The UK's biggest artist by volume, JPK can be found on Facebook, Twitter, Instagram and also over on his website! Way back when we started The Toy Chronicle, we interviewed Jon-Paul – you can take a little flashback read right here!

Ian Hancox
My name is Ian Hancox and I started collecting about 3/4 years ago – things like Huck Gee Gold Life Blind Boxes, the House of Liu Mei Mei & Di Di and Artmymind stuff. After meeting Rich Page/UMEToys, a few years ago, I went to Cardiff Tattoo and Toys Con with my bro, who afterwards kept telling me I should have ago and making something. About 8 months I had ago myself. I've made a few pieces at home practicing, but this piece for the Great British Myths & Legends Custom Series will be my first one that has gone on sale anywhere, the rest are still sat on desk. You can follow Ian on his Facebook & Instagram.
Haus of Boz
My name is Laura, I live in Leeds, UK, with my 2 house bunnies.  I've been creating delightfully cute custom vinyl toys, original resin toys, and plush for 3 years.   You can follow my work, check out my shop, become a friend on facebook, or email me for enquiries and general chat, with the following links:
Twitter:  @HausOfBoz 
Store:  HausOfBoz.Bigcartel.com
Jaykblu
My artist name is Jaykblu and I have been making vinyl toys since the start of Summer 2013 now! I am 'by day' a Pharmacy Student in my 3rd year, but I have always loved art and so do it in any spare time I get (as well as being a massive anime nerd and a gym freak). I work digitally with vinyl toys, of course, and many other mediums – whatever I feel like at the time really! Vinyl toys really drew me in with their versatility & freedom to do and use what you want. My first pieces were far from perfect but through blunders I taught myself everything – using tips & advice from the amazing art community online and on Instagram!
You can follow Jaykblu on Twitter, Facebook and Instagram (his preferred networking site). Last but not least, you can check our Jaykblu's online store is: jaykblu.storenvy.com!
Uncle Absinthe
I'm useless at these things but here is what my Mum used to sew in to the back of my pants at school…. "Magnificent bearded bastard. Puller of candied pork. Dandy on the rural slipstream. Dream weaver. Seer. Supersonic dance commander. Treacle. Uncle. A total one. 
You can catch Uncle over on Facebook page here! We also did a great interview with Uncle back in November, you can have a read here!
Krunster
Krunster was born and raised in Bolton, England. A massive fan and collector of all types of vinyl toys, she decided to give customising a try two years ago, which quickly became a passion and turned into an obsession. She has completed numerous commissions, transforming 2D company logos into toys using Munnys as a base, super sculpey and acrylic paints. Krunster now customises using many platforms and continues to evolve her art in the search for her own unique style. Her past and present work can be viewed on Instagram @krunster
BashProjects
Bas Petter is 30 years young, lives in the Netherlands and is the man behind Bashprojects. A designer in heart with a big love for character design and bright colors. With Fimo clay and Acrylic paint he creates his own little fairytales, SciFi stories and magical characters.
"Don't be afraid of the paint… just let your imagination run wild!"
You can catch Bash on several of the Social Media channels… Facebook, Twitter, Instagram & his Website! We caught up with Bash in November for a quick chat, take a read of the interview here!
Mullet
Northern troll documenter with a love for lime green. I'm heavily influenced by toys/film/tv of the 80's and 90's. A strong theme of the mythological and mutation run through my work; it's Middle-Earth, in modern day, after an apocalypse. Also trolls, lots of trolls. They're tough, and like caves. Nukes wouldn't bother a troll. I have a strong graphical style which translates into my sculpting as well as my paint; Mainly working in black on white, using small amounts of vivid colour for emphasis or to draw attention to details. With an introduction like that, you'd better check out Mullet's online presence:
Website: Shitnsick.com
Instagram: @Shitnsick
Email: [email protected]
Don P
My name is Patrick Lippe. I am 34 years old and I live in the Netherlands. I started 3 years ago with customizing designer toys. It all happened when I wanted to make an Indian Kidrobot Mascot for my own collection. I noticed that customizing was unstressing me from my normal dayjob, so I went fully for it at my free evenings and nights. Don P can be found on Facebook and on his blog here! Go check him out!
Mr Lister
Adam Lister is a graphic designer by day and Mr Lister lowbrow artist and vinyl toy customiser by night. You can see what Mr Lister is up to on his Twitter or Instagram!
Keep your eye out on The Toy Chronicle site for further insight in to the 11 artists above! We have some cracking interviews in the pipeline!
The Great British Myths & Legends Custom Series will launch at ToyConUK on April 12th on our booth (#22). If you're lucky enough to attend ToyConUK please swing by and check out these awesome pieces of art!
Thanks!
The Toy Chronicle.