Covington, KY – BLDG is excited to announce Wax Nostalgic: 1994, an art exhibit inspired by pop art and culture of the most epic year of the 90s. Guest curated by Chris Breeden, the show opens at BLDG Gallery on August 17, 7 – 11 pm and will be on view through September 14, 2018. Featuring over 50 local, regional and national artists, the exhibit is a celebration of the most influential year of the 1990s. The artists were challenged to make work inspired by pop art, culture, media, music, tech and anything else that make one wax nostalgic for the glory of '94.
Guest curator Chris Breeden came up with the idea for the show after realizing how much he was impacted by the art and events that occurred in 1994. From the wicked to the whack, '94 was a year that defined a decade. It spawned some of the most compelling and memorable moments of an entire era.
WAX NOSTALGIC: 1994
A throwback show celebrating the 90s' wildest year
"A lot of things I love came out in 1994. One could even argue it was both the best and the worst year of the 90's." He continues, "It was a time of hella highs and bogus lows and the best way to deal was to party on through. Some remember it fondly, others would rather forget – but all are invited to celebrate what turned out to be one helluva year."
The show includes 2d and 3d artworks, photography, mixed media and fibre work all for sale and on display until September 14th.
Here are a couple of pieces from the show.
The Bots piece is a 3″ custom Dunny made from Polymer and Vinyl. The price for it is $150.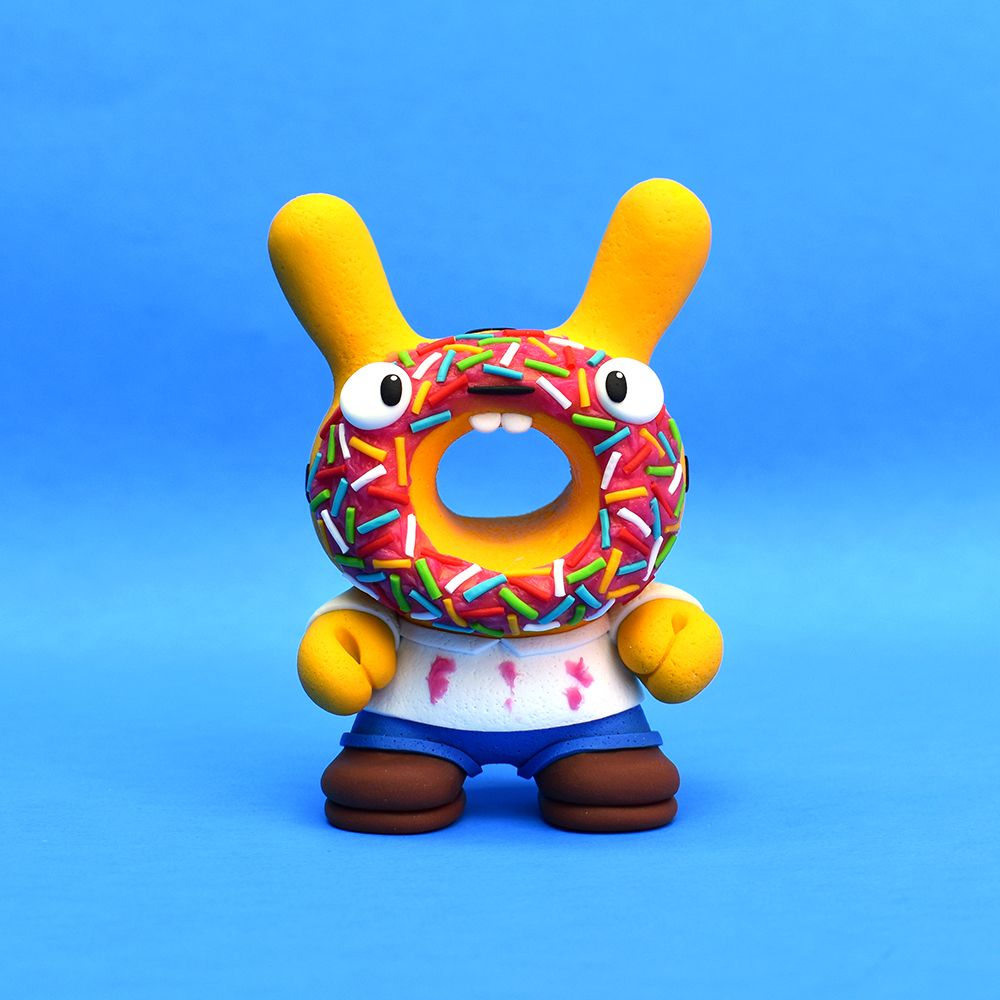 The piece by Steve Casino. After years of doing highly-detailed, miniature art he took the opportunity to try something looser and larger. His nickname for this style is "Splinterpunk."  It combines primitive wooden toys from the 1800s with edgier, more updated themes like Danzig.  Danzig IV, released in 1994, was my favourite hard rock album of that year and one I never get tired of listening to. The price for it is $475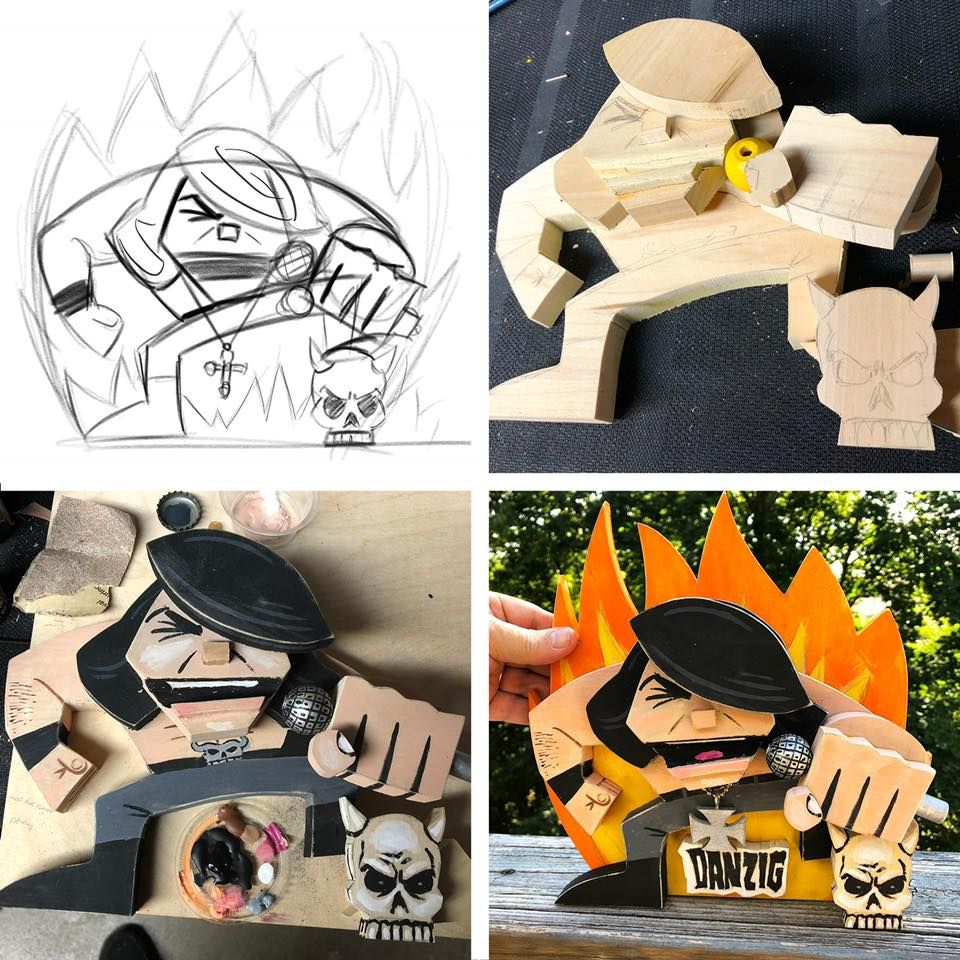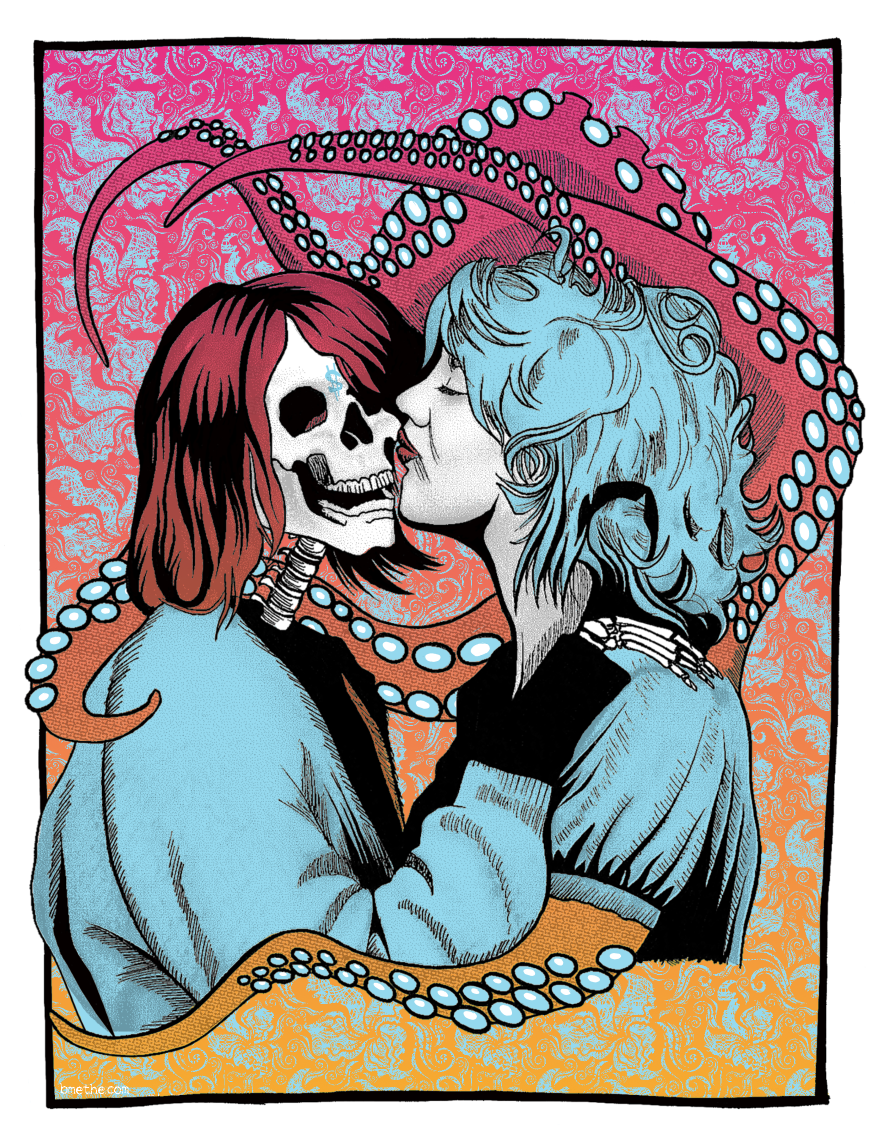 Wax Nostalgic: 1994 artist reception opens at BLDG Gallery on August 17 from 7-11 PM with a dance party spun by DJ Brock McKinley. Attendees are encouraged to wear their best 90's inspired streetwear, fanny packs and anything that celebrates their inner Saved by the Bell.
WHERE: 
LOCATION
BLDG
30 West Pike Street
Covington, KY 41011
Gallery hours: Monday – Friday 9 am – 6 pm and by appointment
SHOW DATES
Opening Celebration: August 17, 7-11 PM with a special performance from DJ Brock McKinley
Exhibition Dates: August 17 – September 14
Some will be available online at bldgrefuge.com at 3pm on Saturday August 18th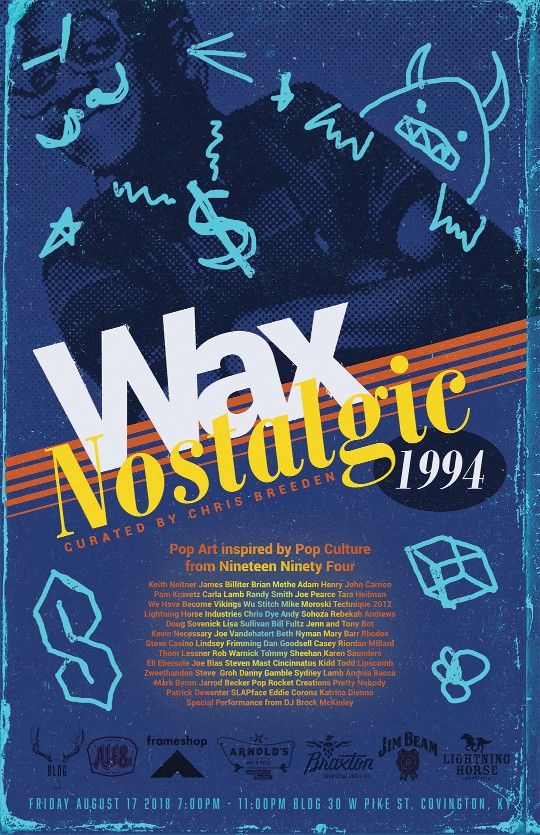 ARTISTS
Rebekah Andrews
Joe Bias
Katrina Dienno
Steve Groh
Carla Lamb
Mike Moroski
Beth Nyman
Doug Sovonick
About BLDG
BLDG is a creative refuge that fosters the inspirational, the visionary and the uncommon. Where copious creatives challenge the norm, stand on the ceiling and change what's possible. Transformation is inevitable, ordinary is unacceptable. The gallery is the first and last impression of BLDG. It's the start of interaction and our connection to the inspiring. It's here we collaborate with artists, curate experiences and engage with the community. From fine art to screen-printing, mural making to dance parties, this 2,000 sq. ft. refuge is a collective space, ripe for ideas and everything else that keeps the creative spirit rolling.
PROJECT SPONSORS
A huge thank you to show sponsors: Ale-8-One, Arnold's Bar & Grill, Braxton Brewing Co.,  Frameshop, Lightning Horse Industries, Jim Beam.