Flat Bonnie always finds a way to put a smile on our faces. "Platypus Ghost PlatyBoo" is one example. How cute is Platypus Ghost PlatyBoo. We've been neglecting designer plush (slap on our wrists) so today we had to check out one of our favorite plush peeps Flat Bonnie and low and behold Platypus Ghost was one of many that made us smile. So without delay Flat Bonnie presents to you the adorable Platypus Ghost the Duck-Billed Platypus:PlatyBoo.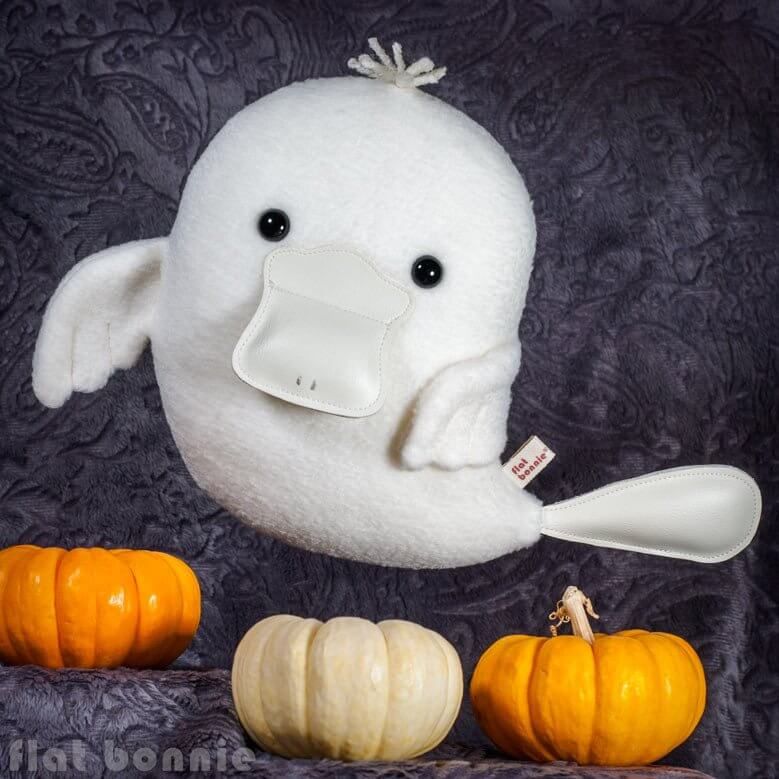 Meet PlatyBoo the Duck-Billed Platypus Ghost from the mid-century Space-Age. PlatyBoo loves to dance. He spends most of his time listening to his lounge music records.
He is also a bit of a trouble maker. PlatyBoo will move stuff around and hide your things while you are sleeping.
Plush info:
Size: 8″ tall x 10.5″ wide (20 x 26.5 cm)
Color: White / Ivory
Eyes: Black non-removable safety eyes
Material: Soft Fleece, Vinyl Pleather
Each plush comes with an adoption certificate.
All items are handmade using only animal friendly materials.
PlatyBoo loves to cuddle with you, but should not be played with by tiny humans who love to eat stuffed animals.
"Flat Bonnie helps raise awareness of abandoned animals, and the importance of adopting when you are ready for a new friend. A generous portion of sales is donated to bunny/animal rescue organizations monthly."
We finally had a chance to meet Flatt Bonnie at Designer Con 2015 and got a chance to see their work up close and dam we can say it's even better up-close! great quality all round and lovely folks. Please take a look at Flat Bonnie store, it has plenty of other cute works from FB. Below is a little tease.


Find Flat Bonnie via