Javier Jiménez has released some all new one of a kind Dorobanii the Jackalope! sculpted by Cristina Ravenna and painted by Javier. You're in luck with four fantastic releases all with different styles. Plus It wouldn't be Javier Jiménez without a storyline to go with Dorobanii right.
"Dorobanii is the latest addition to the StickUp Monsters universe, and it has its own figure for the toy line!
Dorobanii is a little and timid jackalope that used to live in a North American desert. He was used to his life: some chilling at the desert, then some house robbing at the city. He stole a little bit of everything: from human food he enjoyed to small jewels and things that could pass unnoticed and people would think they had lost.
One day he entered the wrong house at the wrong time, and ended up locked inside of a suitcase on its way to Japan! If you want to see what happened next, you better see the full story in this"
[youtube url="https://youtu.be/XdEzrbXMhL8″ width="1200″ height="1000″]https://youtu.be/-q6KyIQkaQk[/youtube]
NEVER CATCH ME
[slider source="media: 37817,37820,37818,37819″ width="1300″ height="1300″ title="no"]
Painted by Javier Jiménez.
This micro run features a cloth mask that you can choose to keep or remove from the toy. Priced at $55 each.
Metallic 
[slider source="media: 37821,37822,37823″ width="1300″ height="1300″ title="no"]
Wild Mint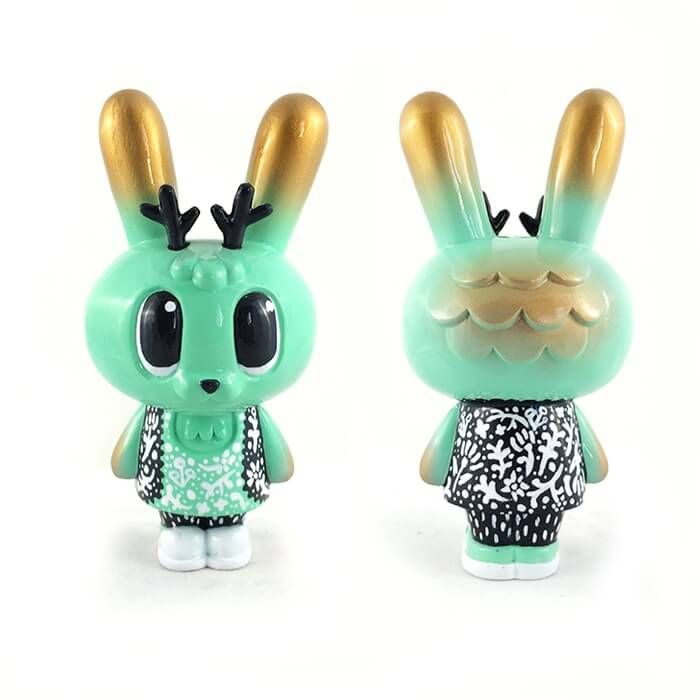 Too cute to miss right? originally We didn't want to share this released info as it would ruin our own chances of owning one. But being how nice we are we decided to go against the idea. Dorobanii WE ARE COMING FOR YOU! Get them now while you still can at www.stickupmonsters.bigcartel.com
Give him a Holla Via Facebook , Deviantart , Website , Instagram and Twitter.