Scotty Wang of Demon Craft is about to possibly unleash the darkest collection of YOKAI DARUMA! GACHA style! All ready to launch as a part of his show Demon Craft X 新光三越特展. The series features 4 DARUMA in classy black n gold, is your soul ready for all this? Knowing Scotty so well, we know he has more up his sleeve as well as a CHASE figure for the show. Below is a tease to wet your appetite and suppress your love for DARUMA.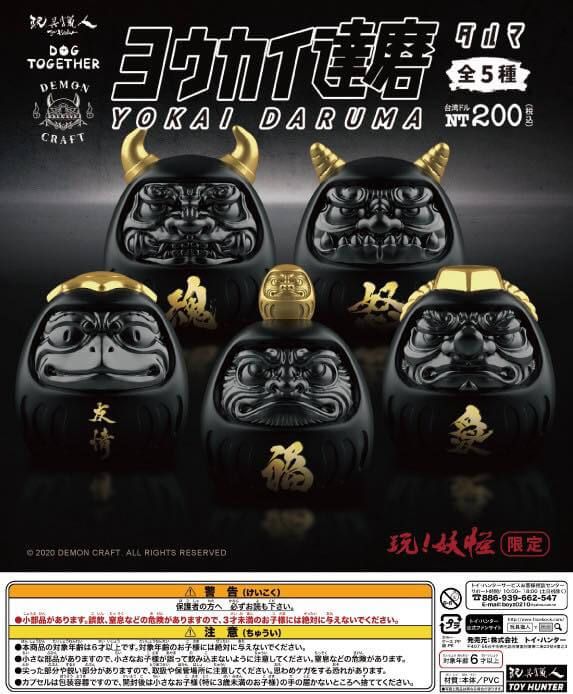 Limited 60 sets at the exhibition.
大家有留意早前公佈的首個扭蛋商品「妖怪小達磨.YOKAI DARUMA」,這次特意為【玩!妖怪】展覽製作了一系列「黑金特別版」的妖怪小達磨,限量60套並會以扭蛋形式,在展覽期間限定發售。Demon Craft團隊會將會放置一台扭蛋機在現場,讓大家體驗扭蛋的趣味!
**每人限扭一次**
【玩!妖怪】Demon Craft X 新光三越特展
展覽日期:2020/06/15(一) – 07/05(日)
展覽場地:台北新光三越 A11-3F 轉角藝術
STAY tuned for any word on a International Release
Find Scotty at https://demon-craft.com/  Facebook and Instagram.  Dog Together on Facebook.  夥伴玩具 Partner Toys via Facebook.
You can get your daily Designer Toy fix from our TTC Mobile App. It's free too! FREE! Download on the iPhone or Android smartphones. Search for "The Toy Chronicle" and all your Designer Toy wishes will come true! Pretty much.
Did we fail to mention IT's FREE.