After days of teasing the RISE of Yaksha: Tha Tian by Kaiju Smuggler is here! Known for their religious and traditional releases with modern twists, Kaiju Smuggler presents a Tossakan! coming in two striking colourways, Green : Tossakan and a Red : Saeng-Arthit.
Saeng-Arthit (means Sunbeam)
Son of Korn (Dad) and Ratchadasoon (mom) with elder brother named Mankorngun, Saeng-Arthit Rules over Romekal, one of Langka's vassal state.
Korn is Tossakan's younger brother making Tossakan Saeng-Arthit's uncle.
Saeng-Arthit's main weapon, 'Waen Kaew'(glasses), is a huge lens that focuses light creating burning sunbeam to crisp his enemy.

_______________
In Ramayana
Saeng-Arthit's joins Tossakan's army when his brothers and reltives were killed in battle between Tossakan and Rama over Sita with a promise of Treasury position at Lanka. Saeng-Arthit then bid farewell to Tossakan and ordered his mentor/chancellor Jitpairee to ready the troop for battle the next day.
Before the day of the battle, Rama asked Pipek, the Royal Astrologer and advisor to predict which General he will be fighting. Pipek said Saeng-Arthit will be the one coming and he will avenge his brothers' death. Pipek feared the power of Saeng-Arthit's weapon, Waen Kaew, which Saeng-Arthit asked Brahma to keep. Waen Kaew could BBQ the whole Rama army.
Rama heard that and asked Pipek what he should do. And once again Pipek came up with his treacherous plot.
He asked Ongkot (a monkey prince in Rama army) to transformed himself into Jitpairee (Saeng-Arthit's mentor) and go to heaven to ask for Waen Kaew from Bhrama before Saeng-Arthit could use it in battle. Rama loved the plan, and it was done, finally they took hold of Waen Kaew, Saeng-Arthit's ultimate weapon that can pulverized an army.
_____________
The next day's battle was epic, vicious and ruthless. Many casualty on both Rama's monkey army and Saeng-Arthit's army of giants.
Saeng-Arthit turned the tide of battle by casting a devasted demon spell on the Monkey army. Dead monkeys everywhere, victory was near for Saeng-Arthit until Rama cast his resurrection spell and rejuvinated all his monkeys. He then retaliate with an Ultimate, he shot Akkaniwart Arrow at Saeng-Arthit's chariot.
Rama's arrow totaled Saeng-Arthit's chariot forcing him to rush towards rama for meele battle, but Rama destroyed a Trident in Saeng-Arthit's hand with an arrow. Then Rama casted an arrow shower spell at him. Saeng Arthit countered with magic shield.
Battle went on but Saeng-Arthit is on the losing side. He then asked Jitpairee to go to heaven to ask for Waen Kaew from Bhrama, but Jitpairee then found out that Rama already took it.
Without their trump card, the mighty Saeng Arthit and Jitpairee knew the result of the battle. The duo challenge Rama and Luksmana(Rama's brother).
In the end, Saeng-Arthit died an honourable death by Rama's arrow, by the side of his faithful mentor/chancellor Jitpairee. Alas Even though the giants are depicted as a hideous figure, their honour and dignity shine out brighter than any on the battlefield.
Tossakan, the King of Lanka
In his previous life, Tossakan was low level guardian called Nontok. His duty was to clean angel's feet at the gate of Shiva palace.
Angels looked down on him and bullied him, petting him on the head while he washes their feet. This goes on until he goes bald, and Nontok
With anger and resentment, he went to Shiva and asked for a diamond finger that casts doom on target.

Shiva who already owed Nontok, granted what he wished for. Nontok went on frenzy mode in heaven casting doom on every angels that bullied him.
(sounds familiar? and this was written like 100 years ago) Many angels fell, Shiva couldn't let this continue he ordered Lord Vishnu to put an end to Nontok.
Lord Vishnu transformed himself into a very attractive woman. Nontok fell into Vishnu's trap and flirted with the lovely female. Vishnu tricked Nontok into dancing, one of the dance move made Nontok point his diamond finger at himself casting doom on him. Vishnu transformed back to himself and stood on Nontok.
Before he died Nontok said "How can I win when you have so many arms this is not even a fight." Offended and maybe pissed, Lord Vishnu grant Nontok a wish to be reborn with 10 heads 10 arms 10 hands equipped with levitation ability and all sorts of weapons, where as Lord Vishnu himself will be reborn as human with two arms and sworn to go kill Nontok.
Hence the birth of Tossakan son of Lorn Lassatianphrama and Ratchada. With 6 more guardians as siblings. Ruling over Lanka Fair and beautiful physique with 10 faces twenty hands golden crown and green of skin.
History of Tha Tian (Tian Pier meaning a flat/smooth Pier)
Since the time of Rattanakosin (the old Bangkok) The Guardian of the Temple of Dawn borrowed money from The Guardian of Wat Pho (Pho Temple), and did not return what he owed.
The Guardian of the Temple of Dawn (will now be called with GTD) then got into a battle with GWP (The Guardian of Wat Pho). Guardians were huge, gigantic huge. The fight pulverized the pier and the surrounding area. Hence the name of Tha Tian. But the fight goes on and people are troubled. Until Indra (in some story a hermit) arrives and told the two group of guardians to go back and do their temple guarding duty. The GTD were cursed into stone form while the GWP who picked the fight was shrunk in size.
Why is our product Green and Red?
In Khon(The Thai traditional masked musical) in Tha Tian chapter, The two groups of guardians are usually portrayed with Green and Red color.
The two guardians guarding The Temple of Dawn are Tossakan and Sahasadecha. Where the Wat Pho side is guarded by Maiyararp, SaengArthit, SatthaSoon and PhayaKhon.
Another inspiration for this project comes from Thai National Museum of history, where our designer visits often as a child seeing the Royal Doll Room displaying all sorts of characters from the Thai Literature and Thai Ramayana really inspire and put a mark in our designer's childhood memory. Collecting those dolls are hard or impossible, so we decided to translate them into a simplified format easy to own easy to find to continue our homage to pay utmost respect and appreciation for the Thai traditional design for those dolls, to spark the movement for Thai traditional design in newer format to both preserve the art the culture and pass them on to the younger generations in this coming world where teenagers will only go on a VR tour of the museum.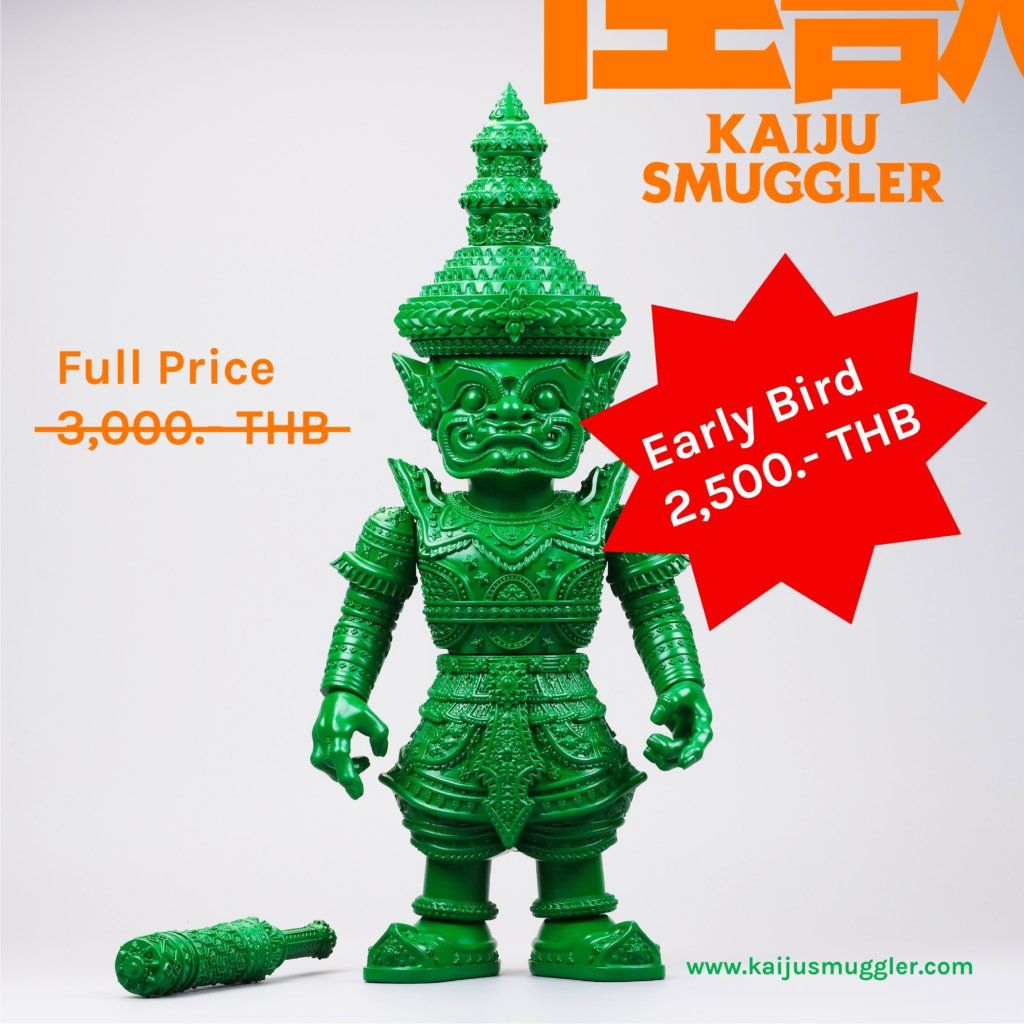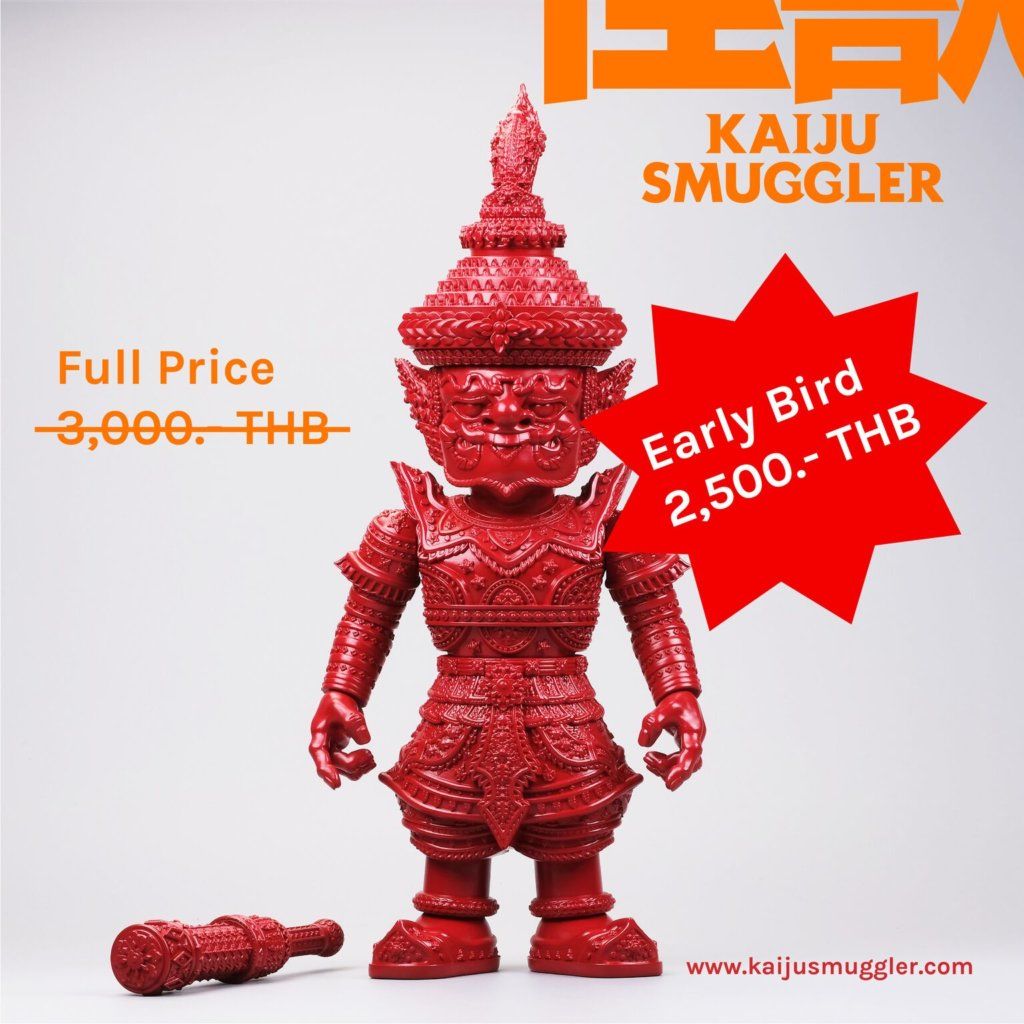 WHEN: Pre-Order Thursday 9th April 2020
8.00 PM (Thailand Time)
Ships worldwide
Pre-Order (for international deliveries)
Yaksha : Tha Tian
by Kaiju Smuggler
2 blank colors
Green : Tossakan
Red : Saeng-Arthit
Soft Vinyl
12 inches tall
Full Price 100 USD + 25 shipping
early bird price 90 usd + 25 shipping
buy a pair 180 usd + 25 shipping
For first 150 pre-orders (pairs only)
we will give free Tossakan's Horcrux and Saeng Arthit's Ultimate Sun Ray weapon, the Waen Kaew
(both omake will be casted in resin)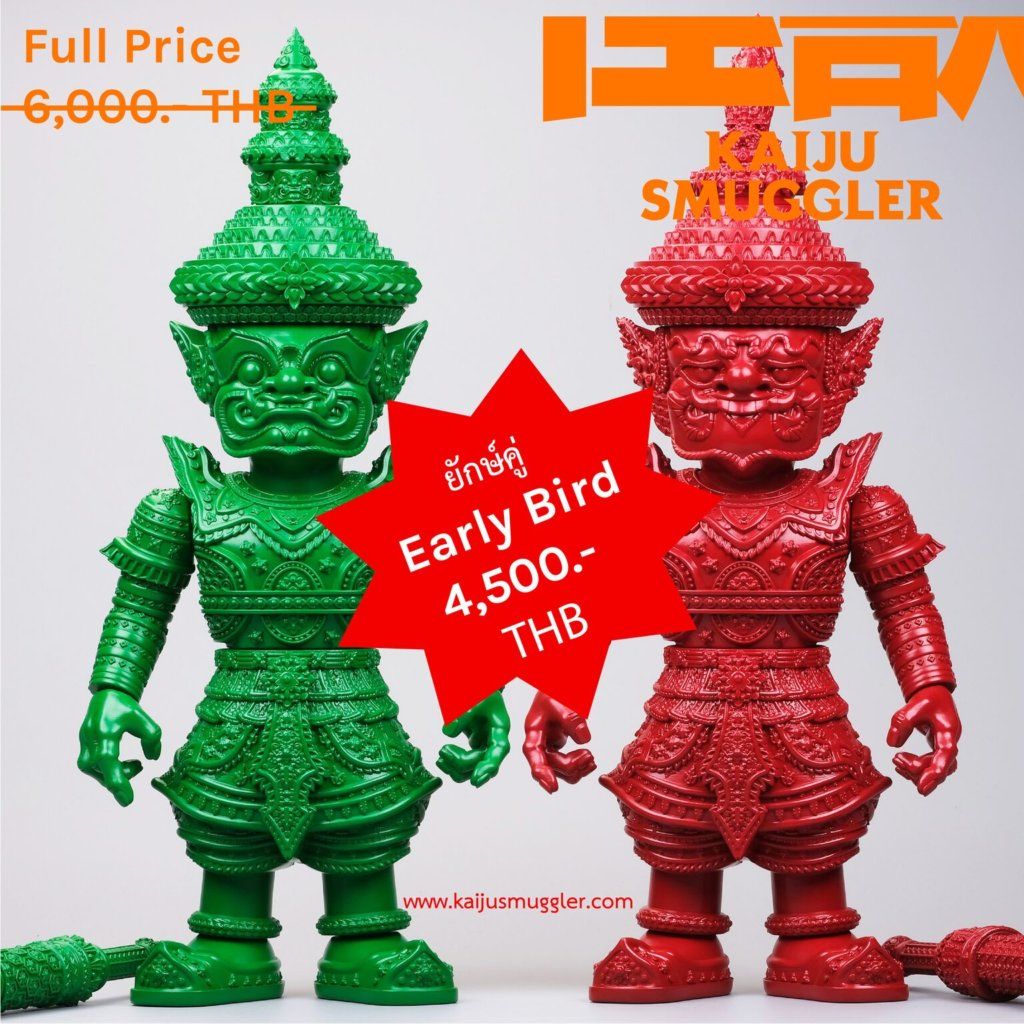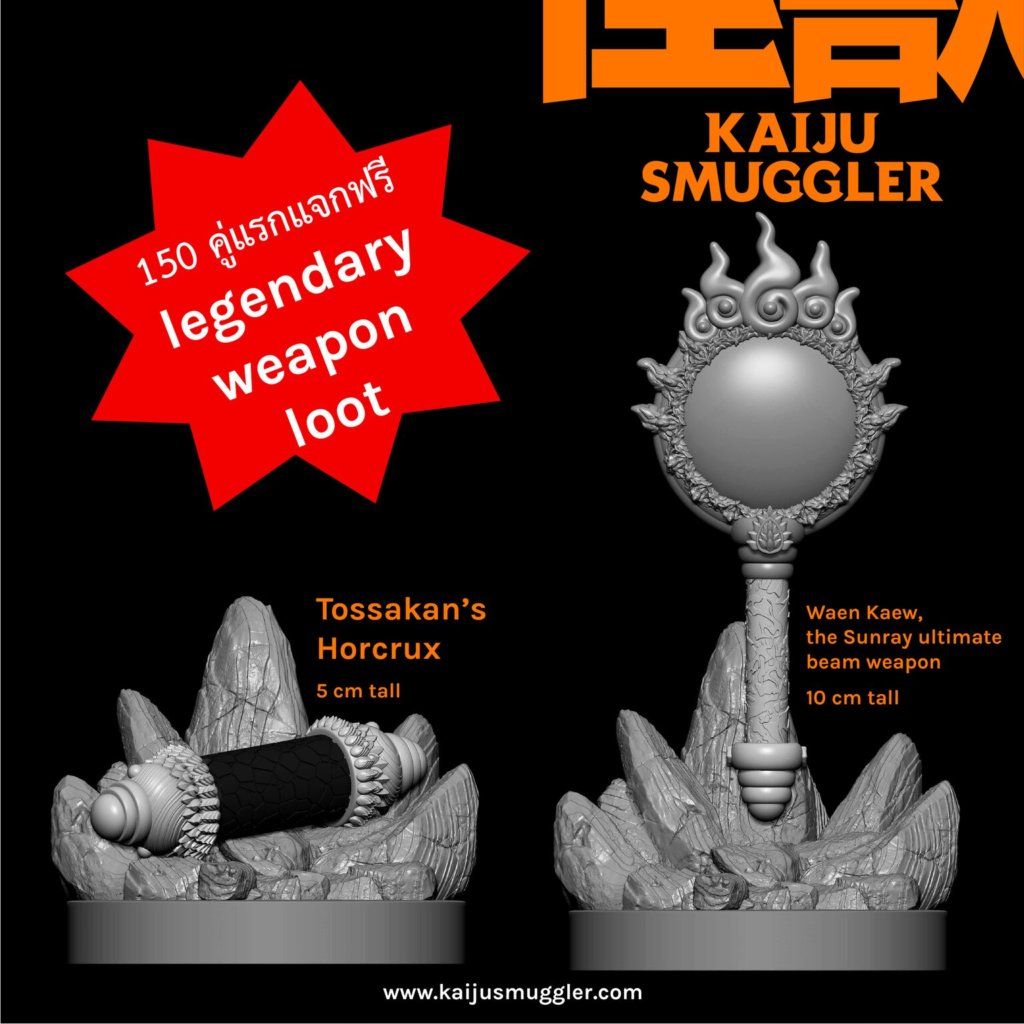 Pre-Order Until 3rd of May 2020 after that the will resume full price
How to Pre-Order:
Transfer full amount to paypal account
[email protected]
Then email them with your paypal email or specify the paypal you use in your email.
use your order product as the email subject.
e.g. Red Yaksha x 1
Green Yaksha x 1
Pair Yaksha x 1
you can order more than one
e.g. 'Pair Yaksha X1 Red Yaksha x 2' in one order
in your email
please put these info to help us help you speed things up
– name
– shipping address
– contact number(with country code)
– paypal email
Once they have checked everything, they will get back to you to confirm order number to confirm your Omake (for pair orders)
They expect lots of emails, things will be slow, please be patient, they only have one admin.
For further questions please post in the comment section, we will put more effort in answering comments than inbox
more pictures and info please go to www.kaijusmuggler.com
Plan to finish by Q4 2020
This picture is prototype we gave to the factory, some design or details will be adjusted for production.
We will update on the page.
Check out our Facebook LIVE stream at TTE 2017 below.
Find Kaiju Smuggler Via Facebook and HEAVY69 via Facebook.
You can get your daily Designer Toy fix from our TTC Mobile App. It's free too! FREE! Download on the iPhone or Android smartphones. Search for "The Toy Chronicle" and all your Designer Toy wishes will come true! Pretty much.
Did we fail to mention IT's FREE.