Just hours away from ToySoul 2018, our friends at Wrong Gallery BOOTH E13 are ready to showcase a wide range of exclusives and one of a kind designer toys aka trendy toys (Asian lingo, Ha) Artists and brands from around the world under one booth ranging from Taiwan, Hong Kong, Korea, Malaysia, China, Japan and releases all the way from Dcon USA.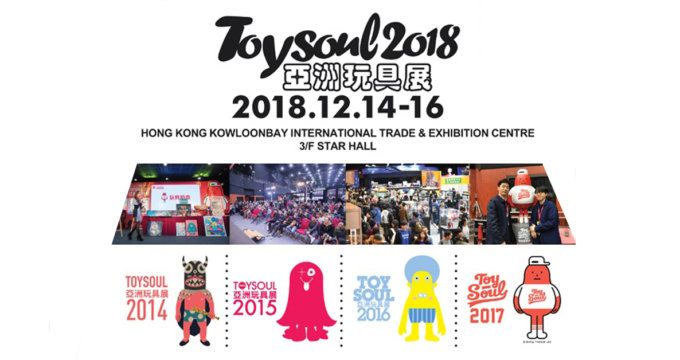 參展單位:(※名字以ABC順排列,陸續增加中※)
(1) 台灣地區[Taiwan]:
CHILL TOY
簡志剛Chien,Chih-Kang ART
FUNK TOY 放克玩具
Fanny Kao
Horn Stories
Kori & Ed
MerMur Studio
Momoco Studio(毛毛二)
ODOM Studio
PASOgarbage
Robin Tang Antics / 羅賓唐跟你鬧著玩的
SHON SIDE
VIVIANWANG
(2) 香港地區[Hong Kong]: 
Aliens Park
Deepfriedgarlic 
林皮 (Pei Lam)
MechNoiz Toys
Miloza米路沙
16M Design
(3) 韓國地區[Korea]:
ahnsimfactory
Burning Monster
by1030
DUCKHEAD(林必榮)
hi.yomo
recorder_fac
Rato Kim
what_the_farmer
2oz
(4)馬來西亞地區[Malaysian]:
Ah Boy
Little Good Thing(AH-B)
Michael CHUAH 蔡诗中
TEK
(5)中國地區[China]:
MCBENDER
(6)日本地區[JAPAN]:
Kaori Hinata
(7) 美國地區[USA]:
DCON
展覽名稱: 2018 ToySoul 亞洲玩具展 [BOOTH E13-Wrong Gallery]
展覽期間: 2018/12/14(五)~12/16(日)
展覽時間:12/14(五)~12/15(六)11:00-21:00;12/16(日)11:00-18:00
展覽地點:香港九龍灣國際展貿中心 三樓星匯 ( No.1 Trademart Drive, Kowloon Bay, Kowloon, HK.)
You can get your daily Designer Toy fix from our TTC Mobile App. It's free too! FREE! Download on the iPhone or Android smartphones. Search for "The Toy Chronicle" and all your Designer Toy wishes will come true! Pretty much.
Did we fail to mention IT's FREE.