Last year saw the rise of the dead! not really, HA only Su屍 Sushi Zombie by LUYAO 路遙圓創! The wasabi was so strong it brought sushi back from the dead, HA. Fast forward to the present day, the folks at Luyao Design prepare the ultimate Omakase for Taipei Toy Festival with a special edition! taste buds BEWARE, not even salmonella can kill this invasion! Tawain based LUYAO 路遙圓創 presents Su屍 Sushi Zombie TTF edition. Sushi fans look away as these bloodthirsty could ruin your next trip to the sushi bar, HA. Possibly the only sushi that bites back!
17th TAIPEI TOY FESTIVAL 2020
DATE|2020.11.20 (FRI) – 2020.11.22 (SUN)
VENUE|Huashan Creative Park (No.1,Bade Road Sec.1,Zhong Zhen District,Taipei 100)
MAIN VISUAL DESIGN|INSTINCTOY OHKUBO HIROTO
ORGANIZER|MONSTER TAIPEI INTERNATIONAL INC.
LOCATION: Huashan Creative Park / Building East 2 & Building Center 4B (1F & 2F) No.1,Bade Road Sec.1,Zhong Zhen District,Taipei 100
For now, why not check out our TAIPEI TOY FESTIVAL 台北國際玩具創作大展 walkthrough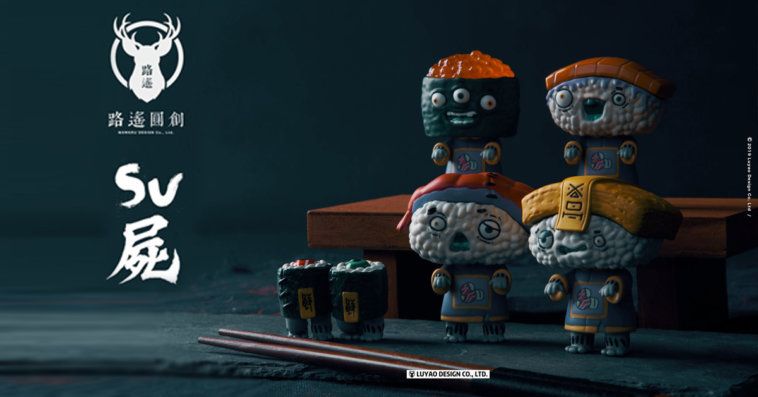 You can get your daily Designer Toy fix from our TTC Mobile App. It's free too! FREE! Download on the iPhone or Android smartphones. Search for "The Toy Chronicle" and all your Designer Toy wishes will come true! Pretty much.
It's FREE.