Always kicking yourself for not being able to get hold of Hikari Bambi' Sakanatori sofubi figures? Check this, Hikari will launch a lottery-style sale which will include convention exclusives, OOAK and rare Sakanatori in a few days time. This will certainly a rare opptunity for the international collector to get hold of Hikari Bambi' Sakanatori sofubi figures at retail price.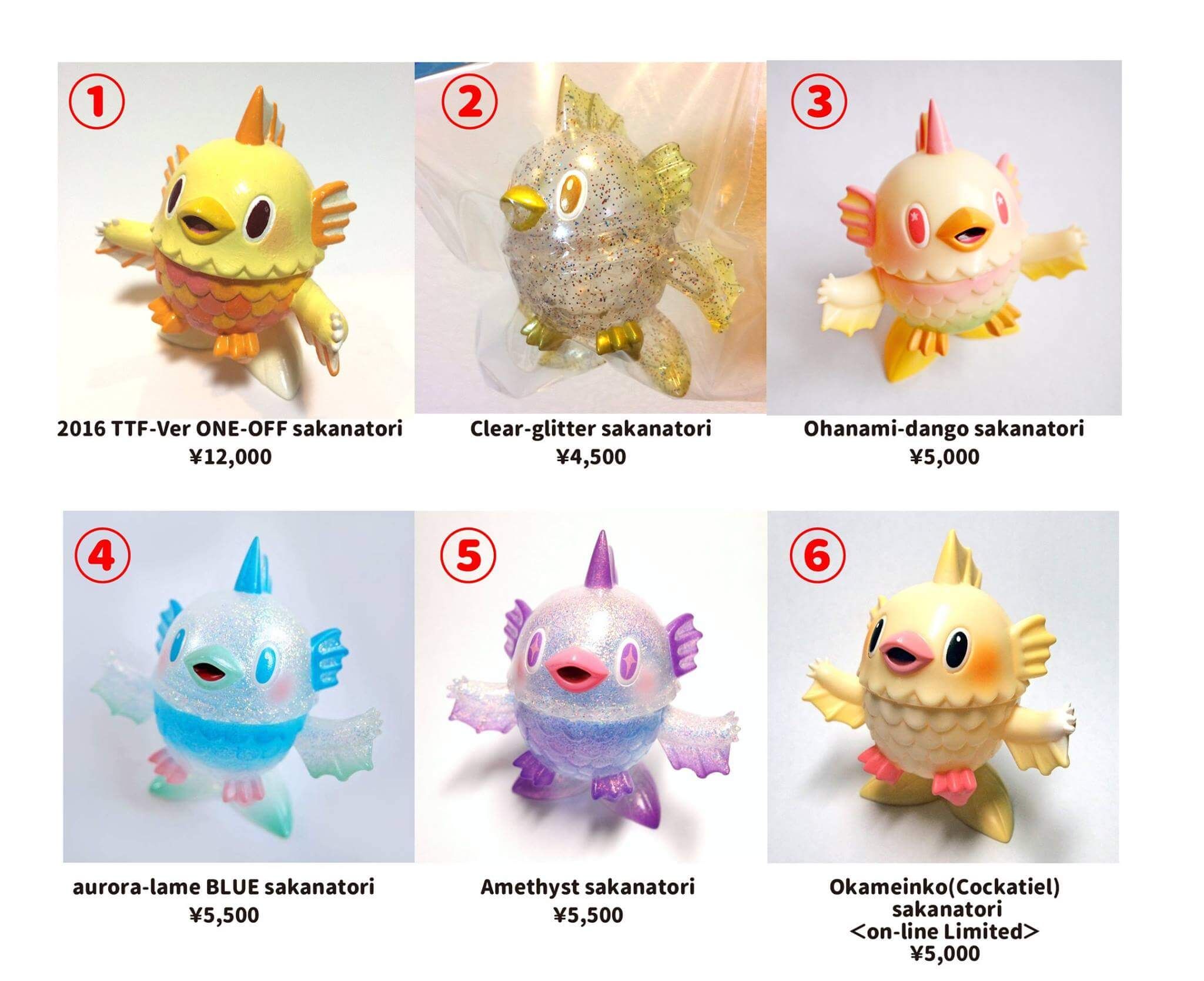 ????????????
Sakanatori  selection
?1?2016 TTF-Ver One-Off Sakanatori (Last-one)…?12,000
?2?Clear-glitter Sakanatori …?4,500
?3?Ohanami-dango Sakanatori…?5,000
?4?Aurora-lame BLUE Sakanatori…?5,500
?5?Amethyst Sakanatori…?5,500
?6?Okameinko(Cockatiel) Sakanatori [On-line limited]…?5,000
[box title="Important Details"]
?APPLICATION PERIOD
June 23, from 20:00 to 20:30 (JAPAN TIME)
*All entries other than this time are invalid
? E-MAIL ADDRESS
[email protected]
?ENTRY FORM?
?Name
?Country of residence
(I am going to calculate the shipping fee when you win)
?State which product you want
You can apply one product per one color.
If you want multiple products, fill in a form in the desired color.
You can apply only once. Cannot apply many times.
Since an extra shipping cost will be added depending on the country, I will contact you for details after winning.
You can payment method PayPal.
In case of payment with PayPal, I will charge + 5% to the total amount including shipping fee as a PayPal commission.
I will contact only to winners within 24 hours.
If there is no reply for more than 3 days, I will be invalid the winning.
Event Reminder: http://www.thetoychronicle.com/event/sakanatori-by-hikari-bambi-mega-lotto/
[/box]
Find them all and more at http://hikaribambi.cart.fc2.com/
You can find Hikari at http://hikaribanbi.wixsite.com/hikaribambi, Instagram and Facebook.