We don't know how they do it but the fine folks at MyPlasticHeart have got hold of a few "PupCup" by the one and only Yoshitomo Nara! PupCup's are super hard to get hold of let alone at retail price. The charming PupCup whirls, twirls and spins about to the delight of all it passes. Combining the iconic images of Yoshitomo Nara's Lonesome Puppy (Dog From Your Childhood) and The Cup Kids, the PupCup head and body rotate in opposites directions creating a remarkable kinetic object.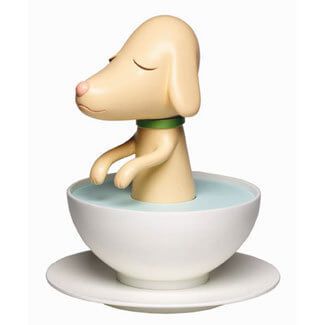 WHEN: NOW
WHERE: https://www.myplasticheart.com/
PRICE: $184.99
Requires two AA batteries.
About
Yoshitomo Nara was born in Aomori, Japan in 1959. Nara is a part of a generation of young Japanese artists whose works are informed by Japanese popular culture, primarily manga (comics) and television animation. Recently his work has been included in the following group exhibitions: 'Contemporary Drawings: Eight Propositions,' MoMA QNS, Queens, New York, Superflat at the Museum of Contemporary Art in Los Angeles,Art/Domestic: Temperature of the Time at the Museum of Contemporary Art, Tokyo, 1999,and The Manga Age at the Museum of Contemporary Art, Tokyo, 1998. Nara has had one-person exhibitions at the Museum of Contemporary Art in Chicago, The Santa Monica Museum, and the Yokohama Museum of Art.
http://cerealart.com/ for further info.