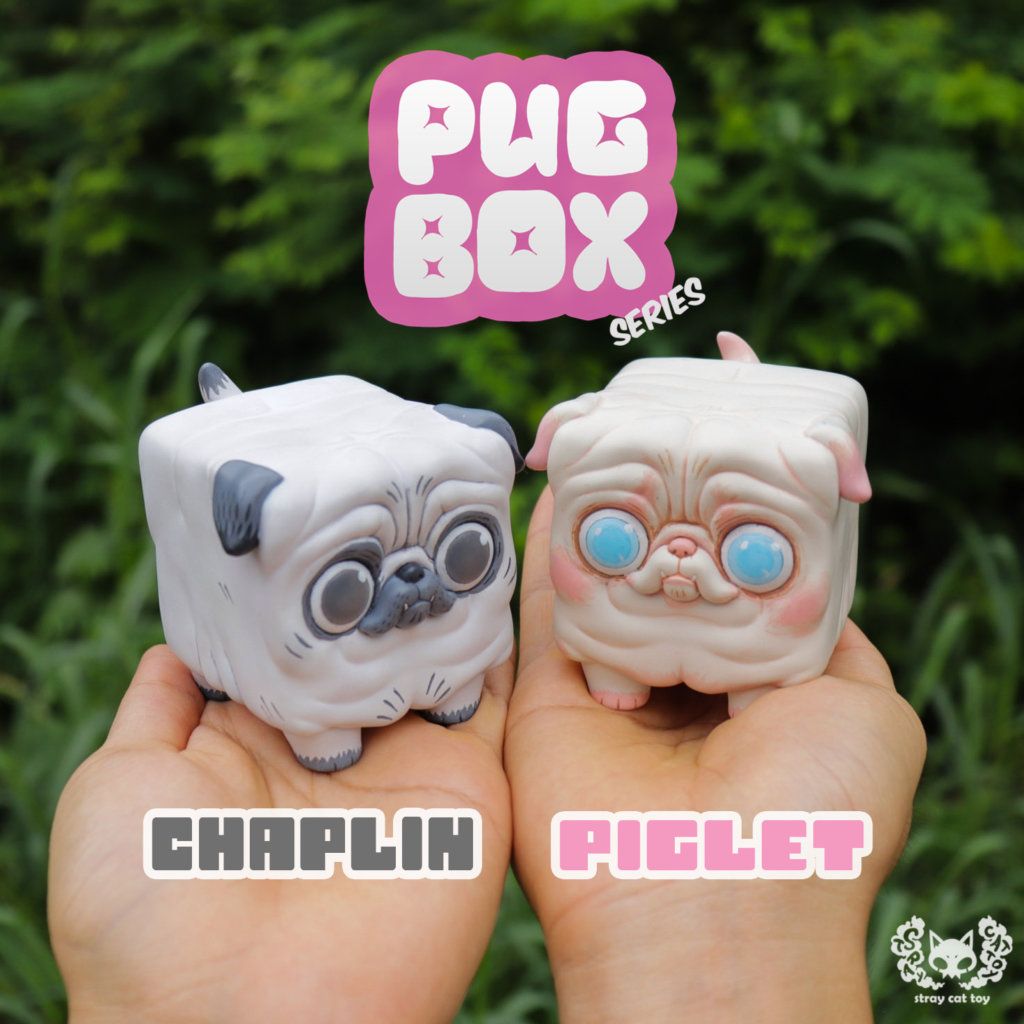 WOOF WOOF! Colour us intrigued with new release from Stray Cat Toy! Yeah they may well be Stray Cat but they are bringing the dog pup to the fore! Two cute AF resin releases from Stray Cat Toy going to be snapped up in quick sharp time tomorrow (19/6), no doubt about it!
Pug Box Chaplin & Piglet are both going to be available from tomorrow (19th June) at 8pm BKK (2pm BST). They'll be limited to the Stray Cat Toy social media. They're a little under 3inches tall. Stray Cat Toy has limited each to 30 on Facebook and 10 on Instagram of both Pug Box. These are priced at $33 each + shipping. These are expected to ship in September.
Comment on the appropriate Stray Cat Toy Facebook or Instagram page with the following to snag yours! Remember there will be special images at 8pm BKK (2pm BST) when you have to drop the following codes to earn yours. These ain't going to last long!
P1 (=Piglet 1 pcs 🐶)
C1 (=Chaplin 1 pcs 🐺)
P2 (=Piglet 2 pcs 🐶🐶)
C2 (=Chaplin 2 pcs 🐺🐺)
P1, C1 (=Piglet 1 pcs & Chaplin 1 pcs 🐶🐺)
P2, C2 (=Piglet 2 pcs & Chaplin 2 pcs 🐶🐶🐺🐺)
---
Stray Cat Toy Social Media
Facebook: https://www.facebook.com/straycattoy/
Instagram: http://instagram.com/straycat_toy
---
If you want to support The Toy Chronicle, we have a number of options available to you. We have started to stock a wide range of releases that we think you will enjoy. Ranging from production pieces from Superplastic, Unbox Industries & POP MART, to original pieces from our favourite artists. Purchasing one of our pins also really help. A quick, cheap way to also support the TTC is by making a small donation. These can all be completed below through our online shop. We appreciate all the support! Thanks!