Double impact from Chino Lam and JPS Gallery! Hong Kong better be ready as JPS Art Gallery is pleased to present a joint solo exhibition, "Is Truth Real?" and "Yesterday Once More", by rising Hong Kong artist Chino Lam. With the red carpet ironed out for both venues, JPS art gallery & JPS art store has plenty of Chino Lam's paintings and exclusive releases for both exhibitions, cementing another landmark to Chino Lam's ever-growing porfolio.
On view at the gallery's location in LANDMARK ATRIUM, marking the artist's first-ever solo show in Hong Kong. The two exhibitions are shown in tandem in JPS Art Gallery and JPS Art Store, presenting the diversity of Lam's artistic oeuvre.
JPS 畫廊欣然呈現香港新晉藝術家林輝(Chino Lam)的聯合新作個展「彷彿的真相」及「昨日」。展覽於畫廊在置地廣塲的 JPS 畫廊及 JPS 藝術商店的空間同時展出,標誌著林輝在香港的首次個展,亦展示其藝術的多樣性。
JPS PUBLIC RAFFLE ANNOUNCEMENT
The Rosjiro Package Art has ARRIVED at the JPS ARTSTORE! The limited drop will be available for public raffle at artist Chino Lam's (chinolam2016) upcoming joint solo show at the JPS Gallery (Jpsgallery) and JPS Art Store (jpsartstore) at landmarkhk on this FRIDAY (10/16). 30 ONLY. 
Notice
1. Raffle items are not first come first served.
2. Each customer can only participate once in the draw event.
3. No returns after purchasing products.
4. Please avoid crowd gathering and following the introductions of the staff.
5. Please wear a mask.
Rosjiro Package Art售賣細節聲明
ROSJIRO PACKAGE ART 登陸左JPS啦!
Rosjiro將會喺10月16日六點開放予公眾人士於JPS ART STORE排隊抽籤購買,限量30套,購完即止。
1. 抽選產品並非先到先得。
2. 每位客人只限參加抽選購買一次。
3. 貨物出門恕不退換。
4. 我們會控制進店人數,請依照工作人員指示,勿阻塞其他店舖。
5. 所有客人必須戴上口罩
JPS 保留一切活動最終決定
Rosjiro Package Art:
Price: $3800 HKD
Printed Canvas, signed and numbered.
Rosjiro Chromed Vinyl Figurine, sogned and numbered.
Opening Reception :
16th Oct 2020
4pm ~ (VIP, RSVP)
6-8pm (Public)
Exhibition period :
16th Oct ~ 15th Nov 2020
Venue :
JPS art gallery & JPS art store
Shops 218-219 Landmark Atrium
15 Queen's Road Central,
Hong Kong
More details please email [email protected]
Check out Chino's new account at Instagram.com/chinolamworkshop/
While we have your attention why not check out our A day with Chino Lam of 豆もやし社長 – mame moyashi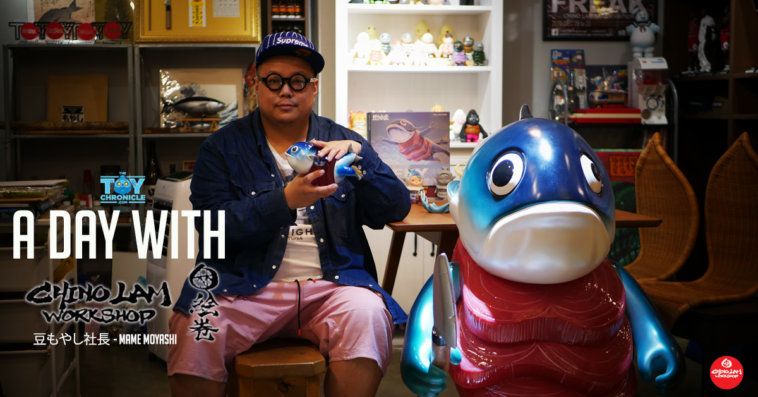 Follow Chino on his artist page HERE.
Find Mame Moyashi on Facebook.
If you want to get your Designer Toy news first, you should look to download our new TTC Mobile App. Designer Toy news direct to your smartphone. No dealing with social media algorithms.