Sanrio & Unbox have joined forces & combined the iconic Hello Kitty with an assortment of characters from a roster of international Unbox design partners. The projects are currently being exhibited at a special event at D2 PLACE in Hong Kong throughout December. One release that on show really caught our attention is HELLO KITTY RMX PROJECT By one of our favourite artists ABAO! We can't believe our eyes when Sanrio gave the green light to let ABAO give her spin on the famous classic Hello Kitty! Definitely in keeping with ABAO signature style and now mashing it up with the official licenced Sanrio. A one for new and old ABAO fans as this weekend will be collectors chance to own this special edition of ABAO's HELLO KITTY RMX PROJECT online!
SIZE: 6″
MATERIAL: SOFT VINYL
COLOUR: HAND PAINTED
PACKAGING: PRINTED BOX
DESIGN: SANRIO & ABAO
ON SALE SATURDAY 11TH DEC
UK: 15:00PM
HK: 23:00PM
JPN: 00:00AM (12TH DEC)
NYC: 10:00AM
LA: 7:00AM
WHERE: http://store.unboxindustries.info
PRICE: $70 USD
DUE TO LICENSING REGULATIONS, THIS ITEM IS ONLY FOR SALE TO RESIDENTS IN HONG KONG & SINGAPORE.
The multi-disciplined artist first captured our hearts with her 2D artwork via Deviantart and the unforgettable resin/plush Call Duck and now RAABBIT. Welcome to the world of ABAO. Similar to the previously released resin edition, we get to see it in its glory.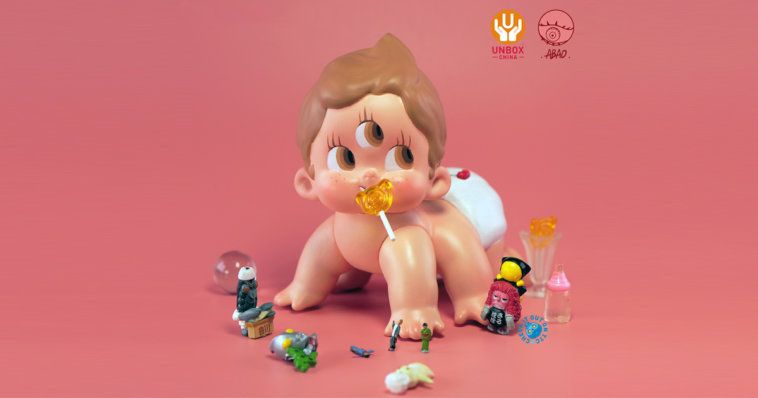 Lets hope Unbox gets Call Duck produced too!
Find ABAO on Deviantart and Instagram.
You can get your daily Designer Toy fix from our TTC Mobile App. It's free too! FREE! Download on the iPhone or Android smartphones. Search for "The Toy Chronicle" and all your Designer Toy wishes will come true! Pretty much.
Did we fail to mention IT's FREE.