Cue the music, dan dan dan dan…dan dan dan ,dan dan dan! yup "San Diego Comic Con 2016 is just around the corner, and Woot Bear Gallery are thrilled to announce the details another SDCC exclusive. Yesterday we brought you the news of  Woot Bear x Scott Wilkowsk special guest on Hyperactive Monkey booth.  Today Woot Bear Gallery brings you another SDCC release with Ben Seto's Buntrooper in a special Woot Bear colorway as they join forces again.
Ben Seto is an artist based out of the San Francisco bay area. He is known for his Xeric Grant award winning comic, "Usagi Jane and The Skullbunnies."
Join the Skullbunnies as they take over the galaxy with cuteness….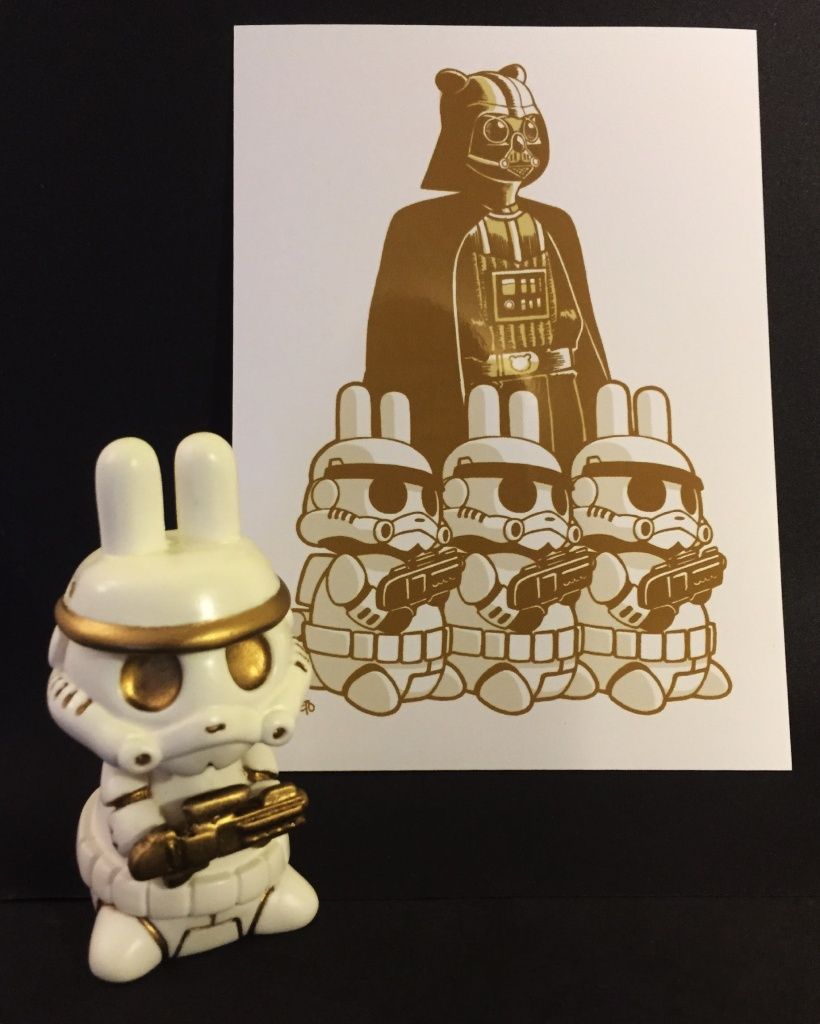 GID Buntrooper in Woot Bear Colorway – Edition of 16 + print  ($70 each)
Ben Seto's Buntrooper will be reincarnated in Woot Bear's signature white & gold colorway.  All Buntroopers glow in the dark and will have exclusive blister card packaging.  Each comes with a new mini print—look closely, and you'll see Woot Bear as Darth Vader!
Each purchase comes with a free Woot Bear exclusive tote bag!
Ben Seto's Booth #O15 (letter "O")
Day:
Thursday, July 21, 2016
Time:
12pm – 1pm PST; All remaining items will be on 
Wootbear.com
at 3:00pm PST.
Make sure you check out Ben's amazing work at http://www.blacksheepcomics.com/ especially is new released new book, Usagi Jane and The Skullbunnies Volume 1 from Black Sheep Comics! Find Ben on Instagram and Facebook too. Be sure to check out his upcoming art book project on Kickstarter, "The Art of Usagi Jane and The Skullbunnies, volume 1".

Fingers cross Ben will make his Usagi Jane into a figure, but for now you can grab the mini comic at  http://blacksheepcomics.bigcartel.com/
(all info and photos lifted from Woot Beat PR)