INCOMING! Rising from the dead is the highly anticipated EMPTYMAN from J.T Studio and Korean artist Kuro Hyunsoo N. Last month JT Studio was the talk of the town when he showed the early prototype of collaboration piece |Empty Man" By with Korean artist Kuro Hyunsoo Na. TODAY we bring you an exclusive update! Like we said previously, ever since Jei of J.T Studio teased the world with the images of Hyunsoo Na of Kuro earlier on in the year the guessing game began! Kuro is known for his "Empty Man" resin figure and made debuts at various Asian conventions earlier on last year. Now its time for Jei to transform "Empty Man" into a vinyl signalling a better chance for collectors to own at least one Empty Man. Jei putting his knowledge from 1/6 scale and his new found love of vinyl this collaboration should be interesting, to say the least. The exposed spine is the icing on the cake for us. Does Empty Man have that Gorillaz look? Jei already showed the vinyl Empty Man prototype at BTS and TTF. Now EMPTYMAN – VETERAN J GID ver has a release date.
"Like a zombie!"
The character zombies we are accustomed to are brutal and disgusting.
but the zombie I felt was still standing up, Walking and walking toward any one goal…
I felt very impressed as zombie didn't give up.I just like the character itself called a zombie, but I started to make this art toy from the thinking that I wanted to resemble another aspect of the aforementioned zombie.
I wish you live a life like an invincible zombie! 
– a.k.a KURO-
—————————————————-
The first character VETERAN.J is a Former Mafia and a current Soldier.
He died of an explosion during his mission, but He was back to life by the drug injected before his mission. His mission isn't over yet.
∙ EMPTYMAN – VETERAN.J GID ver.
∙ Price : US$140 / NT$ 4200
∙ Free shipping to worldwide while Preorder
∙ High : 23CM , 1/6 scale
∙ Limited to 300 pieces Worldwide
∙ Available to ship on December,2018
∙ Pre-order on 23th – 30th, November, 2018
at www.jtstudio.com.tw
11:59 pm Taiwan
10:59 am New York
04:59 pm Berlin
Find Kuro on Instagram.
For more details visit J.T Studio news at goo.gl/XpMmt9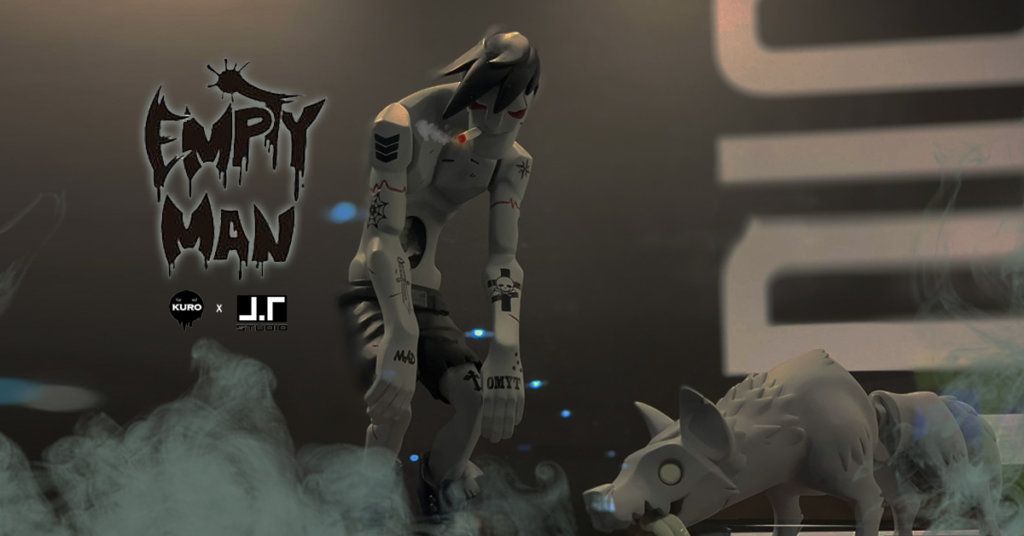 You can get your daily Designer Toy fix from our TTC Mobile App. It's free too! FREE! Download on the iPhone or Android smartphones. Search for "The Toy Chronicle" and all your Designer Toy wishes will come true! Pretty much.
Did we fail to mention IT's FREE.