Wishes do come true! Be ready to USE THE FORCE as the online RELEASE has been announced. Like we said a couple of weeks back HERE, every year we look forward to Korea's Star Was day and Star Wars day is coming up real soon! twelveDot is gearing up for that special day once again finding the time to contribute to the licensed show. twelveDot will be taking part in South Korea's Toy Republic x Common Ground x Lucas Films x Disney official Star Wars day event. The event included other Korean artists like the mighty Coolrain. For this event, twelveDot APO Frog APO Stormtroopers May the troops be with you. Ever thought an APO frog would love to dress up as s Trooper? Ha, you have now.
APO Stormtroopers were created for Star Wars Day exhibitions in Korea, which started off at the Jeonju International Film Festival (May 2-11, 2019)

Limited to 30 pieces worldwide, APO Stormtroopers are protected by a custom-fit resin helmet & armed with a mighty slingshot
Pre-orders are now open for 10 pieces at our website:
https://www.12dotstudio.com/product/may-the-troops-be-with-you

Our website works best on: Chrome, Safari, Firefox, Edge, Opera (not supported on Internet Explorer)

Force for Change event info at http://toyrepublic.coand http://www.common-ground.co.kr/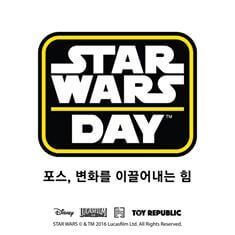 Find Twelvedot via Facebook and Twitter http://12dotstudio.com/
You can get your daily Designer Toy fix from our TTC Mobile App. It's free too! FREE! Download on the iPhone or Android smartphones. Search for "The Toy Chronicle" and all your Designer Toy wishes will come true! Pretty much.
Did we fail to mention IT's FREE.