Last teased and seen on the box art, Amber Aki Huang x StrangeCat Toys are back with some cuteness! Just what we need to a Sunday afternoon, a dose of cuteness from  DreamWorks Animation Character Designer / Visual Development artist, Amber Aki Huang are back with an encore! Last year they presented a vinyl version of Amber's "DeerCat" and DEER ME it was freaking cute! We have been blessed to see DeerCat in plush form but now, powered by StrangCat Toys, DeerCat has gone vinyl! With the help of Amber's wonderful friend, Sergio Lorenzo with the sculpt, DeerCat has been born and Amber & DeerCat wants you to join them on a whimsical journey. Now Amber Aki Huang & StrangCat Toys presents to you the DeerCat – Melon Ice Cream edition
He is even larger than the plush version of himself! Tail and Head can fully rotate and coffee is removable!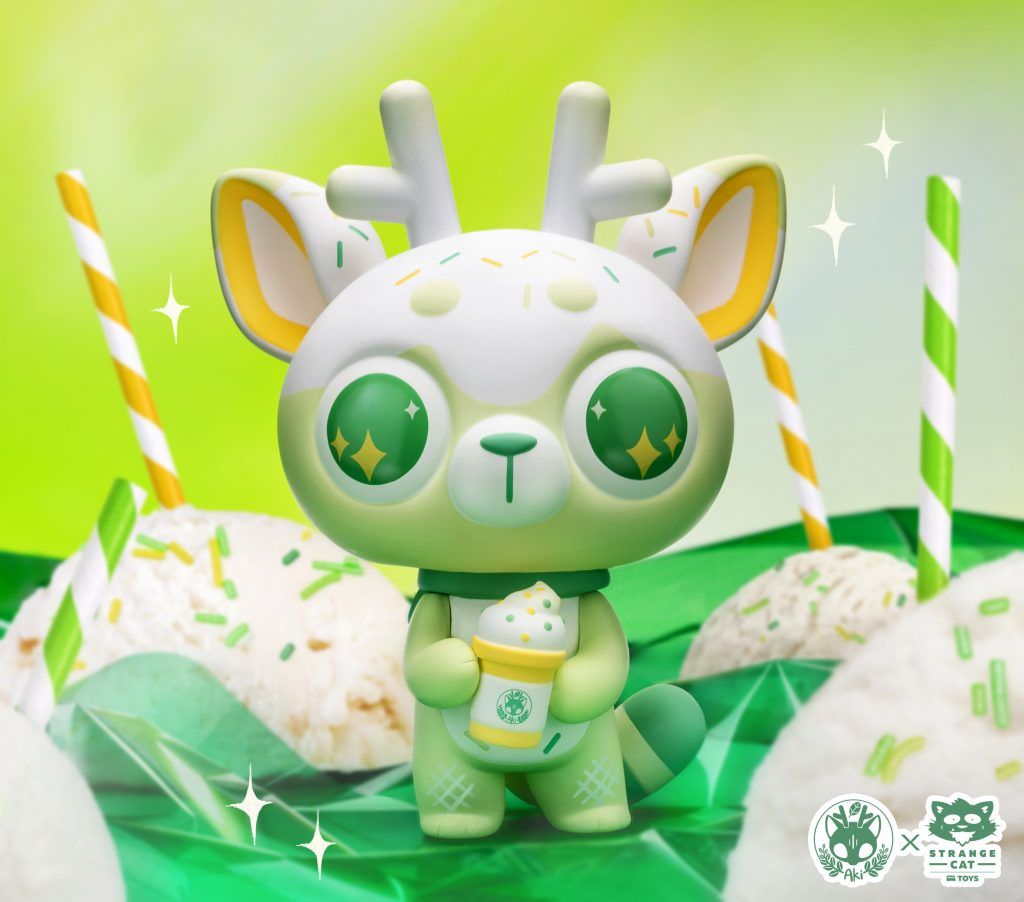 We all work so hard, especially DeerCat! So let's take a break together, relax and have a nice cup of coffee….with a whip of Melon Ice Cream.
Cup is removable and DeerCat can hold many other tiny toys!
MATERIAL:Vinyl
SIZE: 19cm
EDITION: Limited to 80pcs
WHEN: Releasing 16th April 12pm est
WHERE: https://strangecattoys.com/ ( Use code TTC5 for 5% off everything except customs. ) (please note the code changes every month so feel free to keep checking for the latest codes HERE)
PRICE: $95
Can you spot the other DeerCat special editions?
Edition Size: Open edition but only 100 units made for the initial launch
Find Amber via https://www.akiart.org/ Twitter , Facebook and Instagram.
You can get your daily Designer Toy fix from our TTC Mobile App. It's free too! FREE! Download on the iPhone or Android smartphones. Search for "The Toy Chronicle" and all your Designer Toy wishes will come true! Pretty much.
Did we fail to mention IT's FREE.