Last month we found out that Mr Mars x Shawn Wigs are baking some more Mr Krispys Dunny series HERE. Today Mr Mars Studio shows all the delightful flavours for the first batch of "VooDunny" donuts. Hardest part will be choosing your flavor! from Oreo crumble, Fruit loops, signature blue and pink bites, or purple sprinkles, decisions decisions. They might contain less than 2 calories but don't be eating them all up.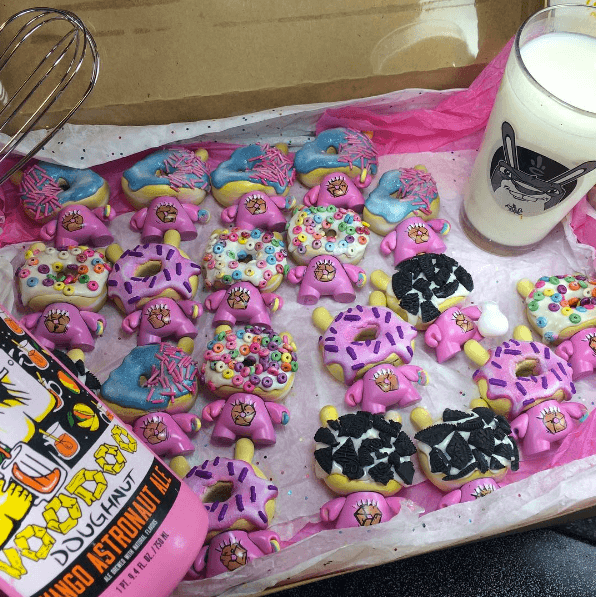 Those accossories that come with them are cool too. Feelin the popping pink which the actual famous Voodoo Doughnut shop colours are.
WARNING

Allergy

WARNING

May contain, blood, sweat and hard work. Plenty of artificial colourings and preservatives.

Do not attempt to eat or think about licking them.
~3 Inches Tall
Hand sculpts by Shawn Wiggs
Painted by MrMarsStudios
On sale this Sunday at 1:00 pm MTN time @ MrMarsStudios.com Don't miss out on this set! Limited to 20 pieces total. Each doughnut will come signed, numbered and packaged with mini doughnut or milk glass accessory. We suggest you use http://www.worldtimebuddy.com/ to find your timezone.
If you're looking for Mr Krispys, http://martiantoys.com/ Blueberry sprinkled and Blueberry Powdered Mr Krispy Dunny for sale.
You can find Mr Mars at http://mars-ballantyne.squarespace.com/,Facebook, Twitter and Instagram.
Find Shaw via Instagram, Twitter and http://wigalicioustoys.storenvy.com/