Last week, members of Indonesia's IAT art toy group joined up for a custom event once again. This time a local platform was used as a base for the customs. This custom wasn't just a normal event, each creation had a message.  IAT art toy group are growing from strength to strength and again we love seeing these meetups and new customizers and artists supporting each other as well as growing the scene while having fun.
By the time you see this post, one of our planet's unique species will become extinct. By this time tomorrow, a further 150–200 will have disappeared forever. And by this time next year, over 50,000 more. Nobody knows how many species are being lost each year, nor the total number of species that exist. 

IAT Artist would like to participate in saving our Indonesia priority species from extinction by remind you which species are threaten through our customized Bulky.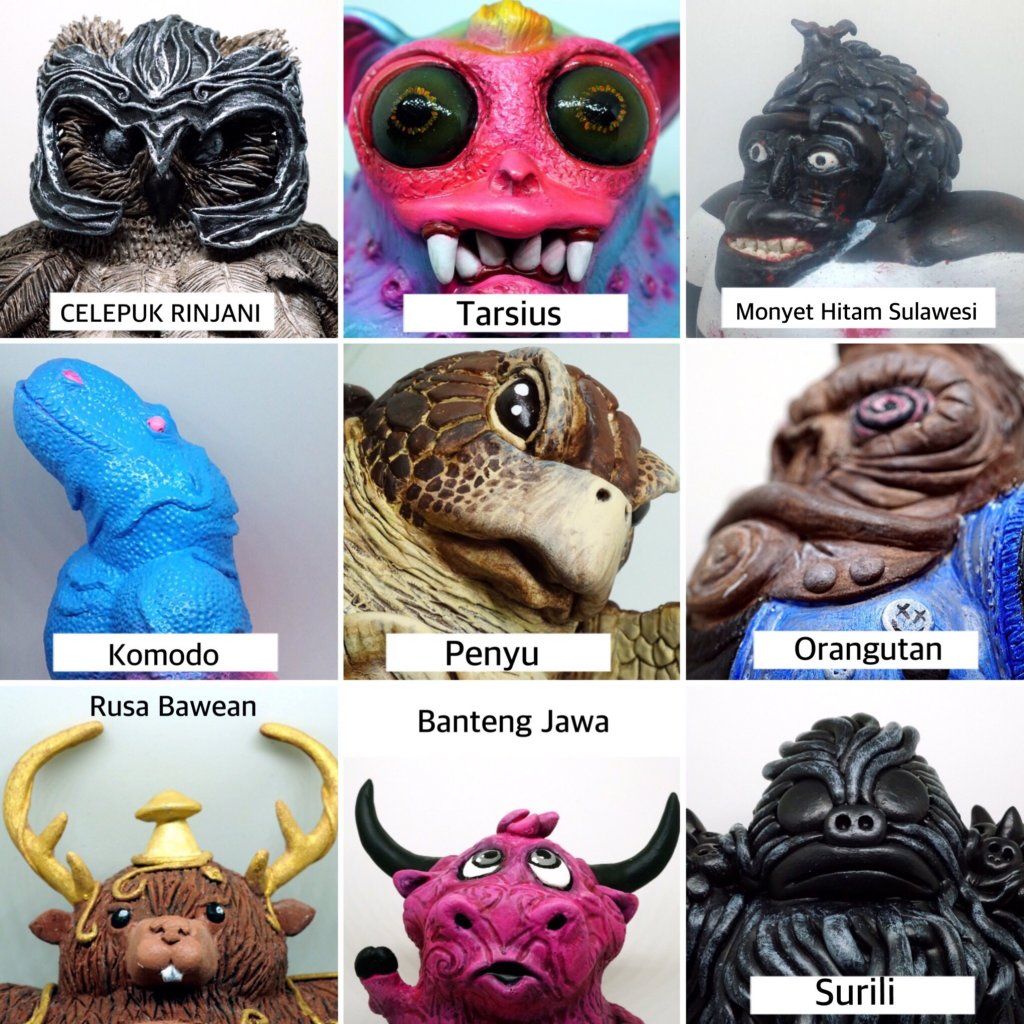 IAT artists who participate:
1. Silvia Tampi – Penyu
2. Psycho Custom – Banteng jawa
3. Jeffry Burhan – Orangutan Sumatera
4. Gunawan – Rusa Bawean
5. Bowo Baghaskara – Surili
6. Dhimas Fiqri – Celepuk rinjani
7. Niko Yonathan – Badak Jawa 
8. Syaiful Aqmal – Gajah Sumatra
9. Erik Dunnylicius – Babi Rusa
10. Jonga Skascie- Owa Jawa
11. Gusti Aditya – Bekantan
12. Mirfak – Macan Tutul 
13. Bio Ukitta – Monyet hitam Sulawesi
14. Ditya Boyscartel- Cendrawasih
15. Ndone Mukti  – Orangutan kalimantan
16. Dimas Scumbag – Tarsius
17. Malik Kilamnur – Komodo
18. Ozzy Lebon – Harimau Sumatera
[slider source="media: 69172,69175,69185,69178,69173,69174,69177,69179,69181,69182,69184,69186,69187,69188,69189,69190″ limit="60″ height="900″ title="no"]
Like we said before, big companies should really host events like this around the world. It's great to see works from IAT collective and we hope to see more from them in the near future and meetups like this as they spread our scene to the masses. It's one of the ways the scene can grow and hopefully find new collectors.
More examples from the Indonesian AR+Toys collective at https://www.instagram.com/iat.id/and  www.indonesianarttoys.com