December 4, 2019 at 3:38 pm
#162165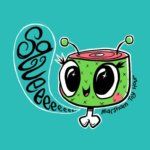 Theresa Hawkins
Participant
Cheering for team cute over here!!! 😀 And I think some more international artists would be cool too. My brain dump wish list:
Chris Ryniak
Amanda Louise Spayd
Dolly Oblong (still sad her design was cut, she needs one!)
Too Nathapong
Rato Kim
Shoko Nakazawa
Konatsu
Horrible Adorables
Sad Salesman
Also still sad that the Limon piece never came to life, would love to see it happen still!