November 13, 2019 at 12:36 pm
#158634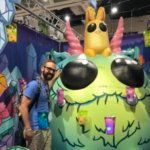 Nick
Participant
I really enjoyed this episode! Toy talk episodes are always great and it was nice to see that the recording still holds up with little to no editing done.
I think for the longevity of the podcast and for Gary's overall sanity, editing should be kept to a minimum, I for one, don't mind the longer run time.
I also really enjoyed chop bustin Theresa, great episode this week!