September 26, 2019 at 7:59 pm
#150510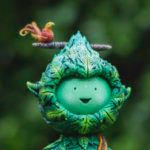 Miss Muju
Participant
I've been using bio-resin for about 7 years now, and can definitely say I'm really happy I made the effort to keep using it. I've had to chase suppliers across Europe as different sources have folded. I hope there can be an increase in demand for this product in future, as it will help make it more accessible & hopefully bring the price down too!
On the other points already mentioned, I use plastic jugs to mix my resin in. I've got lots of tiny molds around which I use up any leftovers with, to avoid resin waste. The plastic jug does slowly get coated in thin layers of resin, so every now & then I squeeze the jug and the resin interior skin comes away & can be removed. Usually a plastic resin pouring jug will last me at least a year before it breaks. Not brilliant, but it's a start.
I find mini silicone spatulas are the best for mixing resin. I can keep using them for years, as the dried resin on them can be peeled off afterwards.
If anyone has any alternative ideas for gloves and towels I'd love to hear them… they are the items I throw away the most!